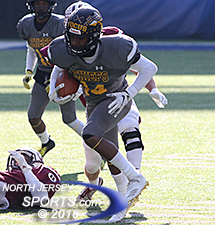 Lord Jones had a 28-yard TD run for Piscataway, which finished off a perfect season and won the first ever North Group 5 Bowl Game with a 31-21 victory over Ridgewood on Saturday at MetLife Stadium.
EAST RUTHERFORD -- Having already placed its state sectional championship trophy won two weeks ago against Montclair in its proper spot, Ridgewood really had nothing to lose as it took the field for the North Group 5 Bowl Game on Saturday morning. Up against Piscataway, the state's top-ranked public school team and the North 2, Group 5 champ, Ridgewood was free from any kind of pressure as it entered MetLife Stadium.
"I told the kids on Monday, I said, 'Boys, you have a trophy down in the weight room that nobody can ever take from you. You have a league championship plaque. This was a chance to have the perfect ending for this team," said Ridgewood head coach Chuck Johnson. "Why not go out there and try to play the best [public] school team in the state and see if you can win?"
Not only was Ridgewood out there trying to win, it looked for a fleeting moment late in the second quarter like it was putting itself in a position to do just that. Will Cardew, the senior running back who became the Maroons all-time leading rusher in his final high school game, busted up the gut for a 26-yard touchdown that gave Ridgewood a three-point lead with 4:16 left in the opening half.
However, with a little luck and then a championship drive right out of the locker room to start the third quarter, Piscataway restored order on the way to a 31-21 victory that finished off a perfect season for the Chiefs, who became the third team in the history of New Jersey to finish with a 13-0 record.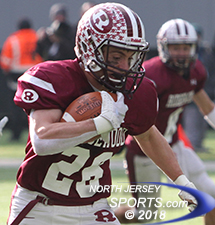 Will Cardew scored on a 26-yard run and also became Ridgewood's all-time leader in career rushing yards.
Jordin Martell lived the offensive lineman's dream when he scooped up a fumble on the four-yard line and toted it into the endzone to give Piscataway the lead back for good at 17-13 with 1:13 to go in the first half. The Chiefs got the ball first to start the second half and proceeded to march 80 yards in 16 plays while eating up all but 3:33 of the third quarter clock. Nasir Best carried the ball the final five yards over the goal line and Robert Konya kicked the extra point to make it 24-13 and Ridgewood never got back to within one score.
"That drive was the difference in the game. We were able to take the ball, move it and control the clock. They had some momentum offensively and the best thing to do about that is to control the ball, possess the ball and stick it in the endzone," said Piscataway head coach Daniel Higgins. "We kind of wore them down a little bit on that drive by going straight at them and it was kind of tone-setter for the rest of the game."
That kind of drive is one that Ridgewood is used to employing against its opponents. With is deliberate Wing-T attack, the Maroons are famous for moving the chains and using the clock, so when Piscataway was able to turn the tables, Johnson had to acknowledge the feat and tip his cap.
"They were tough to get on the ground. We couldn't get them down. They were too big, too strong to fast," said Johnson, whose team finished the season with a 9-3 record and its second state sectional championship in the last three years. "It was tough."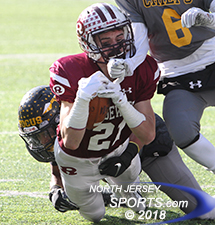 Will McDermott set up Ridgewood's second TD with a 51-yard catch and run. The Maroons finished the season at 9-3.
Ridgewood showed its toughness as well by getting off the deck after falling behind 10-0. A Konya field goal opened the scoring and Lord Jones' 28-yard TD run out of the wildcat formation put the Chiefs ahead early. Forced out of their comfort zone, the Maroons took to the air for their first big play as Liam Tarleton, the junior quarterback, found Will McDermott behind the safety for a 51-yard catch and run down to the two-yard line that led to Gabe Santiago's one-yard plunge two plays later. James Hogan's extra point gave Ridgewood the 13-10 advantage.
Piscataway restored order on its next drive, a 75-yard march that ended with Martell's fortuitous scoop and score and the opening drive of the second half tipped the game in the Chiefs' favor for good.
"We knew that this [Ridgewood] team was a good team and we knew that when they get a little heat built up they get better. They had motivation and they were playing with confidence," said Jones, Piscataway's senior running back. "We knew we had to keep our heads up, keep pounding them and keep working. We knew we were the better team overall, but we knew they were nothing to be messed with. We had to keep grinding and keep chipping away."
Best all but put the game away with two-yard run that put Piscataway up 31-13 with 9:32 left to play in the game. Ridgewood's final score of its successful season came on a 27-yard Tarleton to James Miller TD pass and Miller, the junior tight end, also caught the two-point conversion pass.
Piscataway capped its perfect season with class as Higgins elected to have his quarterback, Joseph Hatcher, take a knee with the ball on the Ridgewood two rather than pad the score with a meaningless touchdown.
"There was no reason to score there. Those Ridgewood kids fought their butts off all day, they gave us a great game and I have nothing but respect for that program. I don't care if we win by 10 points or five points or one. That was not even a thought. We do the right thing," said Higgins, whose team is now the first ever North Group 5 Bowl champion in New Jersey high school football history. "I like [the Bowl Game format]. I like to see the best teams in New Jersey play each other and I am so proud of New Jersey football. To be a part of this and to be the first one to win it is really special."
FOR MORE PHOTOS FROM THIS EVENT PLEASE CLICK HERE. TO BUY A COLLECTOR'S PRINT OF THIS STORY PLEASE VISIT 4-FeetGrafix.com.