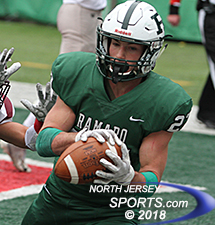 Max Baker caught three TD passes, this two-point conversion and also added two interceptions for Ramapo, which became New Jersey's first-ever 13-0 team with a 42-22 win over Summit in the North Group 3 Bowl Game at MetLife Stadium.
EAST RUTHERFORD – There is nothing left. Every award, accolade, title and trophy available to it is now property of the Ramapo football program and it earned every one of them. With a 42-22 win over Summit in the North Group 3 Bowl Game at MetLife Stadium on Saturday morning the Green Raiders added the Bowl Game trophy to the state sectional title they won last week, the league title they locked up a month ago and became the first team in the history of New Jersey High School football to go 13-0 in a season. Penns Grove matched the feat just a couple of hours later, but still Ramapo was the first.
"I could not be more proud of this group of young men. Talk about a grind, talk about fightin' through. The schedule we played right from the get-go, we played great teams all year, we had scrimmages against great teams and these guys have just stepped up to every challenge along the way," said Ramapo head coach Drew Gibbs. "They did it the right way. They did it with class, they did it with dignity and they worked hard, so I couldn't love a group of young men more than I love these guys."
Thirteen football games in a season will take its toll. Senior receiver Max Baker has not practiced in a month and was playing with a broken foot. Senior quarterback AJ Wingfield has been battling a shoulder injury and instead of favoring it, he put it further at risk by playing both ways for most of the game against Summit as he stepped in a safety when Isaiah Savitt was lost to an injury in the first half.
Injuries, schminjuries…Wingfield threw five touchdown passes to up his season total to 33, a new single season record at Ramapo. Baker (8 catches, 86 yards) caught three of those touchdown passes and a two-point conversion and also had two interceptions.
Max Johnson scored two TDs and went over 100 yards rushing for Summit.
"Isaiah going down definitely hurt us, but we stepped up. This team comes together so well when we are tested. This is such a great group to play with and I have loved every minute of it," said Wingfield, who completed 19 of his 27 passes for 279 yards and those 5 TDs. "A lot of us have been playing hurt. Me and Ty [Jaten] have had bad shoulders pretty much all year, Max has a broken foot, but we have gotten through it. This team has had a lot of adversity but we have fought through it and I am so proud to be a part of this."
Ramapo got right after it on Saturday as it won the toss, elected to receive and marched 81 yards in 13 plays with Wingfield hitting Jaten (5 catches, 69 yards, TD) for a six-yard score exactly five minutes into the game. Aiden Labell added the extra point to give the Raiders the early 7-0 lead.
Summit, a run-based offense with two talented running backs in Max Johnson and Joe Lusardi, stayed in the game early. Senior quarterback Skylar Schluter, after being picked by Baker to end the Hilltoppers' first possession, complimented the ground game by completing two passes on Summit's second drive, including a six-yarder on a fourth-and-5 to keep the march alive long enough for Johnson barrel over from two yards away. Schluter hit Lusardi with a two-point pass to give Summit an 8-7 lead, its only one of the game, with 58 seconds left in the first quarter.
Ramapo went back in front for good when, on a third-and-9, AJ Wingfield scrambled to his left, took a shot after releasing the ball and found his brother Matt for a 59 yard score. The extra point was wide right, but the Raiders' 13-8 lead stood up as they got picks from Baker and Sam Basa, who stayed home on a middle screen, to end Summit's next two possessions.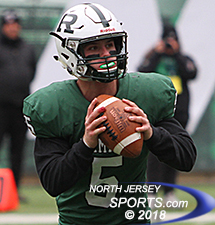 Senior AJ Wingfield tossed 5 TD passes to up his season total to 33, a record at Ramapo.
Ramapo turned Basa's pick into a scored when, on fourth-and-1 from the Summit 20, AJ Wingfield faked a hand-off and, as Summit bit hard on the play fake, found Baker for a 20-yard TD to make it 20-8 with 3:39 left in the first half. Summit got back to within 20-16 at the break on a 34-yard run by Johnson 1:20 later, but the backbreaker came on late in the third quarter. AJ Wingfield hit Baker for a 22-yard score and with a two-point pass to make it a two-score game at 28-16.
AJ Wingfield kept Ramapo's next scoring drive alive with a six-yard run on a fourth-and-4 and Luke Ragone cashed it in with a one-yard score to make it 35-16. The Raiders' final score came on a four-yard catch by Baker to make it 42-16 with 6:44 left to play in the game.
Ramapo rolled up 470 yards of total offense in the game and one of the guys making it all happen was senior left tackle Sean Costello.
"We spent most of the week working on our running game, on pounding the ball with our running game and also stopping their running game because we knew Summit did not like to throw it a lot. Summit is a great team all around, their running back [Johnson] is hard to tackle and they worked hard, but we won the battle on the line of scrimmage and that is what put us over the top," said Costello. "In the beginning of the season we had a vote with the seniors and the coaches on whether we would get rings after that state sectional championship or after this Bowl Game and we all voted for the Bowl Game because if you go 12-1 there is no point. We wanted all or nothing, we went 13-0 and now we are here. It could not have finished any better."
FOR MORE PHOTOS FROM THIS EVENT PLEASE CLICK HERE. TO BUY A COLLECTOR'S PRINT OF THIS STORY PLEASE VISIT 4-FeetGrafix.com.