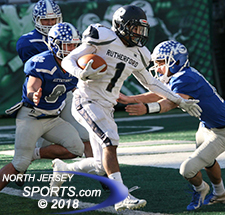 Johnny Mendez and the Rutherford offense were unstoppable in a 62-14 win over Kittatinny that gave Rutherford the distinction of being New Jersey's first ever Bowl Game champion.
EAST RUTHERFORD – With a senior-laden team fresh off winning a section title last week Rutherford walked into MetLife Stadium one last time in an attempt to make history. Playing in the first-ever 'Bowl game' of high school football in New Jersey history, the Bulldogs wanted to not only soak in their final moments together on the field as a family, but they also wanted to make some history in the process. Of all the great wins Rutherford has had over the past three years it saved its most impressive one for last.
After spotting North 1, Group 2 champion Kittatinny an early lead the Bulldogs put an impressive display together on both sides of the ball. The Bulldogs scored touchdowns on their first seven drives, four of them coming from shifty tailback Johnny Mendez, as Rutherford secured the outcome by halftime and finished off of another great season with a 62-14 romp over Kittatinny on Friday afternoon at MetLife Stadium in East Rutherford.
Kittatinny came into the game confident after winning the program's first-ever sectional title against Newton last week. The Cougars' best drive came on the game's first. They marched right down the field and took the lead on a three-yard TD run from Jacob Mafaro. The Bulldogs answered back quickly with Mendez plunging in from two yards out to tie the game.
"We didn't really know too much about Kittatinny and them scoring on their first drive woke us up," said Rutherford's Regan Landrigan. "Coming back here (to MetLife Stadium), it's a town away and we had everyone behind us so we had to step it up."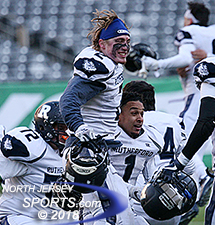 Justin Finelli had the final score for Rutherford, which scored the final 62 points of the game.
After a three-and-out the Bulldogs went back on the attack. Quarterback Kyle Russell was an unstoppable dual-threat all game long. His highlight play came on the Bulldogs' second drive of the game. He broke a tackle at the line of scrimmage then made a spin move in the hole to evade two would-be tacklers before sprinting 14 yards to paydirt to put the Bulldogs ahead, 14-7. Mendez added a second touchdown out of the wildcat formation, scoring from a yard out to give Rutherford a commanding 21-7 lead after one quarter.
"Our coaches prepared us well and we came in here for business," said Mendez. "This is our third time here so we knew what to expect. Those big guys up front really deserve the credit they made this happen. We had to execute and come in here ready to dominate."
Kittatinny tried to impose its will through the running game, but the Bulldogs were having none of it. Led by the play of senior lineman Lawson Fisher the Cougars' running attack was completely shut down and it led to great field position all game long for the Bulldogs.
They took advantage of it once again early in the second quarter when Connor Cahill took a wide receiver screen and went 31 yards untouched to the end zone to make it 27-7.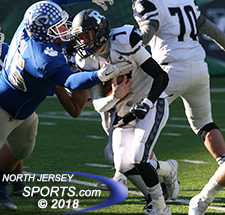 QB Kyle Russell helped lead Rutherford to an 11-1 season, a second straight state sectional championship and a Bowl Game win.
Mendez added another TD run and a jump pass to Regan Landrigan for the two-point conversion. Then late in the half after a defensive stop deep in Bulldogs territory, Russell quickly led them down the field before hitting Mendez on a wheel route for another touchdown. On the play, Mendez outleaped a defender and hauled it in near the back corner of the end zone. Rutherford ran out of time on its final drive of the half at the Kittatinny 2 but it was the only blip on an otherwise perfect half of football with the Bulldogs in complete control with a 42-7 halftime lead.
The second half had much less pressure attached to it as the Bulldogs enjoyed being together one last time. Landrigan found the end zone twice and Justin Finelli added another score for the whopping final margin of victory.
Understated in a 62-point performance was the dominant play of the Rutherford defense. Led by Fisher (eight tackles, two sacks) and Kris Guzman (nine tackles, two pass breakups, and forced fumble), the Bulldogs smothered Kittatinny into submission.
After 51 years without a state title, Friday's victory capped an outstanding season in which Rutherford won back-to-back section titles along with its first-ever win in a bowl game to secure its place as the best Group 2 team in North Jersey.
"What do you want to be remembered as? What do you want your legacy to be? We wanted to be back-to-back champs and win this bowl game," added Landrigan. "It's been our goal to win here again. This win shows how special this team is, how special the program is, and how much hard work the players and coaches put in."
FOR MORE PHOTOS OF THIS GAME CLICK HERE. TO BUY A COLLECTOR'S PRINT OF THIS STORY PLEASE VISIT 4-FeetGrafix.com.