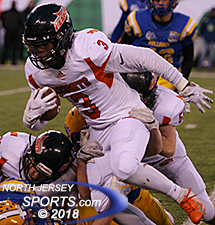 Jasiah Purdie scored 5 TDs in a 41-7 rout of Butler in the North Group 1 Bowl Game as Hasbrouck Heights finished its perfect season with a 12-0 record.
EAST RUTHERFORD – The situation was right, the scene was set. In a 'Bowl Game' to decide the North Jersey Group 1 champion Hasbrouck Heights and Butler were locked in a scoreless duel, the Aviators faced a fourth-and-8 from the Butler 18-yard line.
A trick play that longtime Hasbrouck Heights' head coach Nick Delcalzo had up his sleeve all season was finally unleashed and executed to perfection. For as satisfying as it might have been to get one over on the opponent, that one play was just a part of a coronation for Heights as Jasiah Purdie capped off his spectacular season and high school career with a record performance.
On the aforementioned fourth-down play, Purdie caught a pass from Spencer Lee then pitched a hook-and-ladder to streaking teammate Michael Robertson, who took it 19 yards to the end zone. Purdie followed that up by tying a career-high with five touchdowns and Chris Thibault wrecked the Butler offensive line for a career-best four sacks as Hasbrouck Heights finished an undefeated season with a 41-7 win in the North Jersey Group 1 bowl game on Friday at MetLife Stadium in East Rutherford.
The Aviators' first score was set up by a short punt and the strength of Lee in the pocket. On a third-down play, he somehow escaped the grasp of two Bulldog defenders turning what would be a sure sack into a 12-yard gain and a first down to keep the chains moving. The Aviators then hit Butler with the hook-and-ladder at just the right moment. With the defense converging on Purdie as soon as he made the catch the Bulldogs took their eyes off of Robertson. The pitch was on point and Robertson broke a tackle along the sideline on his way to a touchdown that not just gave the Aviators the lead but set a tone that lasted all four quarters.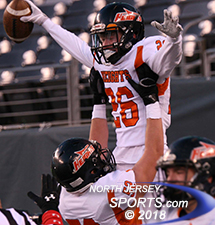 Heights' Michael Robertson scored the opening TD and also rushed for 80 yards to pass the 1,000-yard mark for the season.
Butler moved the ball near midfield on its next two drives only to be derailed on sacks by Thibault, who also made a second-half stop on a goal-line stand to end another Bulldog drive. That allowed the Aviators to get the ball back and let Purdie go to work. The senior dove over the pile from a yard out for one score before breaking loose on a 48-yard scoring jaunt. He capped the first-half scoring with a seven-yard TD run as Hasbrouck Heights took a 27-0 lead into the locker room.
"We were fired up and ready to go from the time we came out of the locker room," said Thibault. "We felt like if we kept getting stops that our offense would take care of the rest and put the ball in the end zone."
Delcalzo went back to his bag of tricks on the first play of the third quarter and that put the game away. Lee handed off on a jet sweep only to have the ball lateraled back before dropping a dime to a wide-open Purdie for a 42-yard touchdown. From there it was all about the countdown to an ending of a perfect season with yet another masterful performance.
"Our line dominated on both sides of the ball all season and they continued that tonight," said Purdie. "I just had to wait and be patient because I knew the holes were going to open up or on a pass play that they'd give Spencer enough time to make the right read and hit the open man."
Heights QB Spencer Lee attempted only seven passes but completed six of them for 101 yards and a touchdown.
Purdie finished with 204 yards of total offense and five touchdowns to push his TD total to 33 on the season (21 rushing, 10 receiving, two passing) for Hasbrouck Heights (12-0). Lee attempted only seven passes but completed six of them for 101 yards and a touchdown. Robertson scored the opening TD and also rushed for 80 yards to pass the 1,000-yard mark for the season.
Over the past three years, Hasbrouck Heights is a remarkable 33-1 with two section titles, two NJIC titles, along with a 2018 season that neither the players involved nor the coaching staff will ever forget.
"The hard work these kids put in paid off and I couldn't be more proud of them," said Delcalzo. "It's about working hard and working for each other. We came in confident that we could execute because of the work we put in all season. I thought we played great on both sides of the ball and we put it all together when it mattered the most."
FOR MORE PHOTOS OF THIS GAME CLICK HERE. TO BUY A COLLECTOR'S PRINT OF THIS STORY PLEASE VISIT 4-FeetGrafix.com.