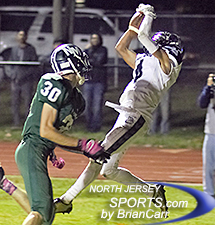 Rich Marquez catching one of his two second half TDs on fade routes that were a key part of Rutherford's 42-27 comeback win at New Milford in the NJIC semifinals on Friday night.
RUTHERFORD -- Rutherford scored 35 unanswered points over a wild final 14 minutes of football to secure a berth in the second annual NJIC Football Championship game with a 42-27 win on the road at New Milford on Friday night.
The game-winning score came courtesy of Rutherford's dynamic duo -- Kyle Russell (the throwing quarterback) and Rich Marques (the wildcat quarterback and wide receiver) -- on a seven-yard score that gave the Bulldogs a 28-27 lead with three minutes remaining in the game. That was the second time the pair connected on a fade pass for a touchdown and the second time around it gave Rutherford 21 unanswered points.
"We are a dynamic duo right now," said Marques. "At halftime we said this game isn't over, keep your head up, slowly we chip away. We know once we could get a a drive building we could keep the momentum going."
"He is a great player, he is an all-around athlete," said Kyle Russell speaking of Marques, his trusty sidekick.
The Bulldogs' comeback started after they trailed 27-7 midway through the third quarter. Russell found Marques on a five-yard fade pass, where the shorter Marques was able to go up and over a taller New Milford defender for the catch. That touchdown snapped a string of 27 unanswered points scored by New Milford.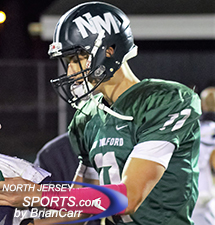 Quarterback Ryan Picinic was in on three of New Milford's four scores and he threw for two TDs and ran for another.
Rutherford had taken an early 7-0 lead on a Billy Finn 20-yard off tackle touchdown run with under three minutes gone in the first quarter. The Knights answered on their next possession when Ryan Picinic found Matt McElroy for seven-yard TD pass with 5:33 left in the opening quarter. A missed extra point left the Knights trailing 7-6, but they moved in front at 13-7 on a Bart Nativo 50-yard TD dash with two minutes left in the opening quarter.
The second quarter was scoreless and New Milford was in good shape heading into the locker room ahead and in even better shape when it took the second half kickoff and drove for a score when Rick Picinic found Rhys Farley for a 36-touchdown touchdown pass.
The Knights kept it rolling with Thomas Silverio returning an interception to the Rutherford 20 to set up  Picinic's 16-yard bootleg for a touchdown to make it 27-7 with under seven minutes left in the third. Picinic, the senior quarterback, was in on three of the Knights' four touchdowns with two passing and one rushing and it looked like New Milford was heading to the championship game with a commanding three score lead.
Not so fast, my friend, as Rutherford's defense kept New Milford off the scoreboard for the rest of the game and gave the offense time to get going. The Bulldogs played inspired football in the fourth quarter to wrest control of the game.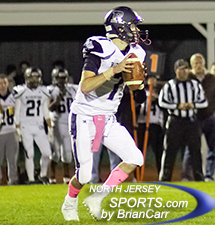 Kyle Russell and Rutherford will host defending champion Hasbrouck Heights in the NJIC championship game next Friday.
"There was a point where everyone was just running around. Our head was not in the game in the first half," said Marques. "Coach (Andy Howell) is great with those speeches and he got us pumped up again."
"Honestly, it feels like something out of the movies," said Rutherford defensive tackle Lawson Fisher. "We were down at half, coach said don't give up and we didn't. In the second half our secondary stepped up, they got us on big plays and we had to limit their big plays to win."
After the Bulldogs took the lead at 28-27 they stopped New Milford on downs in their own territory and scored two plays later on Billy Finn's second touchdown run of the game for a 35-27 lead. On New Milford's next possession, Marques, playing defensive back, stepped in front of a Picinic pass and raced down the sideline for the final score of the game to lock up Rutherford's spot in the championship game.
"What do you want me to say? It was up and down like a roller coaster," said Howell, who led Rutherford into the first ever NJIC playoffs last season and now into the finals for the first time. "That defined our character. We are tough, we are resilient, we are never going to back down from adversity. Adversity strikes, we are going to dig down deep and we are going to keep fighting. I'm so proud of these guys."
Rutherford will play host to the 2017 NJIC Championship Football game against Hasbrouck Heights, the other semifinal winner, next Friday night at Tyron field in Rutherford. Heights won its semifinal match up at Wallington, 42-21.
TO BUY A COLLECTOR'S PRINT OF THIS STORY PLEASE VISIT 4-FeetGrafix.com. FOR MORE PHOTOS FROM THIS GAME CLICK HERE!