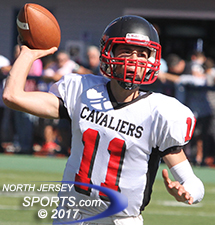 Quarterback Peter Durocher helped lead Emerson to its fourth straight win to start the season, a 27-13 win at Wood-Ridge on Sunday afternoon.
WOOD-RIDGE – The North Jersey Interscholastic Conference was proactive in changing its scheduling structure. For teams in the small school league, a football regular season is no longer all about trying to win a league title based on standings while trying to pile up enough power points to qualify for the state sectional playoffs. The NJIC instituted is own playoff structure and last year's inaugural four-team tournament consisting of the first place finishers in each of the four divisions was a smashing success.
This year Emerson wants to be a part of it and, with a 27-13 win on the road at Wood-Ridge on Sunday afternoon, the Cavos turned the race for NJIC Patriot Division's spot in the playoff into a two-team race. Emerson is now 4-0 and will play Wallington on Friday night in what will be a de facto playoff qualifier.
"This was a big step toward winning our league. That is our goal," said Emerson head coach Nick Calandrino. "This win was good, but now it is right back to watching film and getting ready for Wallington. We are 4-0, they are undefeated and it is going to be a big one on Friday night."
With a few notable exceptions, Group 1 football is a roller coaster. One or two thin classes can set a program back for a considerable period of time, while one or two classes full of committed football players can raise its fortunes quickly. Emerson, which has not had a winning season since 2011, is on the upswing. Coming off a game in which they scored 61 points in a win over Bogota, the Cavos got right to work on Sunday and took the lead just over one minute in against Wood-Ridge.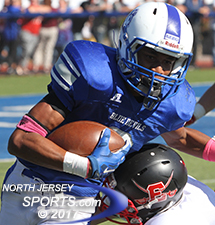 Johnoi Martin scored Wood-Ridge's first TD, a 60-yard catch and run.
Emerson forced Wood-Ridge to lose 10 yards after it took the opening kickoff and then Adam Gildea broke through the line and blocked the Wood-Ridge punt. The Cavos took over inside the one-yard line and scored on its first official play from scrimmage with Ryan Shaw getting the game's first score. Tommy Leuck kicked the extra point to give Emerson a 7-0 lead just 1:07 into the game.
"Being on the road that early momentum really helped us," said Shaw. "When we play at home we have all of our fans and everybody there supporting us, but today we had to create that ourselves and the blocked punt really got us going."
Wood-Ridge (2-2) was forced to punt on both of its first two possessions, but struck quickly on its third possession to get back even. Quarterback Mike Giancaspro hit Johnoi Martin up the right side and Martin did the rest, sprinting 60 yards for the score that tied the game after Matt Roncaioli hit the extra point with 5:45 to go in the first quarter.
Shaw answered with a 24-yard run for a score on Emerson's next possession. The two-point try failed and the game got a little sloppy as each team punted and lost a fumble the next two times they had the ball. Wood-Ridge's fumble cost it a chance to stay within one possession at the half as Emerson needed to cover only 29 yards to pad its lead. Shane Carcich scored from three yards out to put the Cavos up 20-7 at the break.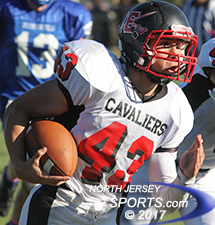 Gary Zelencic scored Emerson's final TD, a 4-yard run with 1:17 left in the game.
"We had guys stepping up on special teams, on offense and on defense and that is what it takes to win on the road against a good team," said Calandrino, who is in his third year as Emerson's head coach. "We had some turnovers and we made some mistakes that we have to clean up, but we stepped up in a lot of ways and stayed in front."
Wood-Ridge scored the lone touchdown of the third quarter and it took an act of bravery by Giancaspro to get it done. An interception by Josh Colon set the Blue Devils up at the 50 and they were at the 3 yard line when Giancaspro took the snap and scrambled to the right on second-and-goal. With the defense closing fast, Giancaspro took a shot and was bent backwards, but not before he flipped the ball out to Colon, who was all alone near the pylon.
That score got Wood-Ridge back to within 20-14 with 3:12 left in the third, but Wood-Ridge was forced to punt on each of its next two possessions and Emerson put the game away with a signature drive. The Cavos took over at their own 35-yard line with 5:09 left in the game and marched the full 65 yards in just under four minutes. Gary Zelencic covered the final four yards to put Emerson up by two scores with 1:17 to go.

There was some chippiness and some elevated emotions during Wood-Ridge's final drive when Emerson was called for two 15-yard penalties, the second of which on a big hit in the end zone with time winding down. An Emerson defender was flagged for a personal foul and was ejected, but the game ended with a Wood-Ridge running out of time on the 5-yard line. The handshake passed uneventfully and Emerson can now turn its attention fully to Wallington, probably the last obstacle between the Cavos and the NJIC playoffs.
"We can't really get ahead of ourselves. Being 4-0 is great, but we have to keep our focus on what is right in front of us and that is Wallington next week," said Shaw. "Our goal is the playoffs and a state championship, but to get to those goals you have to go week by week. If we do that we will be all right."
TO BUY A COLLECTOR'S PRINT OF THIS STORY PLEASE VISIT 4-FeetGrafix.com. FOR MORE PHOTOS FROM THIS GAME CLICK HERE!