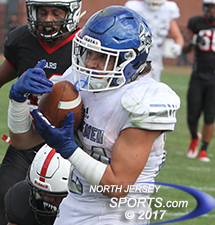 Kevin McCloskey scored three touchdowns, two rushing and one receiving, for NV/Demarest, which improved to 3-1 on the season with a 49-14 win at Bergenfield in a rare Friday matinee.
BERGENFIELD – Trailing Northern Highlands by two touchdowns in the second quarter last week, Northern Valley/Demarest, a team with the aspirations of making a deep state tournament run, was staring at the prospect of a 1-2 start to its season. Now, six days and six quarters later, the outlook for the Norseman has improved considerably. Demarest scored the final 17 points against Highlands to pull out that victory and then kept it rolling right into a rare Friday matinee on the road in Bergenfield.
After an early hiccup, a turnover on its first possession of the game, Demarest scored the next four times it had the ball leading into halftime. The Norsemen led 28-0 at the intermission and by 49-14 when all was said and done and now sit at 3-1 halfway through the eight-game slate that counts for state tournament positioning.
"We knew this was a big week. To be 2-2 would have [stunk] and getting to 3-1 was a big step for us," said senior Austin Albericci, Demarest's quarterback. "Next is Indian Hills and we have to get the next one. We can't take a week off. Every game is a big one in a football season and we have to keep pushing."
While Demarest's defense did its job by covering up for the early turnover holding Bergenfield scoreless until midway through the third quarter it is the Norsemen's offensive firepower that is its strength. Even in the game it lost earlier this season it put up 35 points against a solid Ramapo team and, after the early misstep on Friday, Demarest got it rolling.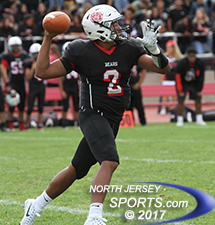 Christopher Sunga threw two TD passes for Bergenfield.
Kevin McCloskey took a lateral in from 1-yard away to open the scoring and Albericci then cover the final three yards of Demarest's second TD drive. Jonah Miller added the extra point after each of those scores (he was a perfect 7-for-7 in the game) to give Demarest a 14-0 lead after the first quarter and on its first drive of the second period, Joe Rotonde went up over a defender in a one-on-one situation and high- pointed the ball for a 44-yard catch that set his team up again. Albericci went in from yards out to make it 21-0 and the first of Brandon Leo's two interceptions in the game gave Demarest one more chance at it in the opening half.
A penalty erased a long Ryan Vadis catch on run on a screen pass, but the Norseman kept at it. With 40 seconds left and with the ball right on the midfield stripe, a handoff to McCloskey did what it was designed to do as it sucked the defensive front seven up to the line of scrimmage and invited the secondary to peek into the backfield. McCloskey pitched the ball back to McCloskey, who had Rotonde running wide open. The pass landed right over Rotonde's shoulder and into his hands, Miller kicked the extra point and Demarest had its 28-0 halftime lead.
"We are good on offense. We just have so many players that are always ready to go and make a big play. Kevin McCloskey, Ryan Vadis, Endrit Kaleci and when Austin [Albericci] has so many options, it is hard for a defense to find an answer for us, really," said Rotonde, part of Demarest's deep senior class. "If you shut down one of us, someone else will go out there and have a big game. I was that guy today, but it could have been any of us."
Jack Mottola scored Demarest's first touchdown of the second half.
Played on a Friday afternoon in deference to the Jewish holidays and on a school day, just about the whole of Bergenfield's student body was in the stands. Demarest students were given the option to either attend the game or finish out the school day and how do you think that worked out? A competent support staff and a few fan buses stewarded about 250 students into the opposing stands.
"I am thrilled with both administrations because it was really a playoff-type atmosphere. Bergenfield let their kids out, we had five or six buses full of kids and this is what you sign up for when you play high school football," said Demarest head coach Tony Mottola. "I was just happy that the kids were able to experience this and then to come out with a win made it all the better."
The Bergenfield marching band put on an impressive halftime show and the home crowd finally had something to cheer about when the Bears used the first drive of the second half to get on the scoreboard. Quarterback Christopher Sunga scored on a keeper from six yards out and Joel Martinez kicked the extra point to make it 28-7 with 7:56 left in the third quarter.
Demarest answered with an Albericci to Jack Mottola score from nine yards out to make it 35-7, but Bergenfield, to its credit, kept playing hard. The Bears faced disaster when, on third-and-goal from the 1, the snap cleared Sunga's head by a wide margin, but on the next play Sunga threw a 15-yard TD pass for the Bears' second score.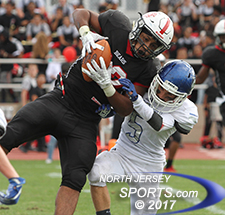 Bergenfield fell to 2-2 on the season with a tough one coming up on Friday night at River Dell.
There was no stopping Demarest, however, as Albericci (3 TD passes, 2 TD runs) hit McCloskey for a 24-yard score to make it 42-14 with 8:33 left in the game. Leo and Vadis then combined to force a fumble that was recovered by Thomas Reilly and McCloskey closed his big day with a 48-yard run that made it a 35-point spread and kept the clock running unabated for the final 6:28 of the game.
"The whole team rallied up and I thought we did a really good job this week. Preparation wise we were good, we were swarming to the ball defensively and we all really wanted it," said Leo, Demarest's senior defensive back who had a hand in forcing three turnovers with his two picks and half-a-forced fumble. "We are confident and we have our goals in mind, but the main thing is not getting complacent. We have to bring it every week."
Bergenfield fell to 2-2 on the season and has another tough one next week, a Friday night trip to undefeated and reigning state section champion River Dell, but after that the Bears will have the opportunity to make their own playoff push. They play Fort Lee, Teaneck and Ridgefield Park before the state tournament cutoff and all three games, while none of them locks, are winnable.
Demarest is home against Indian Hills next weekend then plays at Pascack Valley, at Paramus and at home leading up to the state tournament cutoff. But at this point, none of that means anything to Mottola, the head coach.
"I am going to take it day by day. That is my answer. I am not looking ahead. I yell all the time to the kids, 'Be perfect on this rep.' That is all we want to. We want to all we want to do. It's one step at a time and if we are in the mix at the end then we are in the mix at the end," said Mottola. "To come here and play the way that we did on a short week, I couldn't be more proud, especially defensively. We turned the ball over on the first drive and if [Bergenfield] came out of that with points, you never know what might have happened. We intercepted the ball and got the momentum back."
TO BUY A COLLECTOR'S PRINT OF THIS STORY PLEASE VISIT 4-FeetGrafix.com. FOR MORE PHOTOS FROM THIS GAME CLICK HERE!