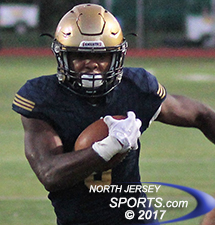 Marquez Antinori scored 3 first half touchdowns as Old Tappan rolled to a 4-0 start to its season with a 35-7 win over Ridgewood on Thursday night.
OLD TAPPAN -- In a contest between two unbeatens, Ridgewood travelled to Old Tappan for a rare Thursday night game with the winner cementing a claim as the top public school team in North Jersey. Judging by the result, the rankings are easy.
With a team full of stars but none that needs to dominate the ball, Old Tappan showed off all of its weapons as it made short work of the defending North 1, Group 5 state sectional champion Maroons.
Marquez Antinori, with three rushing touchdowns, and Aidan Bilali, with an interception return for a score and a touchdown run, highlighted a complete performance by the home team.
Old Tappan opened a 27-0 lead by halftime, scored early in the third quarter to put the clock in perpetual motion and then cruised the rest of the way to a 35-7 victory. The Golden Knights are now 4-0 with each win more impressive than the last.
The bevy of talented skill players are complimented by the work of the offensive and defensive lines, which have dominated the trenches all season long. That work continued in earnest on Thursday night.
"It all starts with the offensive line. Big shouts to Dillion Policastro, Liam Murphy, Mike Mancuso, they make it happen for all the skills guys. The credit goes to the offense line lead by Mike Mancuso", said Antonori. "It's a team effort, it was a short week, we had to get everything done right the first time, so we make no mistakes."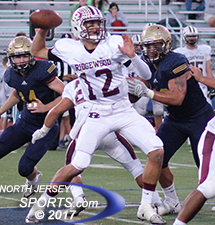 Jack Barclays and Ridgewood fell to 3-1 on the season.
Old Tappan won the coin toss and deferred until the second half. Ridgewood received the opening kickoff and went three plays and out.
After a short punt, the Knights started their opening drive on their own 47, after a nice 27 run by quarterback Nicholas McKerney brought the ball to the Ridgewood 2, Antinori cashed in on a two-yard TD run with 7:49 in the opening quarter.
After another three and out by Ridgewood, the Knights started their next drive on their own 43 and, with another quick drive, Antinori scored his next touchdown on a one-yard dive up the middle with 2:24 left in first quarter.
The Knights defense took its turn to get in the end zone when Bilali, a senior defensive back, read Ridgewood quarterback Jack Barclay's pass to the sideline, jumped in front of the receiver, picked off the pass and raced untouched for a 'Pick Six.' That made it 20-0 after missed two point conversion try with 19 seconds left in first quarter.
"I just drove on the ball," said Bilali. "Ball's in the air, it's exactly what we are going to do. No one else is getting it. It's our ball."
Early in second quarter Ridgewood was finally able to drive into Old Tappan territory for the first time in the game on a 41 yard connection from Barclays to wide receiver Danillo Romero to the Knights 26 yard line, but the Knights would end the Maroons drive at their own 24 on downs.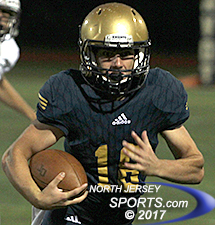 Old Tappan quarterback Nick McNerney completed 7 of his 10 first half passes.
The Knights cashed in again, this time after a long 75-yard drive in an efficient 2:27 minutes to make the score 27-0 with 1:08 minutes left in the half. Again it was Antinori who carried it over the line, this one a powerful 11-yard dash up the middle for his third touchdown of the game.
By halftime, Old Tappan had outgained Ridgewood 256-119 in total yards and Antinori had 14 carries for 107 yards rushing and all 3 TDs. Quarterback Nick McNerney was 7 of 10 passing and 87 yards.
After intermission the Knights scored another touchdown on Balili's three-yard run that came after another long drive of 80 yards. Nicholas McKerney ran in the two-yard, two-point conversion to make it 35-0.
Ridgewood was able to avoid the shutout on a late Will McDermott touchdown and James Hogan extra point.
"It feels good [to be undefeated], but we are just focused on every week", said Bilali. "This week is done, we are on to the next one and we are just going to keep going from there."
NEXT WEEK:
Old Tappan visits Fairlawn on October 7th and Ridgewood has Passaic at home on Friday, October 6th.