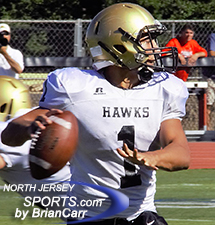 Senior QB David Estevez led River Dell down the field on the final drive and into position for the game winning field goal in a 23-20 win over Westwood on Saturday.
WASHINGTON TOWNSHIP – River Dell has been living dangerously this season. In Week 1 it was a last minutes two-point conversion that got the Golden Hawks passed Pascack Valley and on Saturday, in showcase of two of North Jersey's top public school programs, it was sophomore kicker Jack Gillies who stood over a 32-yard field goal as time was about to expire.
So, sophomore kicker who played soccer until just a few years ago, how did it feel to knock that ball through the uprights to give your team a 23-20 win in the Bird Bowl on the road in Westwood?
"It was unbelievable," said Gillies, who switched to football from soccer in sixth grade. "Everyone was screaming and giving me a hug after the game. It's just a great feeling."
"This is the fourth time in my 14 years here where it came down to the wire," said Hawks coach DJ Nimphius. "There were three one-point games last year and this three-point game. It was a great game. We know it's going to be a great game when we play them. They're a great program. They are going to be a mega-tough out from this point forward. They're really good, they're really well-coached."
The game-winning drive began on the River Dell 32 with 1:12 to go in the game. Senior quarterback Dave Estavez slowly drove the team downfield using his arm (completing two passes to junior Jack Racine) and his legs (running three times for 30 yards) to earn a first down at the Westwood 20-yard line with 11.2 seconds to go.
"In the beginning of the series coach brought us all up and said we don't have to score, we just have to get it inside the 20 and allow our kicker to kick a field goal," said Estevez. "So my whole mindset was to get to that 20-yard line. We were driving, driving. I didn't want to take any sacks, no interceptions, just slowly get down the field."
"He's a tremendous leader," said Nimphius of Estevez. "He's an incredibly bright kid, ultra-competitive. He always lives for the next play."
The game-winning field goal was originally going to be a 37-yarder but an offside penalty against Westwood moved the ball five yards closer. Two or three players jumped offside when junior holder Tyler Mellaci flashed his hands.
"When the PAT was blocked earlier," explained Gillies, "we realized when the holder (Mellaci) would flash his hands they were going. So we decided to snap it on the second flash. And thankfully they jumped."
When the kick barely made it over the goal post it seemed likely that a kick from five yards farther back would have been short. I knew if I got good blocking, got my mechanics down, the kick would make it."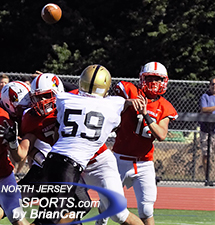 Westwood QB Sean Hopkins threw and 83-yard TD pass to tie the game at 20.
River Dell scored first, going on a six-and-a-half minute drive in the opening quarter, covering 88 yards and ending with a 12-yard TD pass from Estavez to sophomore Mike Sirico. Sirico was responsible for getting the drive going when he intercepted a Westwood pass to thwart an early scoring chance for the Cardinals deep in River Dell territory.
The Golden Hawks made it 14-0 with another long drive, this one covering 75 yards and taking nearly five minutes to complete.  The big play of the drive was a 39-yard run by Racine. He seemed to be stopped after about an 8-yard gain at the 30, but he spun off a tackler who was on the ground and made it all the way to the Westwood 7-yard line. Estavez scored on a third down play to double the River Dell lead.
Westwood got on the board with a quick, six-play scoring drive that took a little more than two minutes to complete. Senior quarterback Sean Hopkins went 3-for-3 for 67 yards and ran twice for six yards, including a 2-yard touchdown plunge. Hopkins completed passes to senior Ryan Visich for 11 yards and to sophomore Jaden Brown for 14 yards.
From the River Dell 40 he connected with Visich for 38 yards. On the play Visich caught the ball on the right side, cut diagonally across the field to the left sideline, broke a tackle and raced to the 2-yard line. Hopkins took it in from there to cut the Hawks' lead to 14-7.
The Hawks maintained the seven-point lead heading into intermission and then doubled their advantage to 14 to open the second half with an 11-play, 68-yard scoring drive that took 7:46 off the clock.
Estavez was involved in eight of the 11 plays in that drive. After being held to 25 yards rushing in the entire first half, he ran for 31 yards including an 8-yard burst up the middle for the touchdown.
"In the first half they played a six box so they had a couple of extra guys containing me," he said." I think that worked well in the first half. Toward the end of the game they were more worried about the pass and I think they were a little fatigued so I think that's what allowed me to run in the second half."
But Westwood also has a pretty good quarterback in Hopkins. He got the Cardinals back in the game with a drive of his own. The scoring march consisted of three runs for 31 yards and he completed 5-of-6 passes for 55 yards and a touchdown.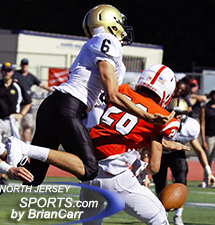 Jack Racine (6) breaking up a pass for unbeaten River Dell, which will travel to Shippensburg (PA) next week.
"Sean Hopkins is a great player," said Nimphius. "That's what's great about the game. It's two schools down the road playing for a bird cage [with a football inside]. This is what we should be doing in high school football."
The touchdown play was a hook and ladder as Hopkins tossed the ball to Visich for six yards. Visich caught the ball, turned and flipped the ball back to sophomore Jaden Brown, who sprinted down the left sideline for 28 yards and a touchdown to trim the lead to 20-14.
With two and a half minutes to go in the game Sirico intercepted his second pass of the game and it looked grim for the Westwood comeback. But the Cardinals defense stepped up. Linebacker Joe Kramer sacked Estavez to begin a three-and-out for the Hawks. After River Dell punted Westwood found itself at its own 10-yard line with 2:10 left in the game.
Hopkins scrambled for 12 yards and then on a 2nd-and-15 Hopkins fired the ball to Kramer near the 35-yard line. Kramer snagged the ball, spun away from a defender and bolted down the left sideline for an 83-yard touchdown to tie the game at 20-all.
Westwood had a chance to take the lead with an extra point but a low snap from center kept the game tied.
"Once they scored I gathered us all in and said we have to block this point – we have to get in there," said Estavez. "Luckily it was a bad snap and we got this missed conversion."
River Dell improved to 3-0 while the Cardinals fell to 2-1. The Golden Hawks will travel to Pennsylvania to play Shippensburg High School this week while the Cardinals head to Dumont.
"We knew they would hit us with some haymakers," Nimphius said of Westwood. "They're so good and so explosive. We wanted to hit them with body shots and try to run the ball inside. They took some of that away from us. Then No. 1 (Estavez) did No. 1 stuff.
"I told the kids going into this third game it's either one third through or one quarter through. You take your choice about how you want to do the math."
TO BUY A COLLECTOR'S PRINT OF THIS STORY PLEASE VISIT 4-FeetGrafix.com. FOR MORE PHOTOS FROM THIS GAME CLICK HERE!