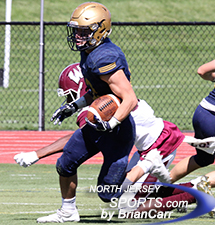 Sal DeBenedetto helped Old Tappan improve to 3-0 in the season with a 35-0 win over Wayne HIlls. The Knights have outscored their three opponents by a combined score of 112-6.
OLD TAPPAN -- Through the first two games of the 2017 regular season, the NV/Old Tappan Golden Knights had racked up 77 points while allowing just six. On an unseasonably hot day with a steamy artificial surface at Old Tappan High School, the Golden Knights were expecting to face a stiff test in the form of Wayne Hills, the 2016 North 1, Group 4 state sectional  champion.
Receiving the opening kickoff, Old Tappan drove to the Patriots 43 only to be stuffed on fourth-and-1 and it looked like a competitive game that was going to right down to the wire was just taking shape. But Old Tappan's defense took the field and made a statement.
A jarring knocked the ball loose from a Wayne Hills running back and NV/OT senior Sal DeBenedetto retrieved the ball and returned it to the four-yard line. On the very next play, senior running back Marquez Antinori bulldozed straight ahead for the score. There was never a doubt from that point on as Old Tappan ran its second record to a perfect 3-0, all of them lopsided victories, with a 35-0 win.
"A hard fought battle. Wayne Hills is a good team and give credit to my line that made it happen for everybody: wide receivers, running backs and quarterbacks," said Antinori. "We like to start our games with a fast pace and a team effort."
Mike Mancuso and the Old Tappan offensive and defensive lines won the battle in the trenches.
Forcing the Wayne Hills offense into another three-and-out on its second possession, senior quarterback Nicholas McNerney went to work, completing a 41-yard screen pass to Antinori and scrambling for another 26-yards on a QB keeper that moved the ball down to the Patriots one-yard line. Antinori managed to slip through a hole in the line for his second score of the game with four minutes remaining in the opening quarter.
In the second quarter, Wayne Hills started to click on offense. Getting the ball at their own seven-yard line, the Patriots marched on a 16-play drive that chewed up 7:15 of the clock but once again Old Tappan's defense rose to the occasion by forcing Patriots quarterback Jaaron Hayek into throwing an incomplete pass on fourth-and-5 at the Golden Knights 17-yard line.
"A big turnaround and we moved the ball out of our own end and got stopped, but the kids picked it up and got a forced fumble and permanently in our favor" said Old Tappan head coach Brian Dunn. "Overall a good team effort and we made so many plays in special teams, defense and offense."
The Golden Knights put it away late in the first half scoring twice in the span of 52 seconds. With 1:53 remaining, Hayek's pass was deflected and DeBenedetto was in the right place to catch the ball and return it for a 27-yard score. Old Tappan's stingy defense forced Wayne Hills into another punt. McNerney displayed the quick strike capability on the very first play by airing out a 59-yard bomb to senior wide receiver Aidan Bilali.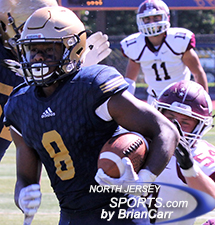 Marquez Antinori and Old Tappan have a short week to prepare for Thursday night's matchup against Ridgewood, another defending state champ.
"We prepared for this well and came out as hard as we could" said DeBenedetto. "Their first offensive play we're able to cause a turnover and capitalize" "We have a lot of players in our second and third year and starting so we're building chemistry and how to play together especially in the secondary."
"A good game and we came out more physical and ready to play" said McNerney. "The defense made a big play and offense had to come out and score and put a couple of points on the board and put the game out of reach"
"Our kids are making plays at the right time and Sal(DeBenedetto) with a couple of big plays, very athletic and got the ball in his hands with some nice catches," said Dunn. "Nicholas(McNerney) made some good adjustments at the line on some choice plays. He had good decision making on where to get the ball to and good vision of the field and checking some of runs off and proud of him"
Old Tappan has a short week coming up, playing Ridgewood on Thursday at Old Tappan High School with a 6:00 p.m. kickoff. Wayne Hills (1-2) which opened the season in Ohio, will get a bye next week before taking on Pascack Valley on October 6.
TO BUY A COLLECTOR'S PRINT OF THIS STORY PLEASE VISIT 4-FeetGrafix.com. FOR MORE PHOTOS FROM THIS GAME CLICK HERE!