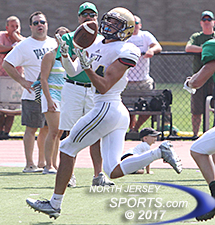 Aidan Bilali hauling in a long pass that set up NV/Old Tappan's second touchdown in a 42-6 win at rival Pascack Valley on Saturday afternoon.
HILLSDALE – Old Tappan won the battle up front on both sides of the ball and it showed in the final score as the Golden Knights won their second straight game to start the season, 42-6, over rival Pascack Valley on an 85-degree Saturday afternoon in Hillsdale.
"That was our goal coming in," said Old Tappan senior lineman Scott Essman. "We knew it was going to be won in the trenches. We worked our butts off all week in practice getting ready for a physical game up front. And we won the battle today. And ultimately we won the game."
"I thought they did very well," said Old Tappan coach Brian Dunn. "We put pressure on them to make them throw the ball. When they did we had the quarterback moving his feet a lot. So I thought our front seven or eight guys were outstanding the whole game, filling their gaps and doing what they needed to do."
The Golden Knights defense stepped up the second time Valley had the ball when senior linebacker Bryce Lukas sacked Indians sophomore quarterback Stephen Begen for an 11-yard loss. Two plays later Valley punted the ball back to Old Tappan.
"I think we're doing a good job of holding our gaps, being sound in our technique and responsibilities," said Dunn. "They're doing a good job of buying into the plans and really trying to get out and executing. Defense is about working hard, being knowledgeable and then just getting out and playing."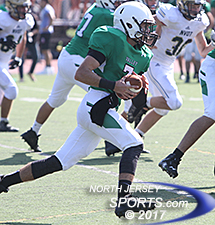 Sam Cassidy scored Pascack Valley's lone TD on the game's final play from scrimmage.
Senior quarterback Nick McNerney went right to work for the Knights. On third down, McNerney connected with senior wide receiver Bryan Baker for 18 yards to the Valley 29-yard line. After senior running back Marquez Antinori gained four yards, McNerney tossed a pass to senior wide receiver Aidan Bilali, who earned another first down. Two running plays by Antinori brought the ball to the 12 and Bilali ran it in from there on an end around to give Old Tappan a 7-0 lead.
Old Tappan added a score in the second quarter on a drive that took less than a minute and a half to complete. Antinori gained 12 yards on two carries and McNerney found Bilali down the right sideline for 43 yards. On the play Valley sophomore defensive back Joe Ciocca stopped Bilali at the 1-yard line but Knights junior Johnny Lohrer took it in from there to give Old Tappan a 14-0 lead.
The Golden Knights made it 21-0 with 3:42 left in the first half. The offensive line gave McNerney time to throw and gave Antinori room to roam. McNerney connected with senior Sal DeBennedetto for 15 yards to the Valley 10. Antinori gained two, then four yards. On third down he burst through the middle of the line, broke outside and outran the defense for a 19-yard TD jaunt.
Lukas sacked Begen again and Old Tappan got the ball back with just over a minute left in the half. On second down McNerney floated the ball down the left sideline where Baker made a spectacular catch for a 36-yard gain at the Old Tappan 49. Two incomplete passes brought up a 3rd-and-10 with 12.8 seconds to go in the half.
Sal DeBenedetto scored on a 49-yard catch and run on the final play of the first quarter to put Old Tappan up 28-0 at the break.
McNerney took the snap, scrambled away from some would-be tacklers and fired the ball to the right side where DeBenedetto was wide open. DeBenedetto caught the ball and scampered down the right sideline. He broke a tackle, then another, stayed on his feet and cut toward the middle of the field where he won a footrace to the end zone as the clock ticked down to 0:00.
"I sort of stayed underneath and when I got it I just looked and saw the open grass so I just ran it," DeBenedetto said. "I got some good blocks by Marquez. I think he blocked two kids on the play. It made a wide-open lane for me to hit the end zone."
As DeBenedetto was running downfield some from the sideline were encouraging him to run out of bounds so the Knights could run another play.
"I honestly had no idea how much time was left on the clock," said DeBenedetto, whose back was to the lone scoreboard as he made his dash. "And I saw open grass so I took it. I didn't really want to go out of bounds because I didn't know if the time had expired or not."
As a result of DeBenedetto's catch and run Old Tappan led 28-0 as the teams went to the locker room. The Knights made it 35-0 on the first play from scrimmage in the third quarter when Antinori burst through a huge hole up the middle, cut left and raced 75-yards for a touchdown. He finished with 142 yards and two touchdowns on 15 carries. Late in the fourth quarter backup running back Dan Vitellaro scored the sixth Golden Knights touchdown.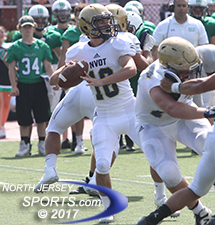 Senior QB Nick McNerney and Old Tappan will host a marquee public school matchup next weekend against Wayne HIlls.
"We're confident of putting the ball in any kid's hands when we're out there," said Dunn. "There are six guys, who I feel anytime we're on the field, we can get the ball to them and they can do something with it."
The Indians got on the board on what turned out to be the last play of the game. Valley senior Sam Cassidy went in to play quarterback in the fourth quarter and he and senior wide receiver Andrew Ewing combined for a 34-yard pass completion down to the Golden Knights 9-yard line. On fourth down Cassidy punched it in from two yards out.
"This is always a big rivalry game," said Essman." It's always fun to come here and get the win on their turf."
In its first two games of the season, Old Tappan has outscored its opponents, 77-6 with the lone score against coming against the second team defense.
"It's really good," DeBenedetto said. "We expected this to happen. We put the work in every day starting August 11.We work our butts off in the film room and the weight room and on the practice field. So we expected nothing less."
"We have good experience up front," added Dunn." We have some good-sized kids who worked real hard in the off season. That's what a game like this is. You're out in the heat early in the year, showing the experience and the toughness. They've been there before. They have some young kids playing who are going to be real good soon. We just had some little edge in terms of physicality and experience today."
Dunn was asked about how good his team is.
"It's still early for us to tell," he said. "I know we have guys who have played at a high level. We have a bunch of guys back from last year but every year is different, every week is different. They're kids and they have to keep focused. Once everybody tells them how great they are you're in for trouble after that. We're just trying to keep focused on day-to-day improvements. We've got good kids who will do that."
Next week the Knights face Wayne Hills for bragging rights to be the No. 1 public high school football team in North Jersey.
"We've had a pretty intense rivalry with them the last couple of years," said DeBenedetto. "We beat them. Two years ago they beat us. And we're both in Group 4 this year. We'll probably see each other again in MetLife."
"We have to just keep improving," Essman said. "We have a big game next week. We have to keep looking forward; we can't look back. We have to keep getting better and we're looking forward to a big game next week."
TO BUY A COLLECTOR'S PRINT OF THIS STORY PLEASE VISIT 4-FeetGrafix.com. FOR MORE PHOTOS FROM THIS GAME CLICK HERE!