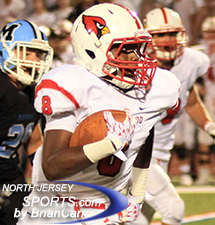 Sophomore Jaden Brown scored two fourth quarter touchdowns to help seal Westwood's 42-21 win over Mahwah in a rematch of last season's state sectional final.
MAHWAH -- In a much anticipated rematch of the last season's North 1, Group 2 state championship title game won by Mahwah by a touchdown, the Westwood Cardinals got a measure of revenge in 2017 the season opener for both teams with a 41-21 victory. The game was much closer the score might suggest, however.
While returning standouts Sean Hopkins and Joe Kramer shined all night long for Westwood, the game was really a coming out party for sophomore running back Jaden Brown, who scored two fourth quarter touchdowns to seal the Cardinals' win.
"Brown came up big for us. Hopkins is a warrior, he made some big plays for us," said Westwood head coach Dennis Hard. "This was the game we pointed to all off season. Real happy with the win."
After a scoreless first quarter where both teams struggled with their offense and exchanged turnovers, it was Westwood that got an early opportunity when senior linebacker Mark Mandeville recovered a Mahwah high snap fumble and raced 13 yards for the first score and a 7-0 Cardinals lead early second quarter.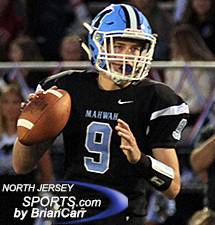 Sophomore quarterback Kyle Teel threw for two scores in his first varsity start for Mahwah.
The T-Birds came right back with two long second quarter touchdown drives to take a 14-7 lead under first year head coach Chris Diaz. The first score was a two-yard run by senior running back Sam Mintz after a seven-play, 75-yard drive that was spurred on by Mintz's 49-yard run to put his team in position.
The next T-Bird possession it was obvious that sophomore quarterback Kyle Teel, in his first varsity start, was settling in as he threw his first TD pass, a bullet to Davin Johnson for 44-yard score to make it 14-7 late in the second. Teel is also a star baseball catcher and a University of Virginia recruit. His father is Garrett Teel, the former Bergen County baseball star, and he is also a cousin to former Rutgers QB and now Don Bosco head football coach Mike Teel.
But Hopkins, the Westwood QB, was able to jump start the Cardinals' offense with three straight passes to Ryan Visich that covered 52 yards and Hopkins capped off the drive himself with a 6-yard TD run to make it 14-all.
"It gave us a lot of motivation, we needed to keep pounding...keep pounding," said Hopkins of the second quarter TD drive.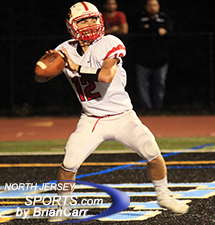 Sean Hopkins scored three rushing TDs and threw for another as Westwood opened its season with an impressive win.
Westwood won the first half turnover battle 4-1, but was still only able to muster a tie. In the second half, however, it was all Westwood. The Cardinals took the kickoff and marched 56 yards for a score, a Hopkins one yard run, after a 40-yard shuttle pass from Hopkins to senior wide receiver Joe Kramer.
The Cardinals took 26-14 lead on another one-yard run. They took possession at midfield after a T-Bird punt, and this time, after a double pass down to the one from Hopkins to Anthony Corrubia to Dylan Rubino on third and nine from Mahwah 25, Hopkins took it in from the one.
The T-Birds finally halted the Cardinals' run of 19 unanswered points and cut the lead to five when Teel threw another bullet to Daniel Prince for a 23-yard TD with 10:30 left in the fourth, making the score 26-21, but that would be it for T-Birds' scoring.
Brown broke out in a big way in the fourth quarter and his two TDs sealed the win for the Cardinals. He lead the Cardinals with 84 yards of offense in the quarter, made an amazing one-handed catch and exploded through the T-Birds for a 19-yard touchdown. He also pulled off an electrifying 4-yard TD to make the score 41-21 midway in the fourth quarter.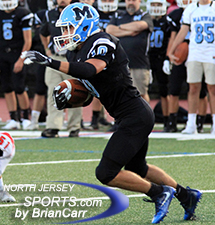 Sam Mintz scored the game's first TD for Mahwah, which will visit Orange next week.
Brown had 122 yards of total offense in second half, rushing 8 times for 75 yards and a TD and had two catches for 47 and another TD.
Brown post game said, "It feels good, I did it for the team, the win was very important, I waited so long, felt really good. Next week will work even harder."
It was all Cardinals and Brown in a second half where they out-scored the T-Birds 27-7.
"Jaden is a great athlete," said Hopkins, who scored three rushing touchdowns and threw for another. "I did not see that coming; great running back skills. He is still a young kid, only a sophomore. He still has a long way to go, but he came up clutch."
This might be a preview of a second meeting between these two perennial public school powers as they see each other again in the North 1, Group 2 playoffs just like last year.
NEXT WEEK: Westwood has its home opener against Pascack Hills and Mahwah visits Orange seeking its first win of the season on Friday night..
TO BUY A COLLECTOR'S PRINT OF THIS STORY PLEASE VISIT 4-FeetGrafix.com. FOR MORE PHOTOS FROM THIS GAME CLICK HERE!