Monday, December 5, 2016
By Jason Bernstein
Special to NJS.com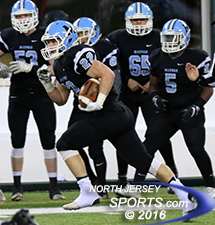 Brian DePaola racked up 297 all-purpose yards and 3 TDs as a part of Mahwah's epic comeback in a 35-28 win over Westwood in the North 1, Group 2 final on Sunday night at MetLife Stadium.
EAST RUTHERFORD - It was a play Jack Wood and the rest of the Mahwah defense saw countless times in practice leading up to Sunday's North 1, Group 2 final.
"They were running rocket screen and they hit it a couple of times on us," said Wood, Mahwah's senior defensive end. "Coach (Chris) Diaz came up to me and said when the back flares out to your side in that formation you have to run out, it's going to be a rocket screen.
With four minutes left and Westwood facing a third-and-3, Wood saw the shotgun formation with three receivers to the left. He then the saw running back Dylan Rekucki flare out to the right. From there, Wood knew precisely what to do. He jumped out towards Rekucki, intercepted the pass and sprinted 30 yards for the corner of the end zone for a touchdown with 4:02 left in the game.
The play, which Wood called 'the greatest moment of his life,' proved to be the difference as Mahwah rallied to defeat Westwood, 35-28, and repeat as North 1, Group 2 champions on Sunday evening at MetLife Stadium.
It is the fifth sectional title for Mahwah, which closed the season on a seven-game winning streak to finish 11-1. Westwood, seeking its third title in four years, finished 9-3 and saw its eight-game winning streak come to an end.
"I saw it and I ran out, the ball came right to me and I just took it," said Wood. "It was the best feeling of my life."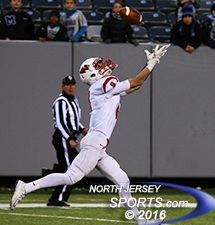 Sean McKay had 11 catches for 168 yards and had two TDs for Westwood.
"It's funny, as a coach and you're calling plays, you always kind of pray for something like that," Mahwah coach Jeff Remo said. "And it happened."
Call it divine intervention or a big stop in a big spot, Wood's interception was the keynote play in a monumental Thunderbirds comeback.
Trailing 21-7 after three Sean Hopkins TD passes, Wood started the Mahwah rally with an 8-yard TD catch from Ron Riccie with 5:40 left in the second quarter. On the ensuing drive, Westwood moved the ball down to the Mahwah 24, but a dropped pass in the end zone on fourth down with one second left in the half forced the Cardinals to settle for a 21-14 advantage heading into the intermission.
On Mahwah's first drive of the second half, Riccie heaved it up to Brian DePaola, who won the jump ball with the defensive back to secure a 47-yard TD and tie the game at 21-all.
Westwood answered back as Hopkins delivered his fourth TD of the night and third to Sean McKay to regain the lead with 6:51 left in the third quarter. But the Mahwah defense tightened after that and yielded just two first downs the rest of the way.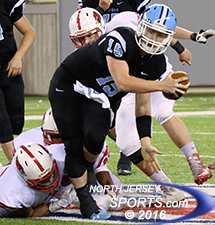 Mahwah QB Ron Riccie overcame two interceptions to complete 17 of 27 passes for 255 yards and four TDs.
"We had so many huge plays (on defense)," Wood said. "They have some of the best wide receivers in the county. Our d-backs were making plays left and right, just swatting balls down."
After Mahwah's defense forced a third consecutive three-and-out, Riccie evened the score with the help of his favorite target DePaola as the tandem hooked up for a 36-yard TD pass with 5:35 remaining.
"Me and Ronnie have played together since we were in third grade, we have a pretty good chemistry," said DePaola, who finished with eight catches for 173 yards and three touchdowns. "He saw me open, put the ball in a good spot, and I jumped up and did what I could on the play."
Following Wood's interception, Westwood drove to Mahwah 46 before three consecutive incomplete passes ended the threat, allowing the Thunderbirds to run out the clock.
"Going into the second half, we were just banking on seniors taking over the game and I think we did," DePaola said. "Going into the locker room Coach said that the seniors are going to have to come out here and make plays to get this win. We just stuck to our game plan, made a few defensive adjustments, a few offensive adjustments and it worked out."
DePaola, one of those seniors, finished with a spectacular eight-catch, three-touchdown performance for 173 yards as he racked up 297 all-purpose yards in the win. Riccie overcame two interceptions to complete 17 of 27 passes for 255 yards and four TDs.
McKay (11-for-168) caught first half TD passes of 47 and 24 yards to give Westwood a 14-7 lead. McKay also had an interception as part of a Cardinals defense which recorded five sacks in defeat. Hopkins, who also had a 9-yard TD pass to Rekucki, completed 18 of 38 attempts for 208 yards, four touchdowns and two interceptions to go with 39 rushing yards.
CLICK HERE FOR MORE PHOTOS FROM THIS GAME. TO BUY A COLLECTOR'S PRINT OF THIS STORY, PLEASE VISIT 4FeetGrafix.com.