Monday, December 5, 2016
By Cory K. Doviak
NJS.com Editorial Director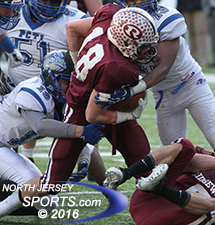 Zach Feagles scored both of Ridgewood's touchdowns, the second one with 3:01 left in regulation, as the Maroons held off defending champion Passaic Tech,
14-13, to win their first state sectional title since 2004.
EAST RUTHERFORD – While turning the game of football into fastbreak basketball on turf has been the trend in recent years, Ridgewood has had no interest in joining in. Under longtime head coach Chuck Johnson and his Wing-T offense, the style of play is more akin to the World's Strongest Man competition where an Icelandic gentleman carrying a keg full of lead has his success measured inch by inch.
It is always going to be grind-it-out with the Maroons and that is exactly what it was on Sunday against Passaic County Tech in the North 1, Group 5 final.
There were only four touchdowns scored in the game, two by each team and one in each half and the first three were all set up by turnovers that flipped field position in the way that the respective offenses had trouble doing with any consistency.
Neither team could separate itself and it reflected in the final margin. Ridgewood's second half touchdown came on a one-yard plunge by Zach Feagles with 3:01 left in regulation and was topped by Colsten Smith two-point conversion catch. Passaic Tech's last score with 1:24 to go was followed by a missed extra point and that was the grand total of the difference in a 14-13 win that gave Ridgewood its first state sectional title since 2004.
Trailing 7-6 at the half and by the same score at the end of the third quarter and through the first nine minutes of the fourth, Johnson never lost the faith that his team would figure out a way.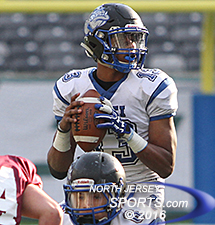 Derrick Cuavers completed four passes on PCT's final drive, including one for a TD with 1:24 left in the game.
"I told the kids at halftime today that we had them right where we want them. We have outplayed everybody in the second half; everybody…dramatically," said Johnson, whose team trailed Montclair by two scores in the fourth quarter in the semifinals two weeks ago before winning 31-20. "If we are down at the half who cares? We are going to win because we win in the second half. That is what we have done all year."
The first four possessions of the game each ended with punts with neither team able to pick up a first down before a confluence of favorable events went Ridgewood's way. First of all, PCT's return man decided to field a punt while running backwards to put the Bulldogs in a bad spot that only got worse after a first down loss pushed them back to their own 3. A fumble recovered by Smith on second down put the Maroons in business with a first-and-goal from the 4.
To show just how tough it was to move the ball against PCT's sizeable front, Ridgewood needed all four downs to cover those four yards with Zach Feagles finally able to nudge over the goal line for a 6-0 lead with 3:03 left in the opening quarter. The extra point was missed, a recurring theme on a weekend full of them with the swirling winds and narrower, pro-width goal posts at MetLife Stadium.
Senior Jack Kiernan out-jumped a receiver at the goal line to pull in an acrobatic interception to thwart PCT's first foray into the redzone, but special teams, an area where Ridgewood figured to have an advantage with Feagles, who will punt at the University of Miami next year. But Rhazeer Jones broke through to block a punt to give the Bulldogs one last first half shot at the endzone.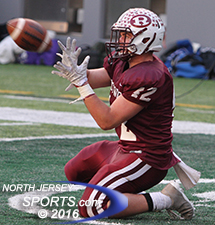 Coleston Smith catching the two-point conversion that gave Ridgewood the winning margin.
They took over on the Ridgewood 17 with 25 seconds left in the second quarter and with 8 seconds to go, Derrick Cuavers found Amado Rodriguez in the corner of the endzone. Nicholas Lepold made the extra point and, after struggling to move the ball at all in the first half, PCT ran off to the locker room with a 7-6 lead.
There was no change in the score in the third quarter and Ridgewood missed a 37-yard field goal at the end of its first possession of the fourth.
Even though it was behind by just the slimmest of margins, the clock was moving and with just under six minutes to go in the game, PCT's Nasir Watkins cashed a third-and-7 to give the Bulldogs a first down near midfield with a chance to eat up even more clock.
Ridgewood needed to make something happen and a big hit from a defensive back did the trick. Wylie Sherman lowered the boom on a PCT runner and the impact forced a fumble that Jack Simpson recovered. Ridgewood took over in plus territory, got a key third down conversion on a 15-yard run by Paul Calvetti on a third-and-7 gave the Maroons a first-and-goal from the 10. Feagles then scored his second one-yard TD of the game, Smith caught the 2-point pass from Jack Barclay and it looked like Ridgewood was in good shape.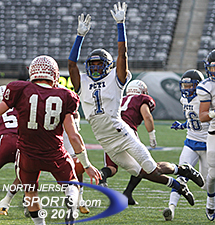 Rhazeer Jones getting a punt block to set up PCT's first touchdown.
"Their defense really made us work for everything. I had to get my pads low and keep moving my feet. They were tough to move, but our offensive line started to get a good push later in the game," said Feagles. "The Wing-T is built on smash-mouth football and getting short yardage every single play and our defense really stood in there making some big plays and giving us a momentum shift throughout the second half."
PCT, the defending champion that beat Ridgewood by a 27-0 score in last year's final, made a last push to keep its title. Taking over at his own 19, Cuavers completed four different passes to Vincent Mariani for a total of 59 yards, the last of them a 15-yard touchdown over the middle with 1:24 left in the game. And then the extra point was missed and the ensuing onside kick went out of bounds to give Ridgewood the final push toward its first state championship in 12 years.
"Winning still makes a difference. It still feels a whole lot better. I have tried to intellectualize the whole thing because I have been doing this for so long and it really is all about the relationships. Twenty-five kids told me they love me today and I told them the same thing," said Johnson. "That is what it is all about, but it is certainly more fun when you win."
CLICK HERE FOR MORE PHOTOS FROM THIS GAME. TO BUY A COLLECTOR'S PRINT OF THIS STORY, PLEASE VISIT 4FeetGrafix.com.