Sunday, December 4, 2016
By Jason Bernstein
Special to NJS.com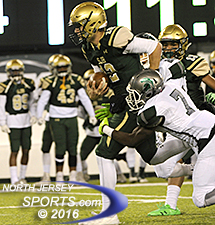 Quarterback Nick Patti shook off an early interception to have a big day for St. Joseph Regional, which beat DePaul, 26-17, to claim the Non-Public Group 3 state title and the No. 1 state ranking.
EAST RUTHERFORD - Nick Patti's day at MetLife Stadium could not have started any worse as his first pass was intercepted by DePaul's Ronnie Hickman and taken back for a touchdown. In years past, such a mistake would not have only meant seven points on the scoreboard against St. Joseph, but the collateral damage of a young quarterback with shaken confidence.
"About a year ago, definitely two, (Nick) would have really struggled for the rest of the game (after that)," St. Joseph coach Augie Hoffman said. "But this kid has really matured. He's taken his game to the next level. He finished the season our best player."
Said Patti: "Anytime you throw an interception, you look back on the play, you watch the play on the jumbo-tron five times and you're just looking to try and make up for it and make amends for it."
Four touchdown passes later, Patti didn't just atone for the prior error, he helped power his St. Joseph team to a 26-17 victory over DePaul in the NJSIAA Non-Public, Group 3 final.
For the game, Patti completed 9 of 14 passes for 209 yards to go with 78 rushing yards on 10 carries for St. Joseph (9-2), which captured its 18th state title and will finish the season ranked No. 1 in virtually every local poll.
"After I threw the pick everyone came up to me and said 'hey, there's a lot of game left, go win us this game,'" Patti said. "And I did everything I could to do that."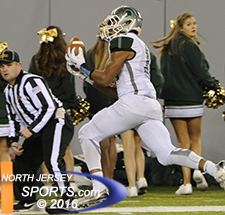 Ronnie Hickman catching the TD pass that got DePaul close in the third quarter.
Patti's next pass went far better for him and the Green Knights as he connected with Nick Cantone for a 61-yard touchdown to even the score at 7-7 with 1:42 left in the first quarter. His next pass after that was a 6-yard touchdown that gave St. Joseph the lead for good with 8:19 remaining in the opening half.
"That makes it a lot easier (to get your confidence up)," said Patti. "It makes the memory a lot shorter because all coaches talk about having a short memory, but you always keep it in the back of your mind that you threw an interception. When on the next pass you throw you make up for it, that's huge."
John Amodeo's field goal for DePaul cut the Green Knights' lead to 13-10 heading into halftime. The Patti-Cantone connection once again worked its magic for St. Joseph, teaming up for a 46-yard TD to make it 19-7 just 2:09 into the second half.
Cantone, best known for his work on the baseball diamond, had four postseason receptions totaling 259 yards and four touchdowns.
"He gets open, he gets by defenders and he's a very sneaky player," said Patti. "He's a big time player too and in those big situations he came up and he made plays."
"I'm a baseball kid, I love the baseball diamond, but this football field is a great place and coach Augie has so much trust in me," Cantone said. "It's just a great feeling when the coaches can believe in you and I think that's what I've been feeding off of the past couple of weeks."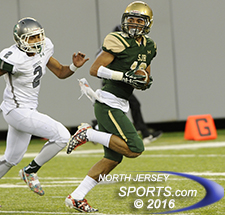 Nick Cantone caught two TD passes for St. Joseph, which finished the season at 9-2.
DePaul (6-6), once again threatened when sophomore QB Ta'Quan Roberson found Hickman for a 26-yard TD with 4:28 left in the third. But one year removed from heartbreak at MetLife, St. Joseph would not be denied as Patti found Yasir Berry for a 9-yard TD pass early in the fourth and the hard running of Louis Acceus and a stellar defense led by Acceus, Jack Agnew and Marc Doran put the game away.
"It feels amazing," Acceus said. "There's no better feeling than this. We worked real hard all season and we finally achieved our goal."
Acceus ran for 77 yards on 18 carries for St. Joseph and also had an interception as did Agnew. Hickman finished with four catches for 86 yards and Roberson completed 11 of 22 passes for 141 yards.
"There's not a feeling like it, especially to be able to put a '#1' on the ring and be the No. 1 team in the state, it's huge," said Patti.
CLICK HERE FOR MORE PHOTOS FROM THIS GAME. TO BUY A COLLECTOR'S PRINT OF THIS STORY, PLEASE VISIT 4FeetGrafix.com.