Saturday, December 3, 2016
By Jim Avitable
NJS.com Staff Writer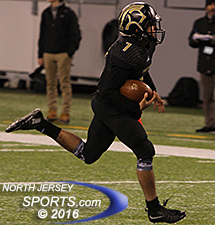 Andrew Brito threw for 106 yards and a score and rushed for 126 yards and one TD for Paramus Catholic, which won its third state title in the last five years with a 33-28 win over St. Peter's Prep in the Non-Public Group 4 final on Friday night at MetLife Stadium.
EAST RUTHERFORD – The story was already written. After a completely dominating the third quarter and the first half of the fourth, Paramus Catholic had blown by St. Peter's Prep in the Non-Public Group 4 state sectional final under the lights at MetLife Stadium. Having trailed by a touchdown at halftime, the Paladins locked down Prep on the defensive side of the ball, busted out some big plays on offense and had a 19-point lead with 5:12 remaining in the game. The party was just about to begin.
It eventually did, but not before a couple of anxious moments that required a rewrite of the initial story. Instead of a second half blow out leading to a coronation, Paramus Catholic had to sweat out not one, but two onside kicks that made the final minutes more interesting than the Paladins might have liked.
Prep recovered the first one and cashed it in to make it a five-point game with three minutes left and then recovered the second squibber that would have given the Marauders the ball and a legitimate chance to take the lead. But when it was ruled that the second kick did not cover the required 10 yards before being touched, Paramus Catholic took over and ran out the clock in a 33-28 victory.
After not making the state playoffs at all last year, Paramus Catholic roared back to claim its third championship in the last five years and got it under the direction of Dan Sabella, who took over as the head coach before this season. Sabella has now brought three different programs to state finals and won his second state championship. His first was with Bogota 10 years ago almost to the day.
"We could have made things a lot easier on ourselves, but, hey, we found a way at the end and that is all that matters," said Sabella. "It feels great. When you set a goal, when you see it come together and you see guys get better every week like our guys have; when you play unselfish football, play team football, it's a tremendous feeling."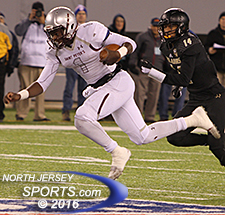 Rutgers-bound QB Johnathan Lewis scored all four touchdowns for St. Peter's Prep, which finished the season at 8-4.
It was a tremendous effort by a host of Paladins in the second half after Johnathan Lewis, SPP's Rutgers-bound quarterback had his team in good position through the first two quarters. Lewis went 61 yards around the left end for the game's first touchdown, scored from one yard out and threw a two-point conversion pass to Jorge Portorreal with 5:47 left in the half to give the Marauders the 14-7 lead they took into the locker room.
But Paramus Catholic has been in that position before. There was no panic in the Paladins and they wasted no time in reeling Prep in and then zooming right by. Led by crafty senior quarterback Andrew Brito, PC scored touchdowns on four of its first five second half possessions. The first one, a 7-yard spurt by Alijah Jackson just 1:26 into the third quarter, got PC even and they went ahead for good when Brito hit a wide open Matthew Zelaya for a 24-yard score to make it 20-14, the same lead that the Paladins would take into the final quarter.
Paramus Catholic's defense was similarly effective after halftime as it forced St. Peter's to a turn the ball over on downs on its first second half possession, to punt on its second and then turn it over on downs again on its third by stuffing the Marauders on third-and-1 and fourth-and-1 plays at the PC 18-yard line. One play after that, Jackson went 82 yards up the right sideline for a TD that put the Paladins up 26-14 with 11:09 to play.
Prep (8-4) then lost a fumble at the PC 3 on its next drive, Khyon Fitzpatrick recovered it and Brito engineered a 77-yard drive in the other direction. Jonathan Clark ripped off 42 yards on the first play of the march and Brito carried the ball the final 17 yards for the score that put Paramus Catholic (10-2) up 33-14 with 5:12 to play.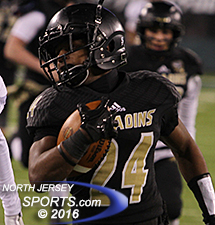 Alijah Jackson rushed for 127 on 11 carries for Paramus Catholic, which finished the season at 10-2.
"I thought we did a good job in the first half, but they took us off the ball and got macho with us in the second half and we did not handle it well. Up front was the difference in the second half," said St. Peter's Prep head coach Rich Hansen. "Malfunction in the red zone was what killed us the first game against them (a 28-21 PC win on Sept. 30) and again tonight. You give the ball back to them and Brito is a dynamic player, he makes things happen, he is a tough kids and they have players around him that make things happen. We had our chances, didn't take advantage of them…hats off to them."
But before Hansen made that eloquent concession speech, his team almost pulled off the impossible. Lewis scored from four yards out to make it 33-21 with 3:15 left and the Marauders got on top of the ensuing onside kick then worked a trick play to draw even closer.
Lewis pitched to Portorreal and then took off up the left sideline where he was wide open. Portorreal floated a pass out there and Lewis walked in untouched for a 27-yard score that made it 33-28 with 2:58 left. The next onside kick looked successful for a second before it was ruled to have been illegally touched, but the Marauders still were not done.
It took a little Brito magic on a third-and-7 and one last scramble on a fourth down for the Paladins to finally put the game away. Brito used his feet to keep a play alive and then hit Zaleya for a 23-yard gain to keep the Paladins from having to punt and then picked up four yards when he needed two on the final play of the game to finally run out the clock.
Brito threw for 106 yards and a score on 7 of 13 passing and rushed for 126 yards and one TD. Clark rushed 12 times for 130 yards and a score and Jackson rolled up 127 yards and two touchdowns on just 11 carries.
A season that started in Michigan Stadium in Ann Arbor for Paramus Catholic now ends 13 weeks later in MetLife Stadium, state championship in hand.
"This is what I dreamt of every night in the summer. This is why I kept going, to get us into this position and I am really happy that we finished the job," said Brito. "I don't even have the words to explain it right now. It is going to take me a while to take this all in. It's like a storybook ending, almost. To go from the biggest stadium in the country to the biggest stadium in New Jersey, it's a great feeling and it is cool the way it played out."
CLICK HERE FOR MORE PHOTOS FROM THIS GAME. TO BUY A COLLECTOR'S PRINT OF THIS STORY, PLEASE VISIT 4FeetGrafix.com.