Sunday, November 13, 2016
By Cory K. Doviak
NJS.com Editorial Director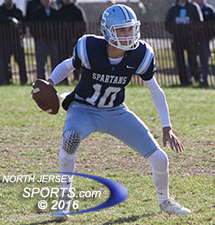 Sparta QB Matt Maute completed a Hail Mary for a touchdown on the final play of the first half, the backbreaker in the top-seeded Spartans' 55-27 win over NV/Demarest in the opening round of the North 1, Group 3 playoffs.
SPARTA – Northern Valley/Demarest was the obvious underdog heading into the state playoffs. It was the No. 8 seed in the North 1, Group 3 state sectional bracket and was up against No. 1 Sparta on the Spartans' own turf, a grass field that only hosts Saturday afternoon games. The Norsemen had nothing to lose and they played like it. An on-side kick on the opening kickoff, going for it on fourth down on their first offensive possession, slinging the ball around and playing without fear, Demarest emptied its entire bag of tricks.
All it needed was a little help from the favorite. Had Sparta gotten rattled, if it had started to turn the ball over at a rapid clip or if it lost its focus in anyway, it might have been in some trouble. But the undefeated top seed was not about to self-destruct. Sparta scored on its first offensive possession to go in front for good, held off all of Demarest's myriad attempts to catch up and then pressed its advantage late in a 55-27 win on a postcard-perfect fall day in Sussex County.
"I think Demarest is a team that can give a lot of people out there some headaches. They have a good quarterback, running back, offensive line and receivers, so I am proud the way our kids played. We have some good players, too," said Sparta head coach Frank Marchiano. "We have a quarterback [Matt Maute] who has thrown for a lot of yards, but the heart of our game is still our offensive line and Alex [Milliken] running the ball and moving the chains. We were able to do that well, especially in the second half."
Milliken got the game's first score, a four-yarder around the left side as Sparta took advantage of the short field on its first possession and Demarest's first three possessions ended in one turnover on downs and two interceptions, one by Jake Zerillo and one by Ben Davis. The second pick set up a Maute to Thomas Ferrara 12-yard TD pass and a Zerillo two-point reception that put Sparta up 14-0 with 2:17 left in the opening quarter.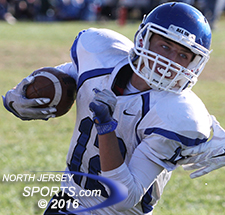 Sean Jansson is part of the Demarest senior class that stuck it out through last year's 0-10 season to see the Norsemen back into the playoffs.
It was right about that time that Demarest was facing oblivion. Either it was going to get back in the game with a quality drive or it was going to get blown out early and it was the former that happened. Quarterback Austin Albericci hit Sean Jansson, who made a leaping grab on a crossing route, to convert a fourth down and Kevin McCloskey bulled in from three yards out to get Demarest to within 14-7.
The teams then traded scored with Milliken scoring from one-yard away and Albericci winning the race to the pylon for an 8-yard score. Both extra points were missed to leave Demarest trailing 20-13 and it had a chance to draw even closer after David Nieto recovered a fumble, but instead that was pretty much where the game changed in Sparta's favor for good.
Demarest went three-and-out and Sparta turned a short punt into 43-yard scoring drive capped by Maute's 26-yard scoring pass to Milliken, who broke two tackles on the left sideline and charged into make it 27-13. With the Norsemen set to get the ball to start the third quarter, Sparta's defense again came through as it forced a second straight three-and-out to gives it offense just enough time to strike again. On the final play of the first half and from right at midfield, Maute threw a Hail Mary up to the front right corner of the endzone where Rich McDonald out-jumped a defender for a touchdown that gave the Spartans a 33-13 lead at the break.
"I thought our kids played great, but we had a couple of unfortunate things happen. The touchdown right before the half was critical. That is something that is hard to recover from especially as an eight [seed] playing the one. That gave them a little separation that they needed," said Demarest head coach Tony Mottola. "I thought that if we could get the game to the third quarter and the fourth quarter and keep the pressure on them, I thought we might have a good shot."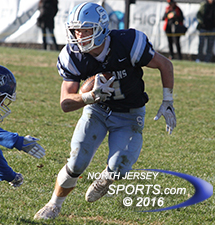 Alex Milliken's 89-yard TD run early in the fourth quarter pretty much put the game away for Sparta.
Demarest did score the only points of the third quarter on Albericci's 2-yard sneak, but Milliken went 89 yards for a score early in the fourth to make to 40-19 and pretty much remove any doubts of the outcome.
Despite the loss, Demarest is clearly on the upswing. The Norsemen were 0-10 last season with a host of sophomores taking their lumps. This year they finished at 5-5 in a season that included a four-game winning streak and a win over Ramapo, a team getting ready to host the North 1, Group 2 state semifinal game this Friday night. Last year's sophomores are this year's juniors and they will be next year's seniors, an experienced group ready to make a run.
"I am just proud that our kids played hard for 48 minutes. We didn't give up, we just kept playing and playing hard," said Mottola. "Coming off the season we had last year, to come in here and have this opportunity is just outstanding."
Sparta (10-0), which won the 2013 and 2014 championships in this same bracket, will now have a chance to clear out the whole of the Northern Valley school district as it will host Old Tappan next Saturday in the semifinals with a spot in the state final and a trip to MetLife Stadium in the balance.
"I love playing on this field. On the grass in the sunshine, I just love it and we worked hard all year to get the home field advantage just for a situation like this," said Maute. "I know Old Tappan is really good, they beat Ramapo this year, a great team, and we are looking forward to the next game. We know it is going to be a challenge, but that is what playoff football is all about."
CLICK HERE FOR MORE PHOTOS FROM THIS GAME. TO BUY A COLLECTOR'S PRINT OF THIS STORY, PLEASE VISIT 4FeetGrafix.com.