Sunday, November 6, 2016
By Cory K. Doviak
NJS.com Editorial Director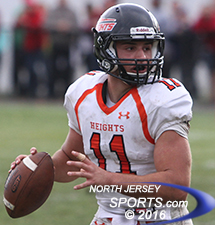 Frank Quatrone scored both TDs for Hasbrouck Heights and tossed the two-point conversion pass that provided the winning points in a 14-13 victory over Pompton Lakes in the inaugural NJIC championship game played on Saturday at Hershfield Park.
POMPTON LAKES – That the game took place on a Saturday, that it was played in the sunshine on natural grass between two high schools in one-town sending districts was so old school that pictures and video of its should have been shot in black and white. Hasbrouck Heights and Pompton Lakes got after it with the NJIC Championship Trophy, the first of its kind to be played for since before a state tournament was instituted in New Jersey, on the line and the game itself did not disappoint.
Each team limited the other to just two touchdowns and because Hasbrouck Heights completed a two-point pass after it scored the only touchdown of the second half with 3:30 left in the third quarter, it had one more point when all was said and done. In a battle of unbeatens, it was Heights that kept its perfect record intact and got to hoist the glass football after a 14-13 victory at Hershfield Park, a classic venue more than worthy a classic, if low-scoring, game.
"We didn't think we would win the game if we got [the two-point conversion] right there and we didn't think we would lose it right there if we didn't get. I didn't see it as do-or-die at that time, I just figured that if we got it we would put some pressure on them because we would have the lead," said Hasbrouck Heights head coach Nick Delcalzo. "I definitely expected there would be some more scoring from somebody."
Hasbrouck Heights (8-0) came into the game having allowed its previous seven opponents to score an average of 5 points per game. So it was a little surprising when Pompton Lakes (7-1) went right down the field on the game's opening possession and punched one in. The Cardinals marched 60 yards in 9 plays with quarterback Kevin Cotter making two key throws. He hit his tight end, senior Nick McDonald, down the seam for 24 yards on a second-and-18 and, three plays later, got the cornerback to bite on a hitch-and-go before dropping a 22-yard TD pass to a wide open Nick Posimato.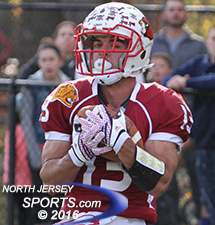 Nick Posimato hauling in the TD pass that gave Pompton Lakes the early lead.
Five minutes in and Heights was trailing for the first time this season, it had allowed more points that it averages giving up in a game and more points than it had allowed to all but just one opponent all season. The Cardinals certainly had Heights' attention, especially after they held Heights to a turnover on downs and a punt on its first two possessions.
"They scored the touchdown on the hitch-and-go, but they were moving the ball. It wasn't just that one play," said Delcalzo. "We were missing tackles and bouncing off of guys. We had to fix that."
Pompton was still leading 7-0 when Heights took over for its first possession of the second quarter, but Frank Quatrone was just starting to heat up. Taking shotgun snaps and weighing his options, Quatrone kept for a 20-yard gain on a third-and-5, hit Jasiah Purdie for 12 yards on a third-and-6 and then got in the endzone on a 14-yard keeper around the right to make it 7-6. Pompton's Joe Nicoletti blocked the extra point to keep the Cardinals in the lead and they added to it with a 9-play, 71 yard drive late in the second quarter.
Cotter went 3-for-5 on the scoring drive including a 31-yard touchdown on a screen pass to Chris Grecco, who raced up the right side on a third-and-16 to score with 48 seconds left in the opening half. Pompton missed the all-important extra point wide to the left and had to settle for a 13-6 halftime lead.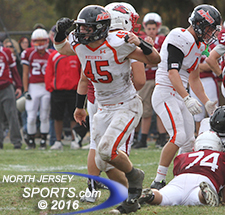 Heights' Jordan Wexler forced a key turnover with a fourth quarter strip sack.
The game was dominated by the defenses. Heights turned the ball over on downs on its first possession of the second half and Pompton picked up just one first down before punting on its first third quarter drive. What turned into the game-winning drive started when Heights took over a yard into Pompton territory and went 49 yards in seven plays. Evan Georgatos provided a change-up to the Quatrone-heavy approach as he ran twice for 18 yards and took a late hit on the second run, which gave the Aviators a first-and-goal from the 8.
After getting sacked by Cameron Kleinot on first down, Quatrone then carried twice in a row and ran around the left side for the score that brought Heights to within 13-12 with 3:30 to go in the third quarter. Heights used play action to get the defense leaning and Quatrone then flipped the two-point pass to Matt DiChiara for the decisive points.
"I said to one of my coaches at halftime that if they score, [Delcalzo] is going to go for two. He is going to go for the win," said Pompton Lakes head coach Scott Mahoney. "We shifted, we thought we had it covered, but they called a good play. You tip your hat, they made the play."
After that it was all about the defenses. Heights went three-and-out on its first possession and, after a short punt, gave Pompton the ball on the 42-yard line going in. On the first play of that drive, Heights' Jordan Wexler turned the corner from his right defensive end spot and got a hit on Cotter. The ball popped loose and Heights' other defensive end, Phil Miller, was there to recover.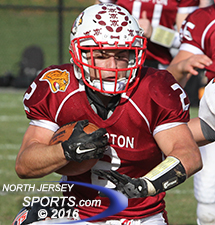 Chris Grecco scored Pompton's second TD on a 31-yard screen pass late in the first half.
"I almost got it earlier in the game. I hit [Cotter's] arm and he threw it short, but I was too late and didn't force the fumble. Then next time I got the chance I spun around my blocker and got there a little quicker," said Wexler. "We haven't been down at halftime all year, so being behind today was different for us. We had our backs against the wall and I think our defense stepped up big when it really counted."
Pompton's did too as Frank Negrini sacked Quatrone on fourth down to end the series after Wexler's strip sack and Grecco recovered a fumble on Heights' next drive that gave the Cardinals a golden opportunity to go back in front. They took over on the Heights 24 with 4:47 left in the game.
It was John Iurato's fumble that put Heights in that tough spot and also his sack on a delayed blitz from his middle linebacker spot that helped the Aviators get out of it. He caught Cotter by the ankle on third-and-9 and DiChiara broke up a pass on fourth down to give the Aviators the ball back. They picked up three first downs to on the way to running out the rest of the clock.
Iurato is listed at 5-foot-5, 165 pounds. While those numbers might be a bit of a stretch, he is in the middle of everything Heights does on both sides of the ball and is the spiritual leader of a team that is now 8-0, the first-ever NJIC champion and the top seed in the North 1, Group 1 state sectional playoffs that get underway next week.
"It's all speed. You gotta beat them with speed, you have to study their linemen, learn their tendencies…it's not easy being a linebacker at my size. They were big up front; strong running backs and strong linemen, but I knew we would be able to outlast them," said Iurato. "We started out a little slow. They were pushing us around, but we played some Heights football at the end and finished strong. We made history today and it is a great feeling."
CLICK HERE FOR MORE PHOTOS FROM THIS GAME. TO BUY A COLLECTOR'S PRINT OF THIS STORY, PLEASE VISIT 4FeetGrafix.com.