Saturday, October 15, 2016
By Cory K. Doviak
NJS.com Editorial Director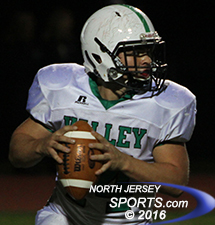 Matt Urrea threw for a TD and ran for six others, the last of which came with 20 seconds to play and gave Pascack Valley the lead for good in its first win of the season, a 48-42 victory at Demarest.
DEMAREST – With two touchdowns scored, one for each team, in a first half that flew by there was little to suggest just what was coming in the second act. A wild third quarter in which there were seven combined touchdowns scored and in which there were four scoring drives that lasted exactly one play seemingly came out of nowhere. The final two quarters played between Pascack Valley and Northern Valley/Demarest on Friday night were compelling and made the game in its entirety an early contender for 'Game of the Year.'
It was not until the last of Demarest's five laterals on the final play of the game rolled out of bounds pretty deep in the Indians' territory could Pascack Valley finally take the deep breath it has been longing to take since the season started. No longer is PV hold the moniker and half-compliment of 'One of the best winless teams in New Jersey,' but instead was the victor in a whacky 48-42 decision in which 75 points were scored in the final 24 minutes. Just one day after Pascack Valley boys soccer coach Roy Nygren got career win No. 400, PV football coach Len Cusumano got the first one of his career.
"It's not about me, it's about the boys. We just wanted to get over the hump and get the first 'W' for the kids," said Cusamano, a former Passaic Valley standout and assistant on the staff of Craig Neilsen, who stepped down as PV head coach after last season. "It was 8-7 at the half and then the game just kind of blew up."
"Blew up," is certainly the correct term. Let's just go through the third quarter scoring to illustrate the point and get used to seeing the name Matt Urrea used repeatedly. Pascack Valley's senior running back went 26 around the left side to finish of the Indians' first drive of the second half. Jake Demilia then hit Phil Wong for a two-point pass that gave PV a 15-8 lead. Those two points were the only ones scored by the Indians that did not have a player named Urrea directly involved, extra points included.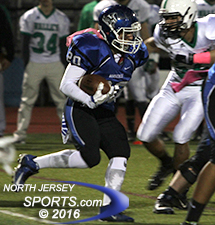 Demarest junior running back Kevin McCloskey ripped off touchdown runs of 71 and 24 yards.
Then, only Demarest's next play from scrimmage, Kevin McCloskey went 71 yards just about untouched for a score to draw the Norsemen back to within 15-14 after a missed extra point. But the tennis match-like viewing did not really kick into high gear until the final four-plus minutes of the third quarter when Urrea capped a 57-yard drive with a 1-yard plunge to make it 21-14 after Demarest's Connor Scaglione blocked the point after. Two minutes later McCloskey scored from 24 yards out and Austin Albericci kicked the extra point to knot the score at 21.
The next play? Urrea went 61 yards for a score and kicked the point after. Play after that? Albericci hit Ryan Vadis for a 61-yard score then kicked the extra point. Two plays after that? Urrea threw the ball and hit Kyle Alvarado for a 57-yard score that gave Pascack Valley a 35-28 lead.
Just to do some quick math here, that is seven combined touchdowns in the third quarter, four of them in the span of 4:12, with Urrea running for three and throwing another.
"We made some adjustments at halftime and, obviously, they made some adjustments at halftime and both teams were able to move the football," said Demarest head coach Tony Mottola. "It was an exciting game to be in."
Truth, and there was still a fourth quarter to play and that started with Urrea scoring from 38 yards out. His extra point hit the upright and bounced out, but Pascack Valley had the game's first two-possession lead, 41-28, with 10:20 to go and it looked like maybe the Indians had taken control.
To have assumed that would have been a mistake as Demarest put together a 42-yard drive to get back in it. Albericci hit Levis for a five-yard gain on a fourth-and-three from the PV 13 to keep the march going and Albericci scored on a keeper on the very next play. He also kicked the extra point to get the home team back to within 41-35.
Pascack Valley's Ricky Mizzoni finding a hole on one of the few plays from scrimmage that did not see the ball in Matt Urrea's hands.
After holding PV to a three-and-out, Demarest got the ball back with 3:28 to go in the game and on its own 13 yard line (Urrea's punt pinned the Norsemen deep), but there was no time to panic. Instead, Albericci took the first snap of the possession and hit Vadis again, this time for an 87-yard score up the left sideline. When Albericci kicked the extra point with 3:12 remaining, Demarest was up 42-41.
Pascack Valley caught a break when it fielded a squib kick not too long after it was kicked and took over on its own 41. Having completed just two passes all night to that point, the Indians did not need to risk putting the ball in the air, but did it anyway on a first-and-10 from just inside Demarest territory. Urrea again hit Alvarado for a big gainer, a 40-yard throw, catch and run up the right side. The Indians used the clock nearly to perfection as they scored on a third-and-goal when Urrea went over from the four with just 20 seconds left to play and added the extra point.
Surely that had to be the dagger, right? Well…yes, but Demarest did not go quietly even after Albericci was sacked near midfield with just two seconds remaining. On the final play from scrimmage, the Norseman got everyone involved, linemen included, on five successful laterals, the last one back to Albericci, who had some blockers as he reversed field to the right. One lateral too many went out of bounds inside the PV 20 and the Indians were finally free to celebrate their first win of the season and one of the best individual performances in school history.
Urrea, a senior and one of the few holdovers, rushed for 275 yards and six scores on 29 carries and completed two passes for 97 yards and a score. The numbers are flashy. The kid is humble.
"I owe every yard I gained tonight to the O-line. In the second half there were like three touchdowns that I wasn't even touched. That was the difference. They stepped it up and I just did my job and we got it done as a team," said Urrea. "We are a young team that did not have the luxury of starting off with an easy schedule, but we were not an 0-5 team coming in. Demarest knew that and they played hard, too, but it feels good to finally get one. We are still a Pascack Valley team and there is still a work ethic those goes along with the name across our chest. We are never going to give that up and we are not ever going to quit on our season."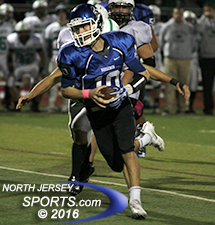 Demarest quarterback Austin Albericci threw for two scores and ran for two more.
At 1-5 and with just two games left before the state tournament cutoff, Pascack Valley is probably not going to reach the playoffs, but it has not been mathematically eliminated just yet and stranger things have happened (see Friday night third quarter). The loss dropped Demarest, which suffered through its own oh-fer last year, to 4-2 on the season with winnable pre-cutoff games coming up against Englewood and Paramus.
While the loss stings, Demarest, which was on top in the North 1, Group 3 power point rankings coming into the game, knows it was involved in a classic on Friday night and still having to battle for a playoff spot at this time of the season certainly beats where the Norsemen were at this time last year.
"A couple of plays here or there and we are celebrating as opposed to feeling the feeling we are feeling right now. I am proud of the way the kids played and we came up just a couple of plays short. Usually a Demarest team can not physically hold up to a Valley team, that is historically the way it has been, but tonight we did and the difference was really the ball did not bounce our way one or two times," said Mottola. "We just have to find a way to get into the playoffs. We'll get back to work on it tomorrow and make sure we get that done."
EDITOR'S NOTE: Wishing a speedy recovery to Demarest linebacker Christian Diaz, who was stretchered off the field with an obvious broken leg early in the fourth quarter. Good luck.
CLICK HERE FOR MORE PHOTOS FROM THIS GAME. TO BUY A COLLECTOR'S PRINT OF THIS STORY, PLEASE VISIT 4FeetGrafix.com.