Saturday, October 15, 2016
By Rich Barton
NJS.com Staff Writer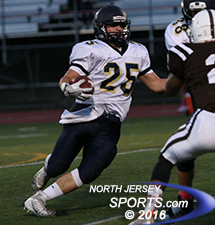 Mario Ferraro scored a career-high 4 touchdowns for Ramsey, which kept itself in the playoff picture and got over .500 for the first time this season with a 27-10 road win at Pascack Hills.
MONTVALE – After a big win over Hoboken last week Ramsey was in control of its own playoff destiny. With two games remaining before the eight-game cutoff, the math was simple. Win both and the Rams are in the North 1, Group 2 playoffs. Facing a depleted but hungry Pascack Hills team, the Rams took a couple of big shots early before finally getting their legs underneath them.
Mario Ferraro scored the second of his four rushing touchdowns on a tough run with 20 seconds left in the first half that gave Ramsey the lead for good. Lineman Matt Spagnoletti and linebacker Bryan Duncan were all over the place on defense to shut out the Cowboys in the second half as Ramsey climbed over .500 for the first time this season with a 27-10 road win over Pascack Hills on Friday night in Montvale.
"There was definitely some frustration in the first half but we never stopped playing hard," said Ferraro. "We made some mistakes in the first half and they took advantage of them. Give them credit because they did hit some big plays but we felt like the team they saw in the first half was not the real us. We had to come out and make our presence felt in the second half."
Pascack Hills has been snake-bitten as bad, if not worse, than any team in Bergen County this season with four of the best players suffering season-ending ACL tears. The Cowboys have showed no signs of quitting and controlled most of the first half.
Deven Deppert earned some tough yards on the ground on the Cowboys' opening drive, which looked like it might stall facing a third-and-16. The Rams, however, fell for a playaction fake from Pascack Hills QB Mitchell Bloom that allowed tight end Nick Kostantas to get wide open up the seam for a 32-yard TD to cap the 11-play, 76-yard drive that took 7:27 off the clock. Kicker Mark Henni hit the left upright on the PAT attempt but it went through for a 7-0 lead.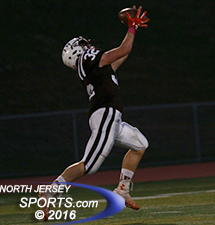 Nick Kostantas' 32-yard TD catch gave Pascack Hills the early lead.
Ramsey answered back with Ferraro breaking a tackle before bouncing it outside and getting the corner before turning it upfield for a 32-yard score of his own. The PAT was missed, though, and the Cowboys clung to a one-point lead.
Bloom and Kostantas hooked up again on a play identical to the earlier TD pass. This one did not go for a touchdown, but the 47-yard catch by the sophomore set up a field goal from Henni. The PH lead grew to four when Henni hit the upright again in nearly the exact same spot with the ball ricocheting through to make it 10-6.
Ferraro kept the go-ahead drive alive early with a 14-yard scamper on a third-and-nine. With less than a minute to play in the half, Cooper Mandel completed a third-down pass to keep the chains moving. That set up Ferraro who went off tackle left and again bounced it outside. Ferraro took a big hit at the goal line but powered through it and stretched out to get the pilon with 20 seconds remaining in the half to give Ramsey plenty of momentum going into the locker room with a 13-10 halftime lead.
"All I saw was the corner of the end zone and I had to get there first," added Ferraro. "I knew we needed a boost going into halftime and my line made all the blocks for me to give me a chance to get there."
Ferraro's TD run turned the switch on for the Rams as they dominated the second half, especially on the defensive side of the ball. On Ramsey's first drive Mandel threw a perfect touch pass on a third-and-eight just over the leaping Deppert and into the hands Jeff Klepper for the first down. The Rams did not score on that drive but they were able to flip field position and the Cowboys never got it back.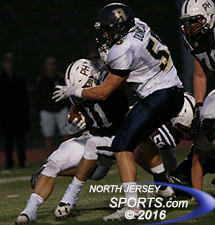 Bryan Duncan and the Ramsey defense pitched a second half shutout as the Rams improved to 4-3.
A good punt gave the Rams great field position and Ferraro needed just two plays to find the end zone for a third time. After an 18-yard gain, he ran it in untouched from three yards out to make it a two-possession game, 20-10, with 5:20 to go in the third quarter.
"Once we got the lead going into the second half, the game was on us defensively," said Duncan. "We're not going to back down and we had to start being more physical them. That started up front and we did that in the second half. Over the course of the second half we started to wear them down while we got stronger, that's definitely one of our biggest strengths. Once we eliminated the mistakes that allowed to get big plays we found our rhythm and started to play the way we're capable of playing."
Ferraro took advantage of another short field to put the game away. The senior tailback capped the Rams' final drive by bulldozing a Cowboy defender and knocking him back into the end zone on a one-yard TD run. Dan DeAngelis kicked his third extra-point try to cap the scoring.
Ferraro had a strong performance with 23 carries for 108 yards and a career-high four TDs for Ramsey (4-3). Deppert finished with 106 yards of offense (70 rushing, 36 receiving) along with a game-high 11 tackles for Pascack Hills (1-5).
Ramsey is still in the driver's seat for a playoff spot but needs a win next week at Westwood to lock it up. After a strong second half, the Rams are confident but they know there is still plenty of work ahead if they are going to pull out a win over the red-hot Cardinals, who have won three straight by wide margins.
"Records are thrown out last week just like they were this week, we have to keep our focus on playing Ramsey football," said Ramsey head coach Anthony Petrock. "We know Westwood is a tough team and we had a great game last year so that's a big game for sure. If we can clean up the mistakes and win the battle at the point of attack, we'll do our part to make it a great game this year and see what happens."
CLICK HERE FOR MORE PHOTOS FROM THIS GAME. TO BUY A COLLECTOR'S PRINT OF THIS STORY, PLEASE VISIT 4FeetGrafix.com.