Saturday, October 1, 2016
By Cory K. Doviak
NJS.com Editorial Director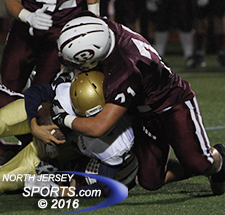 Ted Murphy and the Ridgewood defense dominated the line of scrimmage in a 20-0 shutout of NV/Old Tappan on Friday night.
RIDGEWOOD – Between the 20 yard lines, Ridgewood's defense plays it straight. The Maroons read and then they react to what they see coming and try to manage their calls by down and distance. But in the event that the opposition gets into the red zone, then the strategy changes.
"That has been our motto here for years; bend but don't break," said Chuck Johnson, who is in his 33rd year as Ridgewood's head coach. "Then when the other team gets to the 20, blitz like crazy, bring the pressure and try to create something."
Create something the Maroons certainly did and they did it four different times on defense. Wylie Sherman picked off two passes in the first quarter alone, returned one of them 63 yards for a touchdown, and Ridgewood won the turnover battle 4-0 for the game in a 20-0 blanking of Northern Valley/Old Tappan on a misty night on East Ridgewood Avenue.
Old Tappan's first possession of the game was promising as it ripped off a 23-yard gain on a pass from Jack Bilali to Chris Baker on the first play from scrimmage and the Knights marched from their own 19 to the Ridgewood 26. But the tone was about to be set as pass tipped off the hands of the intended receiver on a second-and-2 and was picked off by Sherman.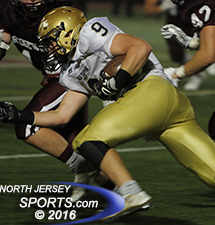 James Kelly and Old Tapapn (2-2) will look to get back on track next week against an improved Fair Lawn team.
The Maroons stalled on their first possession of the night, but that just means they get to show off another weapon as Zach Feagles dropped a punt inside the five and it was downed on the Old Tappan 2. The bend-don't-break was evident as again Old Tappan got out of the shadow of its own goal post and out toward midfield, but Sherman got his hands on another pass and this time returned it 63 yards for the score that, even though the extra points was missed, put Ridgewood ahead for good with 2:31 left in the opening quarter.
Ridgewood got the game's first offensive touchdown a minute into the second quarter when Drew Granski got to the left edge and raced 51 yards up the sideline to make it 13-0. Old Tappan's first half possessions ended this way: interception, interception, punt, turnover on downs (after a faked punt on fourth-and-2) and turnover on downs.
It was 13-0 at the break and while the Knights' defense was keeping them in the game, Johnson knew that has team would have a decided advantage after halftime.
"Their kids were all going both ways, we are totally two platoons," said Johnson. "We have enough kids to where Jack Simpson and Chris Black are splitting the defensive tackle situation and the rest of our kids are all playing one way."
Feagles scored the lone second half touchdown from one-yard out with 1:16 to go in the third quarter and Ridgewood defense did the rest. Connor Krusac had two second half interceptions, senior inside linebacker James Mondi finished with 19 tackles and Simpson and Ted Murphy were solid in the middle of the defensive line.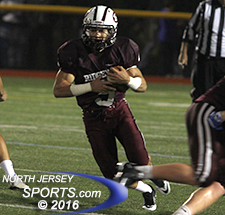 Drew Granski scored on a 51-yard run around the left end for Ridgewood which is now 4-0.
Halfway to the cutoff for the state tournament now, Ridgewood is a perfect 4-0, the kind of start it needed with its hopes of making it back to the North 1, Group 5 state sectional final. It is going to be hard to catch Montclair, with its superior strength of schedule giving it a power point advantage, but the No. 2 seed would mean that the Maroons wouldn't have to see them until walking through the tunnel at MetLife Stadium.
"You go down the Parkway to Exit 151 and you go west about a half-a-mile and you will find a heckuva football team named the Montclair Mounties," said Johnson. "It is key for us to be No. 2 to be in the position we want to be in for the playoffs. It is critical."
On the other sideline, Old Tappan took a knee for his postgame huddle at 2-2. The Knights are technically the defending North 1, Group 4 state sectional champs, but it almost unfair to hang that on this team. Fourteen seniors from last year's team and seven of them who are playing in college at present, graduated in June. This is a completely different version that has put itself in a position to make a postseason run simply by breaking even through its first four games. Next up is Fair Lawn, which is 3-0 pending Saturday's result against Indian Hills, but will be taking a step up in competition when it visits the Northern Valley. Then it is Teaneck, a much improved Northern Highlands team and Indian Hills leading into the cutoff. With Old Tappan dropping down from North 1, Group 4 to North 1, Group 3, nothing is yet lost.
CLICK HERE FOR MORE PHOTOS FROM THIS GAME. TO BUY A COLLECTOR'S PRINT OF THIS STORY, PLEASE VISIT 4FeetGrafix.com.