Sunday, September 25, 2016
By Rich Barton
NJS.com Staff Writer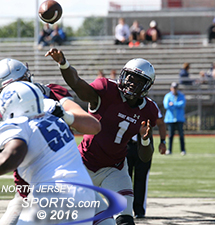 Johnathan Lewis helped St. Peter's Prep improve to 3-0 on the season with a 42-14 win over Seton Hall Prep in a game that was closer than the score suggested.
JERSEY CITY – Just being in the rotation on the defensive line was something St. Peter's Prep sophomore nose tackle Chris Stultz set for himself as a reasonable goal for this season. He hoped with hard work on the field and keen focus in the film room, that he could make an impact. One thing he never even considered was what to do if he ever got in the end zone. That was until a dream he had on Friday night where he saw himself scoring a touchdown and his teammates mobbing him. It was a dream he did not expect to ever come true, but it became a reality the very next day.
Stultz batted a screen pass and hauled it in before running 33 yards to paydirt to give the Marauders a 21-0 lead over Seton Hall Prep. The Pirates trimmed the lead to seven points before St. Peter's Prep pulled away late for a 42-14 triumph on Saturday afternoon at Caven Point in Jersey City.
"It's not as much that we won but how we won. We definitely have some work to do," said longtime St. Peter's head coach Rich Hansen. "We made enough plays to win but we have to play better and we have to do things better. I don't worry who we're playing as much as I worry about us and our execution."
Seton Hall Prep won the special teams battle and had great field position all game with its first drive starting at the Marauders' 42-yard line. It only lasted two plays Jayson Ademilola forcing a fumble and Benji Mowatt recovering. That set up a 12-play, 55-yard drive capped by a two-yard scoring plunge from Damion Abrams for a 7-0 lead.
Just past the midway point of the second quarter, on a fourth-and-two from the Seton Hall 32, St. Peter's Prep quarterback Johnathan Lewis broke two tackles on a designed keeper and took it all the way to double the Marauders' lead.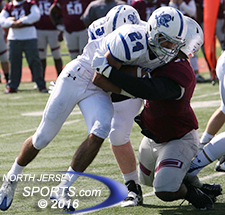 Mike Mughetto accounted for 144 yards of total offense for Seton Hall Prep
Seton Hall Prep quarterback Aidan Gilman attempted a screen pass over the middle but Stultz saw it coming and stood pat in his gap. He batted the pass in the air and took it to the house as his teammates went crazy to celebrate the Stultz's first-ever touchdown on any level with St. Peter's grabbing a 21-0 lead.
"During practice and watching film we saw that they run a lot of screens and I was ready," said Stultz. "I had a dream that I got a pick on one of them and it happened. I felt like I was 175-180 (lbs.) like one of those skill players when I had the ball. It was a dream come true."
Seton Hall Prep did not go down without a fight with an interception by Mike Mughetto setting up a one-yard TD run by Paul Theobald with one second remaining in the half that gave the Pirates some life heading into the second half. That momentum continued when Theobald took a shovel pass from Mike Mughetto and made two nice cuts on his way to a 59-yard touchdown that cut the deficit to 21-14 just over a minute into the third quarter.
The Pirates got the ball back with a chance to tie the game or take the lead on their next possession. They got the ball to the Marauders' 32 before Shayne Simon stopped the drive in its tracks with an athletic interception. For the second time in the game, the Marauders turned the interception into a bulldozing TD run by Abrams to give St. Peter's some breathing room with a 28-14 lead with 1:51 to play in the third quarter.
"Mistakes get magnified and we have to avoid the avalanche against teams like this," said Seton Hall Prep head coach Vito Campanile. "Last week we let up 21 points in five minutes (against Paramus Catholic) and we did that again this week. If we can stay away from that, we're right there. There's 42-14 where you got hit by a bus and 42-14 like today. If a few things go our way it could have been a different game."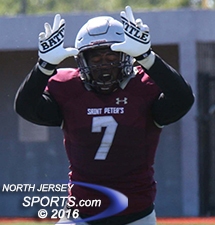 Justin Ademilola had two sacks for the dominant St. Peter's Prep defense.
If there was one area where the Marauders got better as the game went on, it was the along the defensive line. Twins Jayson and Justin Ademilola along with Mowatt and Stultz were dominant up front and left Gilman, just a sophomore, either getting sacked or getting hit hard nearly every time he dropped back to pass.
"I think the D-line is the strength of our team overall and we expect that from them," added Hansen. "Over the first three games they've been dominant. The twins have been around for the past three years and we feel like that's an area where we can get the best of people."
Maasai Maynor came on and scored on a quarterback keeper from five yards out before tailback Dakari Falconer capped the scoring with a 43-yard jaunt for St. Peter's Prep (3-0). Jayson Ademilola and Mowatt each had two sacks. Simon hauled in eight passes for 72 yards along with six tackles on defense. The unsung weapon for the Marauders is kicker Joe Henry, who converted all six of his PAT attempts.
Mughetto accounted for 144 yards of total offense (83 yards rushing on ten carries, 59 passing, and five receiving) for Seton Hall Prep (0-3).
St. Peter's Prep now heads into the meat of its schedule starting next Friday night in a road test against Paramus Catholic, which lost 17-14 on Saturday to Bergen Catholic. With PC, DePaul, Bergen Catholic and St. Joe's coming up in the next four weeks, this is the time where the Marauders can make their stamp as not only championship contenders but one with a chance to secure a top seed for the Non-Public Group 4 playoffs.
"We're trying to get better every week and our defense really stepped up today until our offense could get going," said junior defensive lineman Jayson Ademilola, who is committed to Notre Dame. "Next week is a big game against PC. Our goal is just to be consistent and play to the best of our ability. It will be the fourth game of the season so we should really start seeing just how good we are and how much harder we have to work if we want to be state champs."
CLICK HERE FOR MORE PHOTOS FROM THIS GAME. TO BUY A COLLECTOR'S PRINT OF THIS STORY, PLEASE VISIT 4FeetGrafix.com.