Saturday, September 24, 2016
By Rich Barton
NJS.com Staff Writer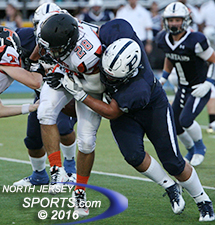 Emil LaMarca (right) and the Paramus defense pitched a shutout in their first win of the season, a 49-0 dismantling of Tenafly on Friday night.
PARAMUS – After two tough losses to open the season, Friday's night game against Tenafly essentially became a must-win for the Paramus football team if it was to have any hopes of getting on track and earning a state playoff berth. The outcome would not be in doubt for long as the Spartans took out the frustrations of their slow start by putting on a show both offensively and defensively for the home crowd.
Nick Tarabocchia threw three touchdown passes in the first quarter alone, two of them to Blake Wilkerson. Senior tailback Brian Bonino ran for two TD's and returned an interception for a touchdown as Paramus scored all of its points in the first half of an impressive 49-0 shutout win over Tenafly on Friday night.
The Spartans wasted no time in setting the tone on their first possession with Bonino scoring on a three-yard run followed by a two-point conversion from Emil LaMarca.
"We came out ready to play and it makes it easier when we win the battle on the line of scrimmage," said LaMarca, who along with fellow lineman Albert Mobilio, were dominant all night. "This was a total team effort. You don't score as many points as we did or hold a team to zero points without a team effort and everyone doing their job."
Before the Tigers could blink, a turnover and a quick three-and-out gave the Spartans good field position on their next two drives. Tarabocchia hit Wilkerson for an 18-yard scoring strike and followed that up with a 20-yard TD to Mike Martinelli to make it 22-0.
Tenafly (0-3) had a chance to gain some momentum late in the first quarter when they had the Spartans backed up for a third-and-18. That was no problem for Tarabocchia, who dropped a perfect deep ball to hit Wilkerson in stride up the left side for a 64-yard TD. Three plays later, the Tigers fumbled and Paramus recovered. Bonino made them pay by breaking two tackles and running 25 yards to make it 36-0 and getting the clock running just 22 seconds in the second quarter.
Paramus senior Brian Bonino ran for two TD's and returned an interception for a touchdown.
"We executed really well and getting some early turnovers helped," said Bonino. "With the way the line was dominating, I felt like I was going to get opportunities to get in the end zone. But it's not about how many touches I get, it's about us winning. We did well in all three phases of the game and when you do that, good things will come of it."
The Spartans were not done scoring though with Fred Hager plunging in from three yards out and Bonino picking off a screen pass and returning it 35 yards for the final margin.
Bonino rushed eight times for 82 yards to go along with six tackles and the INT return for a TD to lead Paramus (1-2). Tarabocchia completed just four passes (4-7 for 149 yards), but three of them went for touchdowns.

With win No. 1 out of the way, the Spartans will look to build off of this win and make a push for the playoffs under first-year head coach Bill Wiegel.
"It's a 24-hour rule here in Paramus, enjoy the win tonight and wake up tomorrow getting ourselves ready for next week," added LaMarca.
CLICK HERE FOR MORE PHOTOS FROM THIS GAME. TO BUY A COLLECTOR'S PRINT OF THIS STORY, PLEASE VISIT 4FeetGrafix.com.