Saturday, September 17, 2016
By Cory K. Doviak
NJS.com Editorial Director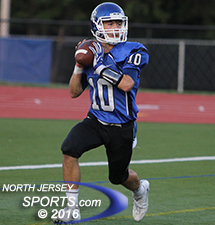 Junior Austin Albericci threw for two TDs and ran for two others to lead NV/Demarest to a 42-37 win, its first over Ramapo since 1992.
DEMAREST – There were about two minutes left to play in Northern Valley/Demarest's first home game of the year when two students walked over to a staff member manning one of the gates and asked if, when the game was over, it might be okay to run on the field in celebration. You have to forgive the Norseman faithful for not quite knowing how to handle the big moment. Demarest was an 0-10 football team last season and, outside the program itself, expectations were not much higher for this year.
There were some obvious residual effects from last season's Oh-fer.
Senior Night, usually a late autumn affair, was moved up to before the clocks even changed. The reasoning was that the home opener offered the best chance for a decent crowd to applaud a senior class that has taken its lumps. Also, by doing it before Friday night's game, there was a better chance that all those to be honored would be injury free, at least more so than they might have been if the ceremony had taken place after a game against Ramapo, the defending Group 3 state champion and last night's opponent.
But then the night turned into so much more. Demarest went from a program just trying to survive to one that looks like it will be doing power point calculations for the next six weeks to see not of it will make the state playoffs, but how high its seed might climb in the North 1, Group 3 playoff bracket. Instead of Friday night's crowd being the biggest it will play against all season, it actually might turn out to be the smallest and the fan section now has practice in rushing the field.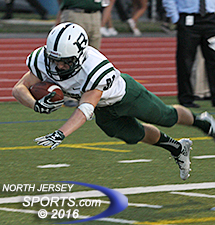 Ramapo's Stephen Hoover diving in for the touchdown that tied the game at 14.
Demarest pulled off a shocker as it opened an 18-point third quarter lead and held on for a 42-37 victory, its first over Ramapo since 1992. And it did not take long for the Norsemen to realize that they belonged on the same field with one of the state's premier public school programs.
"I actually thought right from the opening kickoff when we had a sophomore [Thomas Reilly] go down the field and make a play, make a big tackle right around the 25-yard line, that that set the tone right there that we could play with these guys," said Demarest head coach Tony Mottola. "To beat the defending state champions…it's a special moment."
Demarest held Ramapo to a three-and-out on its first possession and then, after a shanked punt that travelled only 13 yards, junior Kevin McCloskey broke a tackle near the line of scrimmage cut to the right and went up the sideline for a 34-yard score. The extra point was missed which meant that when Ramapo quarterback Tommy Jaten went in from four yards away on the Green Raiders' second possession, they took their only lead of the game at 7-6 midway through the first quarter.
With junior quarterback Austin Albericci able to keep plays alive with his feet while keeping his head up to pick out receivers downfield, Demarest really had no trouble moving the ball all night long. It was two fumbles inside the Ramapo 15 that slowed the Norsemen in the first half. Albericci hit Ryan Vadis for a 19-yard score on a screen pass and then ran in the two-point conversion to put Demarest up 14-7.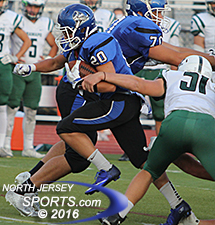 Kevin McCloskey scored from 34 yards out on this run on Demarest's first offensive play from scrimmage.
There were more first half fireworks Ramapo's Stephen Hoover went 31 yards up the left sideline to get the Raiders even at 14 before McCloskey took the ensuing kickoff back 83 yards for a touchdown to give Demarest a 21-14 lead at the break.
"People can think what they want about Demarest football. We don't care. All we care about is each other, about the kids and the coaches on this team because we are putting in the work to get better and we are a family," said Albericci, another member of Demarest's talented junior class. "No one can say that it is just one guy does it all. The five guys up front (Connor Scaglione, Max Langsam, Matt Stevens, James Hong and Ralph Arias) were unbelievable. Everybody made plays and we just kept going after it."
Although the game was dominated by the respective offenses each defense chipped in early in the third quarter. Ramapo got its third takeaway of the game by recovering a fumble on the opening series and Demarest's held the Raiders to just a 31-yard Alex Deleo field goal after the Ramapo took over at the Demarest 20.
The teams then traded touchdowns with Albericci hitting Vadis for a 59-yard score before Jaten hooked up with Jack Scordato down the seam for a 43-yard score. Demarest had the final word of the third quarter as Albericci scrambled around and then hit Joseph Rotonde for a leaping 29-yard score in the back of the end zone in a 4th-and-13 situation.
That gave Demarest a 35-24 lead after three quarters, it then forced Ramapo (0-2) into a turnover on downs on its first possession of the fourth and extended its advantage to 42-24 when Albericci ran around the left end for a 10-yard score with 9:36 to play.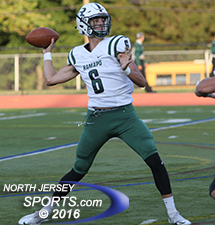 Tommy Jaten threw for a score and ran for two others for Ramapo, which fell to 0-2 on the season.
Demarest snapped its 11-game losing streak with a 12-8 win over Snyder in its season opener last week, but trying to close out Ramapo on a Friday night was a whole different story. Noah Baker scored from a yard out with 5:27 to go to get Ramapo to within 42-30 and Demarest went three-and-out without burning much clock on either of its next two possessions. Jaten scored on a nine-yard keeper with 2:01 to go to make it a five-point game, but Demarest recovered the onside kick and then finally burned off the remaining time to kick off the wild, even if unfamiliar on-field celebration.
"This feels amazing. We were 0-10 last year, we didn't win a single game, and now we are 2-0. We got the win and it feels great," said Arias, Demarest's junior right tackle who is playing with a cast on his fractured right wrist. "When we lined up and scored that first touchdown, we realized that we were bigger and that gave us a lot of confidence. I don't know what can happen now, but we feel like we can go to MetLife [Stadium]."
It might me a little early to start angling for tickets to a state final, but even that that thought has crept into the minds of the Norsemen shows the just where the program is heading.
"From the moment the offseason started the kids just believed in what we were doing. They did not want to repeat what happened last year," said Mottola. "Most of these juniors that were out there tonight played last year as sophomores and they took their lumps. We have a lot of work to do and we have to keep getting better, but this is a huge step in the right direction."
CLICK HERE FOR MORE PHOTOS FROM THIS GAME. TO BUY A COLLECTOR'S PRINT OF THIS STORY, PLEASE VISIT 4FeetGrafix.com.