Sunday, September 11, 2016
By Rich Barton
NJS.com Staff Writer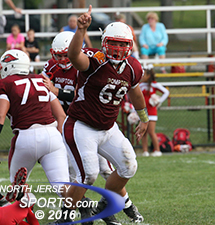 Cameron Kleinot and the Pompton Lakes defense allowed little in a 43-0 Opening Day shutout of Elmwood Park.
POMPTON LAKES – After missing out on the state playoffs for the first time in well over a decade, Pompton Lakes' returning players knew how hard they had to work in the off-season to make sure that that it was just a one-year postseason hiatus. After a long wait to get back out on the field, the Cardinals took out their frustrations on Elmwood Park and put on a show in front of the home crowd to open the season.
Pompton Lakes scored on five of its six first-half possessions. Remarkably, the Cardinals were even more impressive on the defensive side of the ball allowing just one first down as the clock ran for the entire second half in a 43-0 victory over Elmwood Park on Saturday afternoon at Hershfield Park.
Behind a cohesive offensive line, senior tailback Chris Grecco got the Cardinals going on the first possession. He opened the game with runs of 21 and 19 yards before following huge blocks by Austin Leone and Drew Flynn to sweep around left end for an 11-yard touchdown. On the PAT attempt, holder Kyle Shafer rolled out and hit Frank Negrini for the two-point conversion.
"The guys up front really were the difference on both sides of the ball. All the credit should be going to them," said Grecco. "Our line was really phenomenal creating holes for our running backs and protecting the quarterback. On defense it seemed like our line was blowing them up every play. Getting off to a good start is great but we've been really stressing finishing games, something we weren't able to do last year."
After forcing the first of five consecutive three-and-outs, the Cardinals picked up right where they left off. They needed only three plays to score on each of their next two possessions. Senior quarterback Kevin Cotter hit Nick Posimato in stride on a deep post up the left side for a 70-yard touchdown. Then Cotter hit John Tanis for a 31-yard TD strike for a 22-point lead just nine minutes into the game.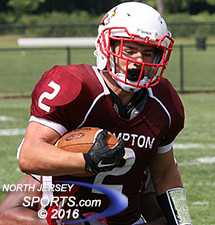 Chris Greco scored three times for Pompton Lakes.
The Cardinal defense was dominant at the point of the attack and flying all over the field to make tackles on the edge. Elmwood Park had no answers as Pompton Lakes poured it on. Cotter hit Grecco on a crossing route for a 43-yard TD then tossed a screen pass that he took 21 yards to the house for a commanding 36-0 halftime lead.
"Our style is built from the line out and we put Elmwood Park into tough situations," said Pompton Lakes head coach Scott Mahoney. "Staying healthy will be something we will deal with down the road, but we rotated guys up front and everyone produced. We have skill guys, but you need the line to do their job to allow those skill guys to make plays. When we control the line of scrimmage the way we did today, everything falls into place."
Cotter played literally the perfect game for Pompton Lakes (1-0). He did not turn the ball over and completed all six of his passes for 181 yards and four touchdowns. Grecco was a threat both running (nine carries for 103 yards, TD) and receiving (two catches for 64 yards, 2 TD's). Cole Harriet (57) and Colum Dell (52) each topped 50 yards rushing with Dell capping the scoring outburst on an eight-yard run. Defensively, the Cardinals had one of the most eye-popping stats you will ever hear of. They allowed just two of the 35 plays that Elmwood Park ran to go for positive yards.
Pompton Lakes will hit the road next week to take on Queen of Peace (0-1). After such an impressive performance on both sides of the ball, it could be easy for the Cardinals to get ahead of themselves. Feeling proud of their effort and feeling satisfied are two different things though; as this group plans on staying grounded with the hopes of doing their celebrating at MetLife Stadium in December.
"We came out and played really well but there is still a whole season left to play," said Posimato. "After losing five games by a total 18 points, we knew that we had to work really hard to start strong and finish stronger. We want to set the tone in every game and it was great to set the tone the way we did today. It's a good win but we can't have any time for rest. We'll enjoy this and get right back to work to get ready for next week."
CLICK HERE FOR MORE PHOTOS FROM THIS GAME. TO BUY A COLLECTOR'S PRINT OF THIS STORY, PLEASE VISIT 4FeetGrafix.com.