Saturday, September 10, 2016
By Rich Barton
NJS.com Staff Writer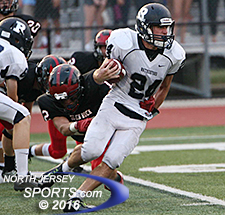 Billy Finn's fourth quarter touchdown put the game away as Rutherford opened the season with a 34-24 win at Glen Rock.
GLEN ROCK – After losing in the North 2, Group 2 section final last year, the Rutherford players were deflated. What was a thrilling run to MetLife Stadium with the support of the entire community turned into a nine month wait to take out their frustration on another team. But the team they were waiting for also knew that feeling. Glen Rock also fell in the section final last season and was looking to get 2016 off on a winning note. Something had to give when the teams clashed on Friday night in a game that will have power-point implications down the road.
Rutherford took control early before holding off a late charge. Billy Finn's fourth-quarter touchdown run gave the Bulldogs some breathing room and Kevin Kosakowski's athletic interception put the game away with Rutherford pulling out an important 34-24 victory at Alan Deaett Field in Glen Rock.
Glen Rock has one of the most dangerous QB-WR combos in North Jersey in senior QB Matt Schlett and fellow senior Robbie Ray. Schlett stepped up in the pocket and hit Ray up the seam for an 80-yard TD as the Panthers needed just 53 seconds to grab the lead.
"That first score really woke us up, but we knew we could come back and do the same thing," said Rutherford quarterback Tom Reid. "You can't take anything for granted and be ready to punch one in every time we have the ball."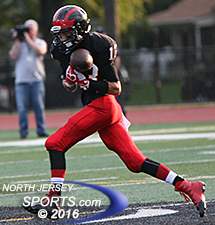 Robbie Ray's 80-yard touchdown catch gave Glen Rock the early lead.
Rutherford has a pretty darn good senior QB-WR combo of its own with former wideout turned quarterback Reid and Laris Mulic. With a defender bearing down, Reid stood in and took the hit while delivering a perfect pass to Mulic for a 48-yard strike to tie the game at 7.
After forcing a three-and-out the Bulldogs kept the offense rolling. With Anthony Melfa anchoring the offensive line, Reid and Kosakowski accounted on the ground for all 55 yards on the drive culminating with a three-yard plunge from Kosakowski to go ahead 14-7.
Glen Rock's Matt Loscalzo read a screen pass and picked it off. The Panthers turned it into point with Ray showing off one of the strongest legs around with a 39-yard field goal that would have been good from 50. That trimmed the lead to 14-10 but it was all Rutherford for the rest of the half.
The Bulldogs went 55 yards in just five plays with Kosakowski busting through a hole and making a cut to juke a defender en route to a 25-yard touchdown. They then embarked on a mammoth 17-play, 65-yard drive that consumed nearly nine minutes. On a fourth-and-goal from the one, Reid faked a handoff and rolled out to his left. He used a stiff-arm to shake off a tackler and walked into the end zone with 1:21 to go that gave Rutherford a 27-10 halftime lead.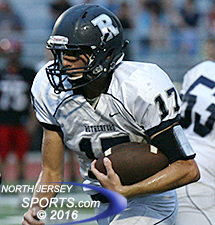 Rutherford QB Tom Reid

had 190 yards of total offense (105 passing, 85 rushing).
Glen Rock refused to give in and Schlett did his best to bring the Panthers all the way back. On a fourth-and-six from the 42, the rolled out and threw a dart for a 26-yard completion along the sideline to Tim Ray. On the next play he lofted a screen pass to Ryan Dooner, who went 16 yards to the house for TD that got the Panthers within 10.
A fumble recovered by linebacker Michael Quinn gave the Panthers good field position for the first time all game. They took advantage of it with Schlett faking a handoff and keeping it on two key plays. He did it on a fourth-and-one for a 21-yard gain and then four plays later for a 6 yd. score to get Glen Rock within 27-24 with 9:09 to play.
"We made a ton of mistakes, especially in the first half but I'm proud of the way we fought back," said Glen Rock head coach Jim Kurz. "I think their depth was a factor and we had some inexperienced guys who got off to a slow start. I always have hope for these guys and the way we played in the second half gives us an idea of what we're capable of."
The Bulldogs felt their lead slipping away but their confidence never wavered. Reid calmly marched his team down the field with his 16-yard run setting up the clinching TD. Billy Finn bulldozed his way in from five yards out with Kosakowski kicking his fourth PAT of the game for a 34-24 lead. On the very next play from scrimmage Kosakowski made a great play on a deep ball to haul in an interception that sealed up the win.
Matt Schlett threw two TD passes for Glen Rock.
"We made some mental mistakes all over the field but we made the plays we had to make down the stretch," said two-way lineman Shawn Williams, who had two sacks and was in Schlett's face all game.
Reid had 190 yards of total offense (105 passing, 85 rushing) to lead the way for Rutherford (1-0). Kosakowski rushed 15 times for 116 yards and two touchdowns.
Schlett finished 8-15 for 181 yards with two TDs and one INT, adding 67 yards on the ground for Glen Rock (0-1). The Panthers will look to pick up win No. 1 on the season next week when they travel to face Manchester Regional in North Haledon.
The schedule for Rutherford lightens up considerably over the next few weeks. But with a huge win to open the season, the spirits are as high as the expectations.
"We wanted to come in here and get a win after the way we lost to them last year," added Williams. "This is a wake-up call and we have a lot of work to do. If we want to be state champs we have to be a lot better than we were tonight because those mental mistakes could end up costing us a game. But we're feeling pretty good right now and we want to be even better next week."
CLICK HERE FOR MORE PHOTOS FROM THIS GAME. TO BUY A COLLECTOR'S PRINT OF THIS STORY, PLEASE VISIT 4FeetGrafix.com.