Sunday, October 9, 2011
By Cory K. Doviak
NJS.com Editorial Director
Tyler Vitiello helped pick up the rushing slack for Saddle Brook, which scored on its first and last possessions to stay perfect on the season with a 14-6 win over St. Mary on Saturday.
SADDLE BROOK – With four straight wins to open the season by a combined score of 207-19 including last weekend's 74-14 dismantling of Harrison in which is scored 60 points before halftime, the Saddle Brook football team has proved that it is good, among the Group 1 elites in North Jersey and a definite contender for a state sectional championship. The only question left for the Falcons to answer was how would they do against a determined opponent in a close game where fourth quarter execution would decide the outcome of the game.
Question answered as, nursing a one-point lead when it took over with 8:39 to go in the game, the Saddle Brook offense chugged down the field, covering 70 yards and eating up 6:11 of the clock. Matt Dickman finished the drive with a 3-yard touchdown run on third-and-goal as the Falcons scored once early and once late in a 14-6 victory over St. Mary (Rutherford) on Saturday afternoon in Saddle Brook.
Saddle Brook improved to 5-0 and will be the heavy favorite its last three games before the state playoff cutoff. That is why running into a tough St. Mary team and coming through unscathed was so important at this just of the season.
Jonathan Diaz scored St. Mary's TD, a 39-yard run late in the first quarter.
"We needed this. We haven't been tested all season long and we were really looking for a game like this before we went into the playoffs," said Saddle Brook head coach Leo Ciappina, whose team next three games are against Manchester, Waldwick and Elmwood Park, teams with a combined record of 3-11. "We needed to see what we were made of because when we get to the playoffs we will be ready for anything."
Saddle Brook certainly was ready for the defensive struggle it ran into against St. Mary. The Falcons scored only on their first and last possessions, while St. Mary got its lone score when Jonathan Diaz exploited one of the few holes to be found against the Saddle Brook defense.
It would be hard to find a whackier scenario than the one that led to Saddle Brook's first touchdown. After it held St. Mary to a three-and-out on its first offensive possession, Saddle Brook looked like its first drive was going to be ended in a turnover on downs when an Andrew Caravaglia pass on fourth-and-7 from the St. Mary's 21 fell incomplete, but a defensive holding call kept the drive alive.
After a couple of penalties forced the Falcons in the wrong direction, they again faced a fourth down, this time on the 26 yard line needed 25 yards for a first down or one more for the score. No problem, as Caravaglia lofted one up into the left corner of the end zone for Kenny Fernandez, who went up in double coverage and came down with the ball. Kevin Bottine added the extra point and Saddle Brook took the lead for good with 2:31 to go in the first quarter.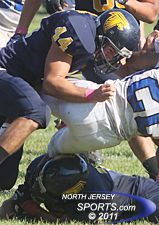 Kevin Bottine had a big sack that helped thwart St. Mary's final drive.
"We really did a great job of holding them on their first drive. We had a penalty that gave them a first down, but we pushed them back and forced another fourth down," said St. Mary head coach Mike Sheridan. "Then they threw that ball where we had two guys right there in coverage, but the kid made a great catch. I thought our defense played fantastic all day."
St. Mary then countered with its best drive of the day, moving from its own 29 to the Saddle Brook 39 before Jonathan Diaz found a crack off the left tackle, forced his way through it and then won the sprint to the goal line to get the Gaels on the board. However, the extra point snap was botched and St. Mary trailed 7-6, the same score it trailed by at halftime and through the third quarter as both offenses had trouble moving the ball.
Saddle Brook was slowed by and injury to the ankle of Steve Longa, the Rutgers-bound running back/linebacker, who was limited to just about defense only in the second half. His one carry of the second half ended in a fumble that was recovered by St. Mary's Anthony Ferrentino. That was the lone turnover in the game for either team and it didn't hurt the Falcons as it held on the ensuing possession when Willie Krajinik was stopped on a fake punt attempt.
Both defenses were so stout that St. Mary's three second half possessions ended in two turnover-on-downs and a punt, while Saddle Brook was stymied by a fumble and a turnover on downs before embarking on its final drive, which put the game away.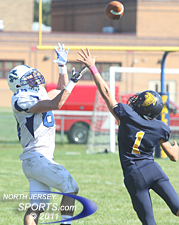 AJ Godsil caught 4 of St. Mary's 5 completed passes.
"That [last] drive was the key. We were only up 7-6 at the half and we knew we had to control the clock, move the ball down the field and we were lucky enough to put [the last touchdown] in," said Ciappina. "Even if we didn't score, we still ate up close to eight minutes on the clock and had them in bad field position even if they were going to get the ball back down one. That last drive was huge."
In Longa's absence in the offensive backfield in the second half, Dickman and Tyler Vitiello picked up the slack.
"We did move the ball better than it looked, but we had a lot of penalties. He had to get that right. All the holding calls, it was killing us. It was taking away all of our good gains," said Vitiello. "Our offensive line really stepped it up. It was a fight all game and they just kept pushing."
Vitiello finished with a team-high 82 yards rushing, while Dickman added 68 yards and the fourth quarter touchdown. Caravaglia finished 4 of 12 for 48 yards, but did have a couple of balls dropped. Ryan Daugherty was 5 of 11 passing 89 yards and AJ Godsil had four receptions for 78 yards for the Gaels, who fell to 3-2 heading into next week's home matchup against Becton.
A young team in a favorable bracket as far as making the state tournament in Non-Public North B, St. Mary is not in all that bad a spot at this point in the season.
"We said before the year that if we could make it through the beginning of the season and then into the meat of the season still standing then we would be all right," said Sheridan, whose team's other loss came against Hasbrouck Heights, 21-20. "What we needed was experience. We would have liked to have won the two that we lost, but now we have that experience and we should be better for it."
FOR MORE PHOTOS OF THIS EVENT OR TO BUY A COLLECTOR'S PRINT OF THIS GAME STORY, PLEASE VISIT 4FeetGrafix.com.