Monday, October 24, 2016
By Rich Barton
NJS.com Staff Writer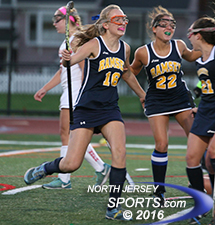 Lexi Hawtin scored twice, including the game-winner early in the second half, as Ramsey won its third straight Bergen County title, 3-2, over No. Highlands.
ORADELL – The position of left wing is one that requires both sheer aggression and a tremendous amount of patience and it is a position that Ramsey's Lexi Hawtin has grown to love and appreciate. The aggression aspect of her job requires pouncing on loose balls in front of the net. The patience part comes in waiting for scoring opportunities which, even on a strong team like Ramsey, are far and few between when facing top-notch opponents. Hawtin has emerged as one of the biggest surprises in Bergen County this season, but she saved her biggest surprise for the biggest stage.
Hawtin scored twice, including the game-winner early in the second half, as second-seeded Ramsey avenged a regular-season loss and handed No. 1 seed Northern Highlands its first loss of the year as the Rams captured a third straight Bergen County Tournament title with a 3-2 triumph on Sunday night at River Dell High School in Oradell.
"This was a stressful game but to win another county title is crazy," said Hawtin. "It's like a dream to me to win a county title after losing 18 seniors last year. It's amazing to be a part of this team and to be county champs."
Both teams came out on fire with end-to-end action early in the first half. After the jitters subsided the Rams settled in and quickly seized control. Ramsey used speed in transition to set up the first goal. McKenzie Bishop cleared the ball out of the defensive third up to speedster Mary Pless. She centered a pass for her sister Jane, who got off a point-bank shot. Northern Highlands' goaltender Victoria Marino made the save but could not corral the rebound. Hawtin beat a defender to the loose ball and knocked it home to give Ramsey a 1-0 lead in the 12th minute.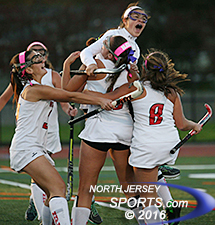 Northern Highlands celebrated after getting the score tied at 2 with two late first half goals.
Just over three minutes later, one of the state's best players showed why she is an offensive threat every time she touches the ball. Kassidy Shetler knifed her way through defenders the length of the field before getting off a shot. It was deflected in front and skipped into space where Kristen Garone touched it in as the Rams taking a two-goal lead with 15:10 remaining in the half.
Ramsey might have been starting to feel comfortable heading toward the half with a two-goal cushion when its world was turned upside down.
After being bottled up offensively for most of the first half Northern Highlands busted out by earning four consecutive corners late in the first half. Fiona Walley made it count by blasting a shot from the top of the circle just inside the right post to cut the lead to 2-1 with exactly three minutes left in the first half. The Highlanders were not done there as they scored again off of a corner. Walley's long shot was saved but Catherine Dalton was right there to put home the rebound with 1:23 remaining. That tied the score at 2 and gave the Highlanders all the momentum heading into the second half.
"When they came back to tie it before halftime it was definitely a scary feeling," said Bishop. "It was frustrating but we just had to start over like it was 0-0 because it basically was. After losing to them in the regular season, we used that as motivation to come out just as hard in the second half as we did in the first half."
Ramsey was reeling emotionally heading into the halftime talk by head coach Becky Fantry. The Rams never showed any signs of fear though as they regained control and netted the go-ahead goal soon after off of a corner. Shetler made a nice move to spin around a defender and touch the ball past Marino towards the back post. Hawtin stayed in position and slammed it into the back of the cage to put Ramsey back in front, 3-2, with 23:29 to play.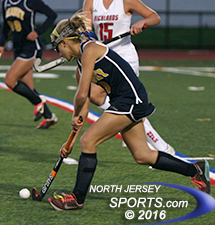 Kristen Garone scored the second goal for Ramsey, which is now 15-1-1.
"We started off fresh in the second half and we felt like we'd have our chances to score," said Hawtin, whose sister Maddie also did a nice job playing on the back line. "The ball was right there and I happened to be in the right place at the right time."
Northern Highlands (17-1-1) tried desperately to push numbers forward and get the ball on the stick of Bergen County's leading scorer and the fourth-leading scorer in New Jersey, Gabby Pontone (36 goals). Maddie Truax and Bishop made a concerted effort to keep her the speedy forward from breaking loose. Pontone did not get off a shot in the second half and the Highlanders had just two shots over the final 15 minutes as Ramsey (15-1-1) hoisted the Bergen County Championship trophy for the third straight season.
"Any time we play Northern Highlands, we know we have to battle and fight to earn the right to be county champs," said Ramsey head coach Becky Fantry. "After losing 18 seniors, to work so hard and win another county title is incredible. Our girls come ready to work hard every single day. To win a county title and beat a team like Northern Highlands that is so well-coached and so talented is just an unbelievable feeling."
CLICK HERE FOR MORE PHOTOS FROM THIS GAME. TO BUY A COLLECTOR'S PRINT OF THIS STORY, PLEASE VISIT 4FeetGrafix.com.