Tuesday, October 11, 2016
By Rich Barton
NJS.com Staff Writer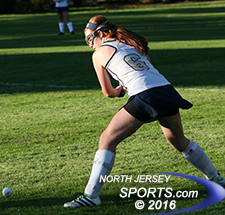 Senior Sydney Zahn had the goal that gave Dwight-Englewood a 2-1 win over Demarest in the opening round of the Bergen County Tournament on Monday.
ENGLEWOOD – It has been a rough few years for the senior class of the Dwight-Englewood field hockey team. Winning games has not come easy and the Bulldogs have not seen any success in the Bergen County Tournament with three consecutive first-round losses. With Monday's game against Northern Valley/Demarest being their last shot to win a game in county tournament play, the Bulldogs relied heavily on senior leadership down the stretch to taste success.
Do-everything senior Sydney Zahn scored the game-winner with 6:36 to play to give Dwight-Englewood a 2-1 triumph over fifth-seeded Northern Valley/Demarest in the first-round of the Bergen County Tournament in Englewood.
Dwight-Englewood was in control throughout the first half with an early goal setting the tone. With two defenders on her, Emily D'Alessandro slipped a pass between them to Katie Anderson at the top of the circle. Anderson flicked a seeing-eye shot that got through a sea of players in front and passed a screened Demarest keeper to give the Bulldogs a 1-0 lead just over seven minutes into the match.
"It's always important to play well right from the beginning of the game," said Anderson. "On the goal, I had some space in front of me and there was a lot of traffic in front of the net. I just sent it in as hard as I could and it ended up being a good outcome."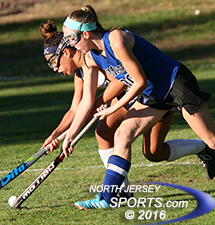 Michelle Diehl had the goal that got Demarest even at one goal apiece.
The Bulldogs still held a one-goal lead at halftime with plenty of confidence and rightfully so. They defeated Demarest 4-0 three weeks ago and did not allow a shot in the first half on Monday. The Norsewomen have improved dramatically, however, in recent weeks and showed it with a spirited second-half effort that led to the tying goal.
Although she was initially not near the play, Demarest's Michelle Diehl never stopped hustling to get in position. Her work paid off when a deflected pass drifted into space right in front of the streaking forward. Diehl one-timed a shot into the lower-right hand corner with 17:55 to go to tie the score at 1.
"I like the improvement we've showed throughout the season, how hard this team has worked and how we really battled back in the second half," said Northern Valley/Demarest's first-year head coach Mollie Kearns. "We couldn't afford to be picky with our shots. We had to be hungry and want the ball in the circle. I thought we made the adjustment we needed to make, but to be successful in a county tournament game you can't wait 30 minutes to turn it on."
The Norsewomen nearly took the lead a minute later when Braden Renke (one of North Jersey's most underrated players) ripped a shot just inches wide of the left post. Before the Bulldogs knew what hit them, the momentum they had built throughout the first half was now gone. If there were any hopes of breaking the long county tournament schneid the Bulldogs had to match Demarest's intensity.
That fell on the shoulders of Zahn, Anderson, D'Alessandro, and Olivia Fuld. The quartet of talented seniors kept pushing forward to earn short corners before cashing in on one when they needed it. Fuld started the play before the ball swung around to Zahn, who touched the ball around a defender and cracked a long shot into the lower right-hand corner with 6:36 left that turned out to be the game-winning goal for Dwight-Englewood (7-6).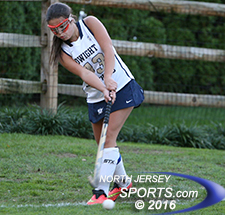 Olivia Fuld and Dwight-Englewood will play top-seeded Northern Highlands in the Bergen County semifinals.
"I got the ball, did a dodge around one of the Demarest players to get enough space to get off a shot," said Zahn. "It happened fast so I just took a hard shot at the goal and hoped for the best."
Renke was making plays all over the field and Sophia Mottola finished with 10 saves for Demarest (3-9).
After winning its first county tournament game in over a decade, all the pressure is off for Dwight-Englewood going into the Bergen County semifinals. They will take on top-seeded and currently undefeated Northern Highlands (13-0). Despite being a heavy underdog in that game the spirits are high and so is the confidence of a senior-laden group that has already achieved one of their main goals for the season with this win.
"Northern Highlands is a great team and we know it's going to be a tough game," added Anderson. "We can't let our intensity slip like it did to start the second half today. We have to play with intensity for a full 60 minutes and see what happens."
CLICK HERE FOR MORE PHOTOS FROM THIS GAME. TO BUY A COLLECTOR'S PRINT OF THIS STORY, PLEASE VISIT 4FeetGrafix.com.