Saturday, September 17, 2016
By Rich Barton
NJS.com Staff Writer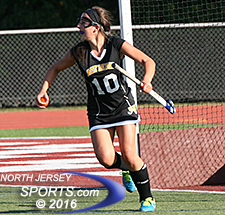 Danielle Dellapi after scoring the game-winning goal as West Milford beat three-time defending Passaic County champion Wayne Hills, 4-3, in overtime.
WAYNE – With county championship in three consecutive years, Wayne Hills has set itself apart from the rest of its Passaic County competitors. West Milford has been a solid team, but was not in the same class as the Patriots during that stretch. In their past five meetings against Wayne Hills, the Highlanders won just one of them and that was back in 2013. For West Milford to be considered a true Passaic County title contender it knew what it had to do: Beat the top dog.
As the teams headed into overtime, West Milford's Danielle Dellapi and Maeve Gordon were not going to be satisfied with just having pushed Wayne Hills to the limit or even coming away with a tie. They wanted to make a statement that the road to the Passaic County title may just be Route 23 North.
Dellapi took a cross from Gordon, touched it around a defender and ripped a shot inside the right post with 4:07 to play in overtime to give West Milford a thrilling 4-3 triumph over Wayne Hills on Friday afternoon in Wayne.
"This is the first time we've beaten Wayne Hills since my freshman year so we're pretty excited about it," said Gordon. "When we went down at halftime, so we knew how much harder we had to come out in the second half. I think we work so well together and we're starting to see our potential for this season."
Wayne Hills set the tone with a goal from Amanda LaGuardia less than five minutes in. The Highlanders answered back with a goal in the 14th minute set up by a pass on a short corner from Sydney Lamothe. Bianca Cano received the pass and knocked it home to knot the game at 1. Less than four minutes later, West Milford struck again with Lamothe one-timing a cross from Gordon past Wayne Hills goalie Rachel Vellis for a 2-1 lead.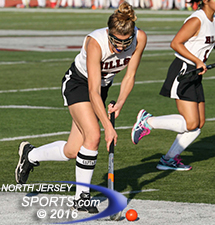 Amanda LaGuardia scored twice for Wayne Hills, which fell to 2-2 on the season.
The Patriots tied the game when LaGuardia slammed home a loose ball on the left post. There were some deliberation between the referees as to whether the goal should count, but it was decided that the goal would stand and the game was tied at 2. It appeared the score would remain that way going to halftime but the Patriots never stopped working until the final second, literally. LaGuardia sent a failed clearing attempt back on net with Jen Cantilli finding the back of the cage on the rebound with just one second remaining to give Wayne Hills a 3-2 lead after a highly entertaining first half.
"We could have let that goal get to us mentally but we stayed tough and stayed focused," said West Milford head coach Krista Provost. "I was super impressed with the way we shook off that goal at the end of the half and kept playing our game in the second half. We're going to mistakes. The thing about this team is that they own up to it and they clean it up. We worked so hard in the second half to make sure that we didn't make any more mental mistakes."
It looked like things would continue going the Patriots' way in the second half when Vellis used her blocker to make a diving save on a penalty stroke. The Highlanders kept pushing forward and quickly got the equalizer. Dellapi had a nice individual effort down the left, splitting two defenders before ripping a shot inside the far post that tied the game for a third time, 3-3, with 21:36 to play.
"I thought we got some momentum with that late goal to end the first half, but we were flat and couldn't pull it together," said Wayne Hills head coach Jacquelynn Giammetta, a former standout now coaching at her Alma mater. "There were some lapses that we had during the game and West Milford took advantage of them. We'll work on passing as a team and not be so frantic as we were today. It's a long season and we'll correct the things we did wrong today. This is a tough loss but we'll put it behind us and get ready for next week."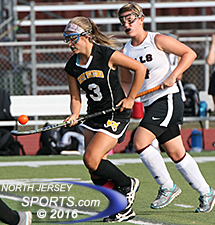 Maeve Gordon had two assists for West Milford, which is now a perfect 3-0 on the season.
The teams went to overtime where the game dramatically changes. For the ten-minute, sudden-death extra session each team has only seven players on the field instead of the 11 players employed during regulation. That led to a wide-open, free-flowing overtime with both teams having scoring chances.
The Patriots got in front of the net but never got a shot off with West Milford defenders Emily Miller and Kelsie Murphy making nice plays in front. Gordon was the best player on the field all game and she created one final scoring opportunity with her fancy stickwork. She got around two defenders before sending a cross in near the top of the circle. Dellapi collected the pass and touched around a defender before putting a shot past the diving Vellis in the 6th minute of overtime to keep West Milford undefeated and put it in the driver's seat for top seed in this year's Passaic County Tournament.
"I got the ball and once I got space I just took the shot," said Dellapi, a junior. "It felt amazing when it went in because it's been so long since we've beaten them. Once we got to overtime we went all in because we were the underdog and we had nothing to lose."
Dellapi scored twice, her third and fourth goals of the year for West Milford (3-0). Coincedentally, Gordon dished off two assists, also her third and fourth of the season. Megan Lamb recorded three saves.
LaGuardia scored twice for Wayne Hills (2-2) and now has scored multiple goals in each of her last three games. Vellis finished with 11 saves.
Although a county champion remains as such until getting beat in county tournament play, West Milford made a statement and served notice to the rest of Passaic County that it will be a factor come playoff time.
"We passed with a purpose and be smart with the ball, when we do that and go out guns blazing we always feel like we have a shot against the top teams," said West Milford head coach Krista Provost. "I told them at halftime exactly what I wanted them to do strategy-wise and every single kid came through. It was a matter of believing that we could do this and it's a great feeling to see their hard work pay off."
CLICK HERE FOR MORE PHOTOS FROM THIS GAME. TO BUY A COLLECTOR'S PRINT OF THIS STORY, PLEASE VISIT 4FeetGrafix.com.