Monday, June 25, 2012
By Richie 'Ballgame' Barton
Male Athlete of the Year:
Ben Malone, Pascack Valley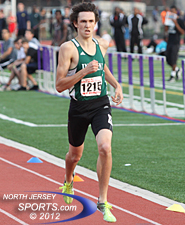 Ben Malone is already one of the most decorated runners in Bergen County history and he has one year left in his high school career.
Even as a junior with one more season left to improve on times in various events, Malone has already become one of the most decorated runners ever in Bergen County. With stellar cross-country, winter track, and spring track seasons in which he named first-team all-state in all three, Malone becomes the first track athlete ever, male of female, to earn the Barton's Best award as Athlete of the Year.
It started off in cross-country where Malone won the Bergen County Meet of Champions in a time of 15:38 and the North 1, Group 3 sectional meet in a time of 16:00. The season did not end with a victory, but it still ended in impressive fashion. He finished third at the state Meet of Champions in a time of 15:40. That was the highest finish by a North Jersey runner ever in the M of C and also smashed the course record at Holmdel Park by a Bergen County runner.
That was just a prelude for the winter season where Malone simply put up the best season ever on the indoor track by a Bergen County runner. After winning the Meet of Champions in the 1,600 in a meet-record time of 4:11.66 he set his sights on making his mark nationally. Malone did that and more by winning the 1,000-meter race at the New Balance Collegiate Invitational in 2:23.56 and also the 800 at the New Balance National High School Championships with a time of 1:49.94, both of which are the second-best times ever run in those events by a New Jersey participant, trailing only two-time NCAA champion Robby Andrews of Manalapan and the University of Virginia.
The spring season was more of the same as Malone made the improbable looking effortless. At the Bergen County Group Championships, Malone took home four gold medals in the 400, 800, 1,600, and 3,200 to help the Indians to a second-place finish. Then, after running a 4:07.02, the No. 4 time in state history, in the Dream Mile race in New York City, he came back two days later with a virtuoso performance. He made his kick midway through the race and never looked back in winning the 800 meters at the state Meet of Champions in a time of 1:51.10. He will go into next year as America's top high school distance runner with a chance to become one of the best ever on the scholastic level.
Runner-Up:
Dan Crimmins, Northern Valley/Demarest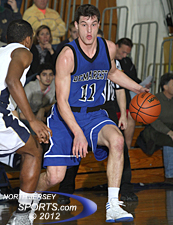 Dan Crimmins will play football at Rutgers next season.
Crimmins was the rock for both the Norsemen on the football field and on the hardwood this season. The 6-foot-5, 220-pound wide receiver was a nightmare matchup for opposing defenses and few could do much to slow him down.
He finished the season with 55 catches for 1,234 yards for a whopping 22.4 yards per catch average. He found the end zone 20 times, 17 receiving, two rushing, and one on an interception return. Crimmins' best performance coming against Northern Highlands where he had a career day with 10 catches for 278 yards and five TDs.
On the basketball court, he was a force in the paint for a young Demarest squad. He led them to them to the Bergen Invitational Tournament final and was named to the all-tournament team. For the season, Crimmins averaged 19.7 points, 14.6 rebounds, and over two steals, assists, and blocks per game.
Crimmins will play football at Rutgers in the fall.
Honorable Mention:
Razohnn Gross, Don Bosco Prep
Kidane Rutty, St. Mary's
Justin Avedissian, Wayne Hills
Larry Gelok, Pompton Lakes
Leonte Carroo, Don Bosco Prep
Rich Van Cleft, Cresskill
Sean Borkowski, Ridgefield Park
Female Athlete of the Year:
Lexi Knief, Ramsey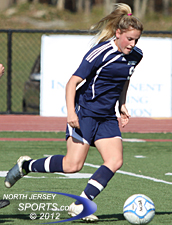 Lexi Knief led Ramsey to a state title in soccer and to a 26-2 record in softball.
Ever since becoming one of the key players for Ramsey on both the soccer field and the softball field as a freshman, only the highest of expectations were put upon Knief. By all accounts, she lived up to the billing and then some with spectacular careers in both sports, including a state championship this year and numerous school records being shattered along the way.
Knief used her blazing speed and sheer aggression to bull her way through opposing defenses throughout the soccer season. After a four-goal game late in the season against defending Group 2 state champ Mahwah, Knief caught fire and was virtually unstoppable down the stretch.
She scored nine goals in four North 1, Group 2 state sectional tournament games to lead her team to a title. Knief then scored the game-winner in the Group 2 semifinal win over Madison and finished off her dream season in style. After being bottled up for most of the game, she scored her school-record 43rd goal of the season 6:20 into overtime to give Ramsey a state championship with a 2-1 victory over Robbinsville.
As impressive as Knief was on the pitch, it was softball that was her main sport and the one she will go onto to play in college. Knief was a terror at the top of the lineup all season long. The left-handed batting Knief could hit to all fields with power and was as fast as they come on the bases.
Right from the first game of the season, Knief was a force to be reckoned with. The Rams bowled over their competition all season long and Knief was right there leading the way as Ramsey reeled off 25 straight wins to start the season.
Also a slick-fielding shortstop with a big arm, Knief's offensive prowess is what had college scouts drooling over her. She finished with a .562 average, nine home runs, 50 RBI, 50 hits, 50 runs scored, and 15 stolen bases for Ramsey, which finished 26-2. While she has hung up her soccer cleats for good, she will continue to shine on the softball diamond next year at Penn State.
Runner-Up:
Nicole Fleck, Wood-Ridge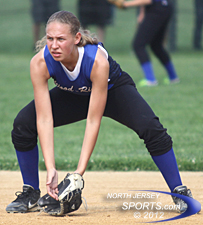 Nicole Fleck scored more than 2,000 points in hoops and was the shortstop on a team that specialized in postseason upsets.
Fleck came into high school high just hoping to play on the varsity level and she left as arguably the best female athlete ever to play at Wood-Ridge.
On the basketball court, she led all North Jersey players averaging 25 points per game. In a loss to Hanover Park late in the season, she became just the 10th player in Bergen County history to crack the 2,000-point plateau, finishing her career with 2,086 points.
Fleck was also the starting shortstop for the Blue Devils when they made a miraculous run to the Group 1 state final back in 2010. Behind her play in the state tournament this season, they pulled off a few more upsets.
She had three hits and two RBI as the 13th-seeded Blue Devils scored an upset over fourth-seeded Midland Park in the North 1, Group 1 state tournament. Two days later she did it again, stroking three hits and driving in two to upset fifth-seeded Park Ridge. In the section semifinals, Fleck's two-run double in the top of the sixth tied the game at 3 but Wood-Ridge eventually lost, 5-3 to top-seeded Saddle Brook to end the fabulous four-year career of Fleck, whom Wood-Ridge fans will remember fondly for years to come.
Honorable Mention:
Marissa Cerniglia, Emerson
Jackie Reyneke, Northern Highlands
Kate Brock, River Dell
Stephanie Huang, Paramus
Kelci Smesko, Ridgewood
Lisa Rovatsos, Bayonne
Rebecca Skovira, Park Ridge
Julie Rovito, Ridgefield Park
Lauren Beausoleil, Ridgewood
Samantha Wilkes, IHA
JK McAvoy, Ramapo
Courtney Tarleton, Ridgewood
Nikki Cerone, Cresskill
TO BUY A COLLECTOR'S PRINT OF THIS GAME STORY, PLEASE VISIT 4FeetGrafix.com.