Sunday, June 24, 2012
By Richie 'Ballgame' Barton
Boys' Team of the Year:
St. Anthony Basketball
With and without UCLA-bound Kyle Anderson, St. Anthony finished off a second straight perfect season.
The adversity that comes throughout a normal basketball season is something St. Anthony's legendary head coach Bob Hurley always handled with relative ease. With the talent that the program consistently has, it is almost a foregone conclusion that if the team can adapt to his style of coaching that state championships are generally the end result of a season's worth of hard work.
But before a game against Long Island Lutheran, a perennial power, Hurley had to make some disciplinary decisions including kicking a Division 1-bound player off of his team and suspendinig two other starters, including All-American Kyle Anderson. Despite playing without four of their top six players, the Friars went on to win the game. That not only kept their long winning streak intact, it sent a message. The players understood that you both adhere by Hurley's rules and play in-your-face basketball for 32 minutes or he will find someone else to take your place.
That was the wake-up call they apparently needed as after the win over Lutheran and another over NYC power Lincoln days later, the Friars hit their stride as they generally do come state tournament time.
They won their first five state tournament games by an average of 37.2 points before finally getting tested in the Tournament of Champions final against Plainfield. Led by all-staters Anderson and Jerome Frink, they used a big run spanning the third and fourth quarters to pull away before holding on for a 66-62 win and a second straight undefeated season and No. 1 ranking in New Jersey. Their winning streak is now tops in the nation at 65 games and it is the first time in Hurley's coaching career that his teams have had back-to-back undefeated seasons.
Runner-Up:
Don Bosco Football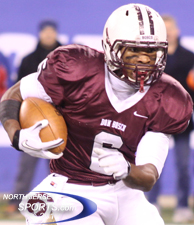 Elijah Shumate helped Don Bosco Prep win a sixth straight state title.
As if there was any doubt before, Don Bosco is now officially in a class by itself. That is not to say that the Ironmen did not have a couple of scary moments that threatened their long winning streak.
They found themselves trailing on the road against Manatee (Fla.) before quarterback Mike Yankovich and Rutgers-bound wide receiver Leonte Carroo hooked up with a 64-yard TD that gave Don Bosco the lead for good on its way to a 22-16 victory. They were trailing again in the fourth quarter against Bergen Catholic before Elijah Shumate's one-yard plunge gave them a lead and a huge fourth-down tackle by Darius Hamilton preserved a 33-22 triumph.
From there it was smooth sailing as the Ironmen blasted everyone in their path. They averaged 48 points per game over their final six games allowing just 40 points total over the same stretch, culminating with a 42-14 victory over Bergen Catholic in the Non-Public Group 4 title game for their sixth straight state title and No. 1 ranking in New Jersey.
Honorable Mention:
Ramapo Soccer
Bergen Catholic Wrestling
Marist Baseball
St. Joe's Football
Fair Lawn Volleyball
Wayne Hills Football
Teaneck Basketball
Mahwah Baseball
Hudson Catholic Basketball
Girls' Team of the Year:
Northern Highlands Soccer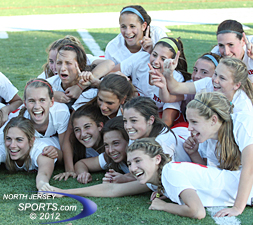 Northern Highlands' undefeated season earned the Highlandsers a No. 4 national ranking.
To say Northern Highlands started its season in dominant fashion was putting it mildly to say the least. The Highlanders had 11 shutouts in their first 13 games, which is not terribly uncommon for a great team. What is uncommon is the fact that they outscored their opponents by a whopping 70-3 margin. This team was an offensive juggernaut that could rarely be slowed down let alone stopped. It all appeared to come to a crashing halt though down a goal inside the final minute against Mahwah in the Bergen County quarterfinals.
That is where Highlands' head coach Tara Madigan saw the character her team had as Clare Shea tied the game with seconds to play and Madison Holleran scored 50 seconds into overtime to win keep their unbeaten season alive. They eventually won the Bergen County title with a win over Ramapo before the Green Raiders gave them a major scare that could have easily ended their season in the North 1 Group 3 final.
Down by two goals with just over eight minutes to play, the magical run that was the 2011 season seemed to all but over. The Highlanders never felt that though and Holleran came up huge again as she did all season. She scored twice in a two-minute span to knot the score at 4. Then just 30 seconds later, Shea headed in the game-winner off a long throw-in from Jackie Reyneke as Northern Highlands polished off its fifth section title in school history in amazing fashion with a wild 5-4 triumph.
After becoming the first team ever to beat Ramapo four times in the same season, the Highlanders won easily over West Morris Central to advance to the Group 3 state final. They were tested there by Moorestown before closing out another close game late.
Another long throw from Reyneke ended up being tipped into the net with less than seven minutes to play and freshman Hana Kerner scored on a breakaway two minutes later to put the icing on the cake for one of the best seasons ever by a team from North Jersey as Northern Highlands finished the season unblemished with a 24-0 record, a No. 1 ranking in New Jersey, and a No. 4 ranking nationally.
Runner-Up:
IHA Softball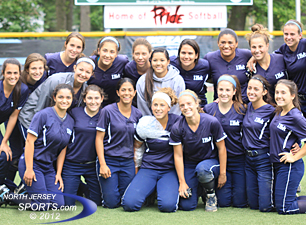 IHA finished off its perfect season by exacting some revenge from St. John-Vianney in the state final.
Immaculate Heart Academy was looking to build off of a Bergen County championship and an appearance in the state finals in 2010 going into the 2011 season. They were hoping to complete the Triple Crown as league, county, and state champs. Being undefeated was just a bonus. But as the season progressed, the thought of finishing the season undefeated was something the team embraced. They knew if that happened that their goals would be achieved and they would have their place in history as one of if not the best softball team ever to come out of North Jersey.
Throughout the year, Immaculate Heart simply overwhelmed opponents with the pitching of Steph Thomas, the versatility of Carly Piccinich, and big bats in the middle of the line like Ally Vergona and Abby Thomas leading the way. But when a game got tight as it rarely did this season with the Blue Eagles, they responded by playing small ball. After winning in their last at-bat over St. Mary's and Immaculate Conception, they proved to themselves that they were never out of a game. Down a run in the bottom of the seventh to Ramapo in the Round of 16 in the Bergen County Tournament, they scored two runs without hitting the ball out of the infield to stay unbeaten and keep their defense of a county title alive.
After winning the county title for the second straight year with their undefeated season still intact, the Blue Eagles set their sights on a state title. That would not come easy as DePaul hit back-to-back homers in the top of the seventh in the Non-Public A North section final to tie the game at two before going ahead 3-2 in the tenth inning. IHA still had one last chance and came through when Rachel Pollard dropped down a perfect bunt that allowed the winning run to score.
The state final was a chance at both history and redemption against St. John Vianney, who beat IHA 10-2 in the state final on the very same field just a year earlier. IHA was not to be denied this time as Thomas twirled a six-hit shutout as IHA capped a 32-0 season with their second Triple Crown of championships in a four-year span.
Honorable Mention:
IHA Volleyball
Teaneck Basketball
Ramsey Soccer
Ridgewood Lacrosse
River Dell Volleyball
Ramsey Softball
Bogota Volleyball
West Milford Field Hockey
Lincoln Basketball
DePaul Softball
TO BUY A COLLECTOR'S PRINT OF THIS GAME STORY, PLEASE VISIT 4FeetGrafix.com.