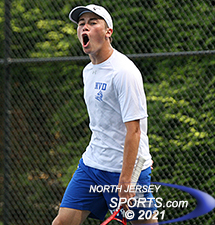 Ben Jacobs, Demarest's lone senior, picked up the clinching point as the Norsemen edged Ramapo, 3-2, to win a fourth straight North 1, Group 2 title.
DEMAREST – When Ben Jacobs took the court for his first varsity tennis practice at Northern Valley/Demarest, he was the only freshman there. After being a part of two sectional championship teams with great seniors around him he hoped one day that he could provide the same leadership to the younger players when he was the upper classmen.
After missing an entire season due to the Covid-19 pandemic, Jacobs chose to soak in every moment of his final season in a Norsemen uniform. Facing a dangerous Ramapo team and one of the top players in the state, Lukas Choi, with the deciding point likely coming down to his match ,the Norsemen's lone senior showed just why he so revered as the team captain.
Jacobs brought a ton of energy from the first point until the last. He broke late in the first set, early in the second and then held serve throughout to score the clinching point as top-seeded Northern Valley/Demarest won a fourth consecutive North 1, Group 2 title with a 3-2 triumph over second-seeded Ramapo on Tuesday afternoon in Demarest.
"I've been the only person in my grade on the team the entire time I've been here so I knew when it came to my senior year that I had to take more of a leadership role," said Jacobs. "This has been a goal of ours from the first day of practice. We know not to take this opportunity for granted. The girls' team won the section title and then the state title this past fall and we're hoping for the same success when we go down to Mercer County Park on Thursday."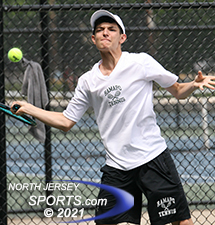 Max Loia won a second singles for Ramapo.
The Norsemen quickly set a tone by needing just 45 minutes to take the first two points. Third singles player Aaron Khubani used a methodical, patient approach while on the next court the second doubles tandem of Jaden Lazarus and Roan Ricci the exact opposite with lots of aggressive poaching at the net. Both were equally as effective as they combined to drop just three games between the two matches to move Demarest one point away from a section title.
However, the Green Raiders were there to battle and battle they did. Max Loia won a long first-set tiebreak and the duo of Luke Rebak and Andrew Sullivan came back from a set down to force a third set, both matches Ramapo (15-4) would eventually win. Jacobs saw what was going on after taking the first set over Choi and was aware that he had to keep the pressure on.
Jacobs did that by keeping points alive for as long as he could instead of trying to hit winners early. That strategy worked in the opening game of the second set as he won several long rallies to earn a break of serve. That was all he needed despite a strong push from the Villanova-bound Choi. Jacobs fought off some late nerves and held serve the rest of the way to earn a 6-3, 6-4 victory and clinch the North 1, Group 2 title for the Norsemen.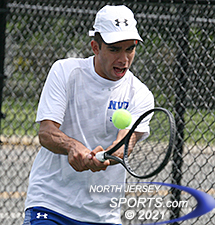 Aaron Khubani and Demarest will head to Mercer County Park on Thursday needing to win two matches to win the outright Group 2 state title.
"That last game of the second set my legs were shaking the whole time," added Jacobs. "I had to focus on one point at a time. My first serve was really an aggressive second serve with a kick to make sure (Choi) couldn't tee off on it like he would with a flat serve."
Demarest will head down to Mercer County Park in West Windsor for the Group 2 state semifinals. There they will take on South Jersey Group 2 champ Haddonfield at 11:00 A.M. If the Norsemen win that match they will face the winner of Summit and Hopewell Valley for the Group 2 state title and a berth in the Tournament of Champions. It is a day and a challenge that this group has been waiting for all season.
"We really worked hard in the off-season to prepare for this stretch," said Northern Valley/Demarest head coach Dave Johnson. "It's all gravy to get down there and get to compete against the best teams in the state. But after losing in the final two years ago our kids who were there have a bad taste in their mouths about that. That stuck with a lot of these kids and their hard work has made this program what it's been the past few years. They made sure we got back down to Mercer County Park and make another run at winning a state title. I'm very proud of where we are and the season we've had. We feel like if we play our best that we have a great shot."
FOR MORE PHOTOS FROM THIS EVENT PLEASE CLICK HERE. TO BUY A COLLECTOR'S PRINT OF THIS STORY PLEASE VISIT 4-FeetGrafix.com.