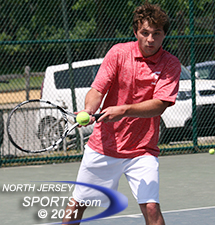 Cade Goodwin win at second singles for Pompton Lakes, which advanced to the North 1, Group 1 state sectional semifinals with a 4-1 win over Park Ridge..
POMPTON LAKES – Having played nearly a full season, the Pompton Lakes' tennis team has encountered all kinds of adversity over the course of a match, but there was a new twist on Wednesday in the Cardinals' biggest test to date. On a blistering 90-degree, humid day they had to take on a hungry Park Ridge team looking to pull an upset in the North 1, Group 1 state sectional tournament.
Second-seeded Pompton Lakes passed both tests with relative ease by earning straight-set victories at all three singles slots to earn a section semifinal berth with a 4-1 victory over No. 7 seed Park Ridge at Hershfield Park in Pompton Lakes.
The Cardinals set the tone at third singles with Dylan Huha scoring a 6-0, 6-0 win to get them on the scoreboard first. Ryan Johnson and Ryan Perez quickly followed suit, dropping just one game to make it 2-0. Second singles player Cade Goodwin was locked in a bevy of close games with Park Ridge's Brandon Wittrock. He never let the pressure nor the heat get to him. He kept his composure and won the big points when he needed them to secure a 6-2, 6-3 win to lock up the win for Pompton Lakes.
"The heat was a huge factor today, but all the players had to deal with it so I had to block it out the best that I could," said Goodwin, Pompton Lakes' lone senior on the roster and the only player coming into the season with any varsity experience. "I had to keep the balls deep and keep the pressure on him. It was a good match with a lot of long rallies. I just had to stick to what was working for me. We're excited to win and advance in the states. We know each match could our last so we're going to come out swinging and try to play our match."
Arin Mohanty got the final point for Pompton Lakes (12-4) at first singles with a 6-1, 6-1 win over Michael Kuron.
Park Ridge (8-5) averted a shutout when Tim Izzo and Andrew Christensen won 10-5 in a third-set super tiebreak at first doubles.
Pompton Lakes moves into the North 1, Group 1 semifinals where it will face another unfamiliar opponent, third-seeded Kittatinny. It will be a tough test but one the Cardinals are prepared for it.
"When we woke up today we knew it was going to be really hot and we were prepared for the battle," said Pompton Lakes' head coach Matt Hales. "When you get to the state tournament you have to play your best tennis, sometimes even better than your best tennis. We've truly embraced the process of getting better as a team. You have to work to get to where you want to be. When you put in the work, the results generally follow. We're starting to see our hard work pay off."
FOR MORE PHOTOS FROM THIS EVENT PLEASE CLICK HERE. TO BUY A COLLECTOR'S PRINT OF THIS STORY PLEASE VISIT 4-FeetGrafix.com.