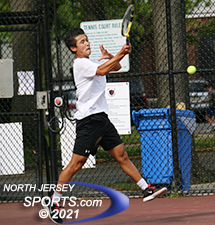 Lukas Choi's win at first singles gave Ramapo a 3-2 win over Glen Rock.
GLEN ROCK – Being back on the court has been a blessing for the Ramapo boys' tennis team in 2021. The only problem is that the Green Raiders have gone virtually the entire season without their full lineup on the court at the same time, not exactly an ideal situation with the Bergen County Tournament coming up this weekend.
What the situation has done has made the Raiders battle-tested. That was the case again when they traveled to face one of New Jersey's top small school squads in Glen Rock. The match would come down to a pair of players who are among the best in Bergen County. For the second day in a row, Ramapo senior Lukas Choi basked in that pressure situation.
After winning a third-set super tiebreak to earn a win over Don Bosco Prep, Choi took on Glen Rock's talented senior Matt Shulkin. Choi found a way to squeak out the first before taking control early in the second set at first singles that gave Ramapo a 3-2 road win over Glen Rock.
"This is a great match and this experience can only help us in the long run," said Glen Rock Bonnie Zimmermann. "We play mostly Passaic County schools and this match gives us the opportunity to rise to the occasion against one of the better teams in Bergen County."
Once again, Ramapo came into the match without its full arsenal. They were missing second-singles player Max Loia but Matt Miller filled the spot admirably, dropping just one game to put Ramapo on the scoreboard first. They added another point at second doubles with workman-like performance from Andrew Sullivan and Jack Houston, a 6-3, 6-2 victory.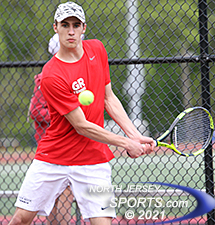 Andrei Mircea won at third singles for Glen Rock.
Glen Rock earned its first point at second doubles with Guillermo Aldaz and Nirvan Chandiramani getting a straight-set win. In a match at third singles filled with entertaining points, the Panthers' steady Andrei Mircea consistently won key points to take a 6-2, 6-4 verdict, setting up the showdown at first singles to be the deciding match.
"One of the ideas for this team was getting comfortable in being uncomfortable, that happens when you play tough competition," added Zimmermann. "When the county tournament and then the state tournament comes around, you have to have an idea of what you're getting in to. We're trying to play as much tennis as we can. It's been good for them to get that experience, especially having lost an entire year of playing as a team. We're trying to play our best and compete every time we step on the court."
Choi broke serve to go up 4-3 in the first and then was serving for the set at 5-4. The tenth game of the first set proved to be the most intense of the entire match as the two powerhouse players traded great shots both from the baseline and at the net. Shulkin fought hard to stave off four set points. The Villanova-bound Choi was unfazed and kept coming in waves with a nice backhand volley giving him a fifth set point. This time he cashed in to take the set before using that momentum to carry him through to a 6-4, 6-2 win and up Ramapo's winning streak to four.
"We are starting to find our way and with good timing being the county tournament coming up," said Ramapo head coach Kim Marchese. "Having Lukas back definitely helps us and once we get Max back we're going to be even stronger. We've played some close matches this year and I think that has helped prepare us for what we'll see in the counties and states."
FOR MORE PHOTOS FROM THIS EVENT PLEASE CLICK HERE. TO BUY A COLLECTOR'S PRINT OF THIS STORY PLEASE VISIT 4-FeetGrafix.com.