Daniel Behrens, got the final point for Hasbrouck Heights, which advanced to the North 2, Group 1 state sectional semis with a 4-1 win at Rutherford on Wednesday.
RUTHERFORD – The loss of a first singles player before the season can change a tennis team's expectations significantly. Such an instance is magnified on a Group 1 team where numbers and depth are often issues. At Hasbrouck Heights though, things are certainly different.
After reaching the North 2, Group 1 semifinals last year the Aviators returned this year without their first singles players from a year ago, but with a remarkable 27 kids in the program and an even more rare occurrence of having all seven spots in their lineup occupied by seniors. In their biggest match of the season that senior leadership shined through.
The second-doubles tandem of Davor Babic and Owen DeCecco won the final three games of the second set to score the clinching point as fifth-seeded Hasbrouck Heights kept its season alive with a 4-1 win over fourth-seeded Rutherford at Memorial Courts in Rutherford.
"I think we cooled off a little in the second set and it was important that we took a few deep breaths and stayed calm," said Babic. "We had to stop making errors. We were trying too hard to hit the perfect shot instead of just keeping the ball deep and playing our game."
Rutherford got on the scoreboard first behind the steady play of Arnav Sundaram at first singles. He limited his unforced errors and won a ton of close games in straight-set win. The Aviators answered back at first doubles with Jared Beerman and Matt Sicangco scoring consecutive breaks of serve to close out a 6-0, 6-3 win that tied the match.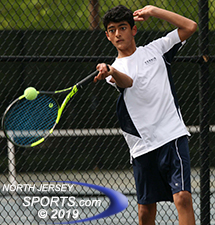 Rutherford got the first point of the match from Arnav Sundaram at first singles.
Kareem Abdelhawab dropped just one game at third singles to put Hasbrouck Heights ahead, 2-1. Needing one more point, both second singles and second doubles seemed destined for a third set. Down a break and 5-4 in the set, Babic and DeCecco regained control of the match by refocusing their efforts on controlling the net and staying aggressive. They scored a break to even the score, then held serve and broke again for a 6-2, 7-5 win that give the Aviators a second straight berth in the North 2 Group 1 section semifinals.
"We needed to settle down and our coach really helped in working on our mental approach," said DeCecco. "The past couple of matches we've been in command in the first set and let the other team creep back in it in the second set. We knew we had to turn on the switch today and really get back to what made us successful early in the match."
The emotional leader of the team, second-singles player Daniel Behrens, got the final point for Hasbrouck Heights (11-4). He earned an early break in the third set and held on for a 6-0, 3-6, 6-4 victory.
It will be a quick turnaround time for the Aviators as they travel today to face top-seeded New Providence in the section semifinals. Having exceeded pre-season expectations and also doing better than what their seed suggested the senior-laden Aviators know they are playing with house money.
"We know New Providence is a very tough team and we will have to play our best to get a win there," said Hasbrouck Heights' head coach Suzanne Cairns. "Putting a couple of tough independent matches on our schedule this year will help us prepare better for the state tournament. We've overachieved all season and they've worked really hard to get to where we are now. At this point in the season we just have to play our best tennis and hope that is enough to keep going."
FOR MORE PHOTOS FROM THIS EVENT PLEASE CLICK HERE. TO BUY A COLLECTOR'S PRINT OF THIS STORY PLEASE VISIT 4-FeetGrafix.com.