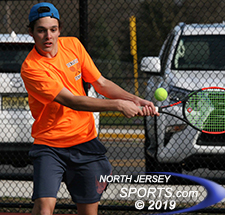 Alex Merson posted a straight sets victory at second singles for Tenafly, which swept Pascack Hills on Thursday afternoon.
MONTVALE – When a team has four freshmen and a sophomore occupying first doubles and all three singles spots, the general expectation is that team is rebuilding for the future. Tenafly head coach Anthony Zorovich is running that youthful line out to the court this season, but make no mistake, this is not a team resigned to the rebuilding process.
The Tigers are looking to win some championships. Despite the lack of big-match experience on the varsity level the talent and desire to be the champions leaves both the future and the present equally bright for the Tigers.
Facing an equally young but gritty Pascack Hills squad, Tenafly took control early and kept their foot on the gas pedal throughout. They did not drop a set in any of their matches en route to a 5-0 sweep on Thursday at Pascack Hills High School in Montvale.
"There's a lot of pressure going into every match. That's why it's important to play hard every point, every game, every set," said Merson. "We really had no nerves right from our first match and that's carried over into today's match."
The Tigers' success starts at the top with freshman sensation Juju Wu, who plays with the poise of a senior. The steady-handed Wu was comfortable in all aspects of his game and only had a handful of unforced errors even with a stiff wind blowing throughout his 6-0, 6-2 victory.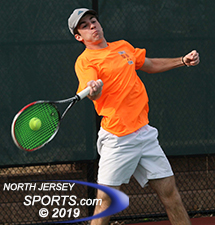 David Topchishvili, one of only two seniors in Tenafly's starting lineup, was part of a hard-fought victory at second doubles.
Wu was quickly followed off the court by a solid performance from Jon Tsipunyuk at third singles. He came out on the attack and never looked back to win his match 6-1, 6-2.
The key to the Tigers' success is not just their budding talent but also the balance they have up and down the lineup. Luke Han and Andrew Kim, both freshmen, were aggressive at the net and used that approach to score a late break in the second set to score the clinching point.
Alex Merson showed off his ability to play any style at second singles. He was successful with a wide variety of shots from the baseline in a straight-set win.
"We tell each other to start strong, start steady," added Merson. "Getting an early break gives us a lot of confidence and make me personally and all of us really more aggressive players."
Tenafly's final point did not come easy as the Cowboys' duo of Ben Steinberg and Danny Leong put up a fight at second doubles. After not converting on their first four set points Kevin Clifford nailed a service winner and his partner David Topchishvili, the only two seniors in Tenafly's starting lineup, came up with a drop volley to take the first set. They were at it again late in the second set winning the final five points of the tiebreaker for a 7-5, 7-6 (7-3) victory to close out the sweep.
Facing tough competition is what helps a team grow in the long run. That is what Pascack Hills' head coach Eric Ganz is hoping for as his team, (like Tenafly's) is largely filled with freshmen and sophomores.
"Tenafly is a really, really good team and I don't see many teams beating them," said Ganz. "I thought we played tough and this was our first match. We're not going to see another team like this all season so it's a good measuring stick right out of the gate. I really think we're going to get better and better as this season goes on. If we keep improving we'll be a real tough team for the next few years."
Tenafly had loaded up its schedule with Bergen County stalwarts like Ridgewood and Bergen Tech along with state powerhouse teams like Montclair, Delbarton, and Livingston. That is to prepare for the Tigers for runs at county, section and state titles.
"We're at a good pace so far but we have a whole season left to play," said Merson. "It's nice to have talent but talent isn't everything. We're working really hard to be the best we can possibly be. The titles that there are to win in New Jersey we want them all and we're going to work as hard as we can to get them."
FOR MORE PHOTOS FROM THIS EVENT PLEASE CLICK HERE. TO BUY A COLLECTOR'S PRINT OF THIS STORY PLEASE VISIT 4-FeetGrafix.com.