Saturday, May 21, 2016
By Rich Barton
NJS.com Staff Writer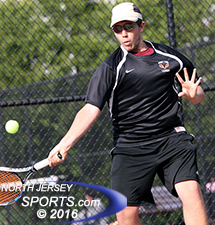 Alan Grossman won 6-2, 6-2 at third singles for Fort Lee, which swept Ferris to reach the state sectional for the first time since 1985.
FORT LEE – Beverly Hills Cop, Rambo: Part II and Desperately Seeking Susan were high-grossing movies. Dominating the Billboard music charts were acts like Madonna, Phil Collins, and Wham! Gas was only a dollar a gallon and Nintendo had just made its way to the United States. Seem like a long time ago? That's because it was. It was May 1985 and that represented the last time Fort Lee won a state section title in boys' tennis.
Heading into this season, head coach Phil Zappel felt his team had the potential to make a run at breaking the long drought. With a league title in hand and earning the top seed in North 2 Group 2, Zappel felt that it was his team's destiny to play on its home court for a section title. To do that though they would have to face another upstart team in Ferris, which had just made school history of its own and was looking to add to it.
Fort Lee took advantage of a referee's ruling before the match to get off to a strong start and the Bridgemen never looked back, winning all five matches in straight sets to advance to their first section final in 31 years with a 5-0 triumph on Friday at the Fort Lee Recreation Courts.
A rarely enforced ruling came into play when the referee ruled that Ferris did not properly fill out challenge match sheet for the entire team, not just the varsity. With that came a one-game penalty in each of the five matches. That allowed the Bridgemen to earn a break of serve before a point was even played. It was a physical and a psychological edge that allowed the Bridgemen to relax their nerves.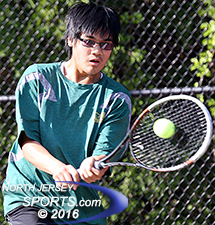 Steven Truong helped lead Ferris to its furthest ever run in the state tourney.
"We caught a lucky break there and we had to do something with it," said Fort Lee's second-singles player David Grant. "We've been playing so well and we came out focused. Coming out with a lead only helped us play our game. I think we had expectations to have a good season. We've worked really hard and it feels great to see it pay off."
Hard-serving Thomas Yu set the tone at the top of the lineup. He got his first-serve in consistently and attacked the second serve of Ferris' Darius Booth to notch the first point for Fort Lee with a 6-0, 6-1 win.
Grant followed suit with consistent play from the baseline. Twice in the first set he rallied from 40-0 deficits to earn breaks of serve en route to a 6-0, 6-2 victory.
The clinching point came from the first doubles duo of Ivan Repin and Ben Stillman. The two dominated both with their serves and at the net, only dropping one game to secure Fort Lee's spot in the North 2 Group 2 section final.
The loss brought the end to the deepest run Ferris (9-6) has ever had in the state tournament. While the loss was a frustrating one, it showed just how far the senior-dominated Bulldogs have come in four years in which no player had picked up a racket before high school.
"It's sad because these seniors have come so far and we didn't want to see this run end," said Ferris head coach Bernadette Lagman. "Fort Lee is a great team and they deserve to advance. Getting to the section semifinals is the best accomplishment that we could have possibly hoped for and it's truly something to be proud of."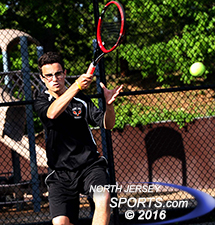 Marc Routgazer and Fort Lee will play West Essex for the section title.
Alan Grossman won 6-2, 6-2 at third singles and the duo of Daniel Seo and Marc Routzauger scored a 6-3, 6-2 win at second doubles to complete the sweep for Fort Lee (13-2). The Bridgemen will now play for the North 2, Group 2 title against a strong No. 2 seed in West Essex. Win or lose, Fort Lee's season is already a rousing success. With a chance to truly achieve something special and become champions the Bridgemen know this is a once-in-a-lifetime opportunity to hoist the section championship trophy and party like it's 1985.
"We know we had a good team but we've really grown throughout the season," said Fort Lee head coach Phil Zappel. "Bergen County has some great tennis and that really prepares us for the state tournament. We look at the matchups and try to figure out things based on box scores. But all we can do is read our opponent as the match goes along and play our best. We are going to try and treat this match like we do every other match. It's been a really long time since Fort Lee has won a section title or even been to a section final but now we're here. This team knows what is at stake in the section final and we're looking forward to another test."
CLICK HERE FOR MORE PHOTOS FROM THIS GAME. TO BUY A COLLECTOR'S PRINT OF THIS STORY, PLEASE VISIT 4FeetGrafix.com.