Tuesday, May 17, 2016
By Rich Barton
NJS.com Staff Writer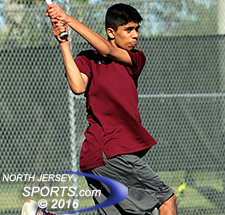 Manav Parikh has half of the doubles team that clinched the winning point for St. Peter's Prep, which beat Bergen Catholic, 3-2. in the Non-Public North A state sectional quarterfinals in Jersey City.
JERSEY CITY – This season has been nothing short of dominant for the St. Peter's Prep tennis team. The Marauders have run roughshod over Hudson County competition en route to a county title having given up just four team points in 17 wins this season. The true measure of how strong a team is largely rests on how it responds when adversity strikes. For the first time all season, Prep faced that a tough challenge with the season at stake no less.
Facing off against Bergen Catholic, it went right to the final set of the final match. Prep's second doubles tandem of Manav Parikh and Matt Dilane dropped a first-set tiebreaker but never lost their focus. They battled back to win the next two sets to lift fourth-seeded St. Peter's Prep past fifth-seeded Bergen Catholic, 3-2, in the Non-Public North A state sectional quarterfinals on Monday at Lincoln Park in Jersey City.
"We knew the match came down to us and we wanted to keep our season going," said Dilane. "There was some pressure but we didn't want to play nervous and we wanted to keep playing our game."
Rohan Singh rode a heavy serve and big forehand to a comfortable 6-0, 6-1 win to get Prep on the board first. Patrick Ruvo quickly followed suit by using a swirling wind to his advantage. The junior did not drop a game to gain the Marauders' second point.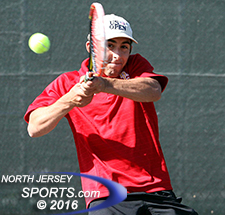 Nick LaScala earned Bergen Catholic its first point by winning a tie-breaker.
The crucial third point to clinch the match proved to be elusive as Bergen struck back with two quality wins. Nick LaScala rallied from an early deficit to force a first-set tiebreak. He was able to handle everything the hard-hitting Zach Joskowitz threw at him to win four of the final five points of the tiebreak before closing out a 7-6 (7-3), 6-2 win to net the Crusaders' first point.
At first doubles Bergen Catholic's Liam McLaughlin and Ryan Taccetta were locked in a tense battle with this year's Hudson County champions, Prep's Diego Anderson and Derek Sagun. McLaughlin and Taccetta finished strong in both sets. They scored a late break to take a one-set lead then hit some clutch shots in an entertaining second-set tiebreak. One that they ultimately won to even the match with the fate of each team's season coming down to second doubles.
After dropping a first-set tiebreak to Bergen Catholic's Kyle Boemo and Joe Lee, the Marauders' duo of Parikh and Dilane knew they had to switch up their approach if they were going to turn things around.
Parikh and Dilane became more aggressive at the net and it paid dividends with an early second-set break of serve that helped them even the match at one set apiece. A ten-minute break between the second and third set did not to anything to slow down the Marauders' duo. They poached effectively to put away volleys that closed out breaks in the first and third games of the third set en route to a 4-0 lead in set No. 3.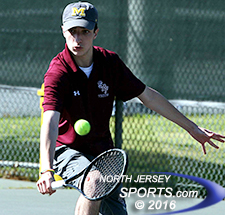 Patrick Ruvo won a point for Prep, which will face top-seeded Dembarton in the state sectional semifinals.
"If you break down mentally there's no real way to get back from it quickly," said Parikh. "Once we lost that first set, we had to put it out of our minds. What's done is done. What was important for us to focus on what was ahead of us; not what just happened in that first set. We knew the mistakes we were making and we took the steps to correct those mistakes."
Closing out the match would not come easy as Boemo and Lee fought off five match points in the ninth game of the third that featured ten deuces. Parikh and Dilane finally finished them off for a 6-7 (4-7), 6-4, 6-3 victory that lifted St. Peter's Prep (18-1) into the Non-Public A North semifinals. They will face top-seeded and defending Non-Public A state champion Delbarton. It will be a rematch of last year's Non-Public A semis that Delbarton won, 5-0. The Marauders hope that last year's experience will give them more confidence going into this year's match.
"Delbarton is one of the best teams in the state but playing a team like that is right where we want to be," said St. Peter's Prep head coach Rev. John Fencik. "All we can do is go there, stay focused, and put forth our best effort. If you play as hard as you can, the results will take care of themselves. If you try your best, win or lose, that effort is all I can ask of these kids. We had a tough one against Delbarton last year and we'll see what we can do this time around."
CLICK HERE FOR MORE PHOTOS FROM THIS GAME. TO BUY A COLLECTOR'S PRINT OF THIS STORY, PLEASE VISIT 4FeetGrafix.com.