Friday, May 13, 2016
By Rich Barton
NJS.com Staff Writer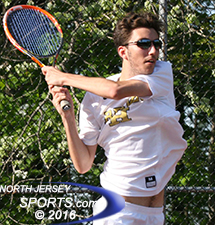 Matt Gorab was half of the first doubles tandem that won in straight sets for Indian Hills, which opened the North 1, Group 3 state sectional tournament with a 4-1 win over Bergenfield on Thursday.
OAKLAND - Facing a rugged schedule this season the Indian Hills boys tennis team exceeded expectations by battling hard against traditional Bergen County powers. Those clashes against teams like Ramapo, Ridgewood and Tenafly help toughen the Braves for the most crucial part of the season, the North 1 Group 3 state sectional tournament. In their first-round match on Thursday afternoon against Bergenfield, the Braves welcomed both a fresh start and the role of a team looking to make a deep run in a loaded section.
Junior Craig Rosen celebrated his birthday in style by dropping only one game to score the first point. Sixth-seeded Indian Hills cruised from there to a 4-1 triumph over No. 11 seed Bergenfield in its state playoff opener in Oakland.
"The start of the state tournament represented a new beginning for us and a clean slate," said Rosen. "We feel like we have a good chance to make it far and that started with how well we played today. Our whole team played with a lot of confidence and we played our hearts out knowing that it might be our last match."
Facing hard-hitting Edmund Eddun of Bergenfield, Rosen took a more defensive approach to frustrate his opponent. He stayed consistent from start to finish by hitting the ball deep and forcing Eddun into numerous errors en route to a 6-0, 6-1 victory.
The Braves possess a balanced lineup with their doubles teams emerging at just the right time. Matt Gorab and Lucas Kneders controlled the net and fought back from an early second-set deficit to win the final five games in a 6-2, 6-2 triumph.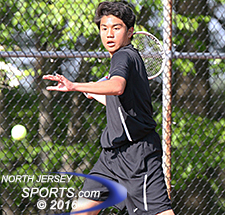 Dennis Daniel Espirito scored the point for Bergenfield with a straight sets win at second singles.
"Communication is key. Fortunately, Matt and I communicate well together and that is a big asset during important matches," said Kneders.
"I think getting the first break is huge because it sets the tone instead of trying to play catch-up," added Gorab.
Second-doubles tandem Jacob Kim and Colby Aillman followed a similar path by cruising through the first set before falling behind early in the second set, 1-3. They fought off game points in both the fifth and sixth games of the set to regain control and clinch the victory for the Braves with a 6-2, 6-4 win.
"We were down in the second set, but you always have to be confident and support your doubles partner because anything can happen," said Aillman. "We didn't change the way we were playing and stuck to what was working."
Dylan Algovic picked up the other point for Indian Hills (9-7). Led by his volleying at the net, Algovic scored a 6-2, 6-3 win at third singles. Dennis Daniel Espirito picked the lone point for Bergenfield (7-7) with a straight-set win (6-2, 6-1) at second singles.
Indian Hills advanced to the North 1 Group 3 quarterfinals, which will be played on Monday. The Braves will travel to face 12-time defending Passaic County Tournament champion and No. 3 seed Wayne Hills. With the pressure off, the Braves are looking forward to see just how far they can go.
"If a team is statistically better than you are it makes it much easier to prepare to play against them," said Gorab. "No matter who we play from here on it is going to be a very tough match. We have to tackle these matches like we have absolutely nothing to lose. It's about never giving up and persevering through adversity."
CLICK HERE FOR MORE PHOTOS FROM THIS GAME. TO BUY A COLLECTOR'S PRINT OF THIS STORY, PLEASE VISIT 4FeetGrafix.com.