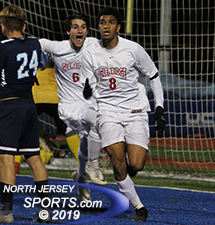 Travis Burnett (8) and Ian Heinicke (6) were the goal scorers for Glen Ridge, which earned its first-ever spot in the Group 1 state final with a 2-1 win over Waldwick.
WAYNE – Glen Ridge is a Group 1 soccer program that plays a Group 4 schedule. One of the few small school in the Super Essex Conference, the Ridgers' slate of games this season included opponents like Montclair, Seton Hall Prep, Millburn and other parochial and enrollment behemoths and they more than held their own.
Glen Ridge has been put to the sword all season long, so when it trailed Waldwick by a goal with less than 20 minutes left in Thursday night's Group 1 state semifinal, there was no sign of distress. The Ridgers had built up a heavy advantage in quality scoring chances and kept after it with the confidence that their persistence would pay off.
"[Waldwick] was truly a defensive juggernaut, so it was just about biding our time. All season long, whenever we get scored on it seems to wake our boys up," said Austin Alvarado, who assumed the reigns of the program after the legendary stewardship of Steve Reitberger, who was Glen Ridge's head coach for each of the previous 38 seasons. "I hate to say it as a head coach, but I smile when we get scored on because I know how we are going to respond."
The response was two pretty goals off of two set pieces seven minutes apart that gave Glen Ridge no more than it deserved, a 2-1 victory over Waldwick that sends the Ridgers into the Group 1 state final for the first time in the program's history.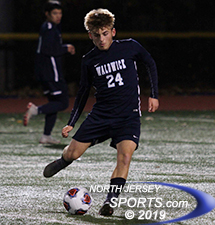 Lucas Ruehlemann's goal in the 30th minute gave Waldwick a 1-0 lead.
Glen Ridge (11-7-1) generated the first scoring opportunity of the game with Livingstone forced Waldwick keeper Harrison Durant to the ground to make his first save in the fifth minute. The Ridgers ratcheted up the pressure from there, so it was completely against the run of play when Waldwick took the lead.
Lucas Ruehlmann found some space in the middle of the field and used it to get a shot that took a deflection and bounced in to the lower right hand corner to give the Warriors a 1-0 lead with 10:04 left in the first half.
Glen Ridge saw Durant make two tough saves and had a shot bounce of the post in the final eight minutes of the first half as Waldwick maintained its advantage through the intermission and the first 20-plus minutes of the second half, but Glen Ridge playing out from the back, keeping the ball on the ground and generating opportunities through combination play secure in the promise that the elusive goals would come.
The equalizer came with 17:22 showing on the second half clock as Travis Burnett rose above the crowd to thump in a header off a corner kick by Will Livingstone. Burnett, who plays between the numbers at varying depths, moved up to knock in the restart and change the direction of the contest.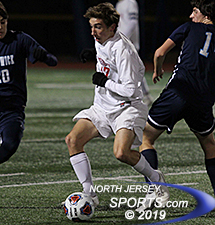 Will Livingstone hit the restarts that led the to the goal for Glen Ridge, which will play Bound Brook in the Group 1 final on Sunday at Kean University.
"Whenever you go down in a game it is disappointing, but we talked it out, we stayed calm and we stuck to our game plan," said Burnett, who got up over the crowd to be the first to Livingstone's service. "I feel like my header is one of the best parts of my game. I saw the ball coming, I saw the opportunity coming and I took it."
Seven minutes after Glen Ridge tied the game it went ahead for the first time and for good on a pretty set piece once again struck into a dangerous area by Aidan Shea, who stepped over a free kick from about 30 yards out and near the right touchline. Shea's delivery was on a line toward Gavin Roberts, who, instead of trying to knock the ball in on his own, created deception with a dummy. The ball continued its flight toward the second post where Ian Heinicke hit that sweet spot between goalkeeper's gloves and the crossbar.
It was Heineke's first ever varsity goal struck with his left foot and it came at just the right time.
"Gavin [Roberts] dummied it. It was great. It was spur of the moment and it got through. It was unbelievable," said Heinicke, a senior. "As soon as it went through his legs it was like slow motion and I said, 'I have to get my foot on this.' I turned my body, I hit it with my left foot and it dipped right under the crossbar."
From there, Glen Ridge used the possession advantage it enjoyed through out to see out the game and earn their spot in the Group 1 state final where it will meet Bound Brook on Sunday in a 3 p.m. start at Kean University.
The loss brought Waldwick's season to a close with a 16-4-3 record one game after it had won its second straight state sectional championship. The Warriors have won five section titles since 2010, but their pursuit of the program's first state title since 1995 and the first under head coach Jon Noschese.
"I thought we were going to be able to hold them off. We have a good defense, but they scored two great goals and you have to tip your cap to them. It's hard to lose on two restarts, but they were two great restarts and great goals," said Noschese. "We've been through this before. We haven't won the whole thing since I have been here. That is one of our goals and we are going to keep fighting for it. When these boys reflect they will know that they won a section title and a league title and I am very proud of them. I wish we could have taken it to the next level, but we will keep working at it."
FOR MORE PHOTOS FROM THIS EVENT PLEASE CLICK HERE. TO BUY A COLLECTOR'S PRINT OF THIS STORY PLEASE VISIT 4-FeetGrafix.com.