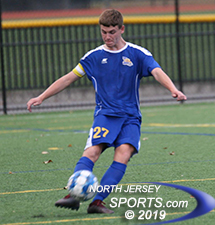 Thomas Zurkowski opened the scoring for Lyndhurst, which is still unbeaten after a 2-0 victory over Park Ridge in the opening round of the Bergen County Tournament.
LYNDHURST – In terms of the history of the Bergen County Boys Soccer Tournament it seemed unrealistic for a Group 2 school to make a legitimate run at winning the title, especially when it had to start its run in the play-in round. That was until Glen Rock, despite being undefeated heading into last season's county tournament, was placed in an outer bracket game, ran through the rest of the field and won the school's first county championship.
Lyndhurst was the first of the Panthers' victims last year.
This time it was Lyndhurst that went into the county tournament with an unblemished record but was still placed in the outer bracket. Instead of viewing it as a detriment, the Golden Bears viewed it as the ultimate opportunity to prove they belong among the county's elite.
Upstart Park Ridge played the Golden Bears even up in the first half, but the second half was another story as junior Thomas Zurkowski scored two minutes in and fellow captain, senior Richard Alvarez, scored later in the half as Lyndhurst stayed undefeated and moved into the Bergen County Tournament's Round of 16 by beating the rain and Park Ridge, 2-0, on Wednesday in Lyndhurst.
"This is a young group but a very mature one," said Lyndhurst head coach Denis Jelcic. "It was 0-0 at halftime but our guys never panicked. We just came out and kept playing knowing that if we kept knocking on the door eventually we'd break through with a goal."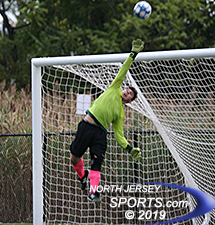 Nick DePasquale made some outstanding saves in the Park Ridge net.
Throughout the season, the mindset of the Golden Bears has been to put pressure on their opponents right from the first minute. They scored a first-half goal in eight of their nine games this season, but Park Ridge proved to be a stingy defense. Marking back Wouter Schuitt was a force in the back and goalie Nick DePasquale made several huge saves, including an outstanding one-handed leaping punch save, to keep the Owls in the game with the game still scoreless going into the second half.
"Park Ridge came to play and they did a real good job defensively," added Jelcic. "We needed to make an adjustment. So I moved (Zurkowski) out of the back and into the midfield to create another scoring threat when we're attacking. It ended up working out quickly and he gave us the spark we needed."
On a counterattack, Zurkowski followed the ball and buried one from the top of the box just two minutes in to put the Golden Bears in front. That opened up the Owls' back line and Alvarez took advantage with an insurance goal midway through the half as Lyndhurst earned its first shutout since its landmark 2-0 win over Harrison back on September 12.
DePasquale made nine saves for Park Ridge (5-4). Lyndhurst (9-0) will face the winner of Northern Valley/Old Tappan and Dumont in the Round of 16. That game will take place at Dumont High School with a scheduled 1:00 P.M. start.   After taking their lumps in the Bergen County Tournament last year, the Golden Bears are looking to keep their already historic season moving in a positive direction.
"In our post-season meetings Thomas Zurkowski came up to be and said that next year he wanted our team to be like Glen Rock's," said Jelcic. "But what impressed me was not just on the field but off the field as well. Their camaraderie and chemistry off the field definitely helped their success on the field. That same positive environment is working well for us also. We don't have the same individual talent that Glen Rock's team had last year but we're coming together at the right time just like they did. It's a similar story and we're just starting to get a taste of that level of success."
FOR MORE PHOTOS FROM THIS EVENT PLEASE CLICK HERE. TO BUY A COLLECTOR'S PRINT OF THIS STORY PLEASE VISIT 4-FeetGrafix.com.