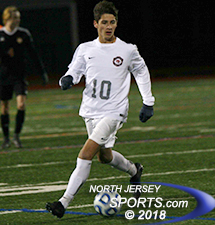 Nick Rogers scored 17 minutes in and Glen Rock rolled from there in a 6-0 win over Hackettstown in the Group 2 state semifinals on Tuesday.
BASKING RIDGE - This is the time of season where nail-biters are the norm. There are only good teams left at this state of the tournament and blowouts in state semifinals are rare. Glen Rock is the exception.
Already with a league title and the school's first-ever Bergen County crown in hand the Panthers are not resting on their laurels. They want one final piece of hardware. The Panthers showed they mean business against Hackettstown in the Group 2 semifinals by putting together a total team effort to completely dismantle their opponent.
It certainly does not hurt to have arguably the state's best 1-2 scoring punch in seniors Ben Zakowski and Nick Rogers. They both scored once in each half as Glen Rock cruised to its first state final appearance with a 6-0 rout over Hackettstown on Tuesday night at Ridge High School in Basking Ridge.
"This team has been playing for so long together that communication is never an issue," said Glen Rock head coach Casey Schick. "For as well as we attacked it starts from how composed we are and building our attack out of the back. We're used to these big games now and playing relaxed is a big advantage in this type of atmosphere."
Hackettstown's defense was devised to slow down Zakowski but with the Panthers you have to pick your poison. The attention paid to Zakowski allowed Rogers to roam free in space and he ran roughshod through the Tiger defense all game. He missed scoring twice by mere inches on his first two touches before cashing in later in the half. Off of a Connor Daly corner kick, Rogers beat a defender to the ball and headed it home to give the Panthers a 1-0 lead in the 17th minute.
"Connor played a nice curling ball into the box and I had to get to that ball first," said Rogers. "When it was coming my way I wanted to get a head on it and get it on frame."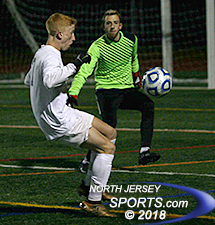 Ben Zakowski and undefeated Glen Rock will play also unbeaten Holmdel for the Group 2 state title on Saturday.
Down a goal, Hackettstown mounted an attack and had several dangerous rushes following Rogers' first goal but the Panther back line hung tough. They won balls in the defensive third all game long and allowed just one shot all game, that coming seven minutes in. After being carefully watched the entire half, Zakowski broke free to pounce on a corner kick and score in the 35th minute to give Glen Rock all the momentum it would need with a 2-0 halftime lead.
"We know each other so well that we can envision plays before they happen," said Zakowski. "When we get that first goal we gain the momentum and it motivates us to break teams down even further."
That confidence spilled over into the second half where the Panthers quickly punched their ticket to the state final. A Zakowski goal was waved off early in the second half but the Panthers' offense kept coming in waves. A first-time blast into the upper left-hand corner by Rogers made it a three-goal lead in the 47th minute. Three minutes later, Zakowski ran onto a long ball and chipped it over the Hackettstown keeper to make it 4-0 and put the game away.
Wyatt Milbrodt and Josh Kim added second-half goals for the final margin as Glen Rock (23-0-1) remains undefeated heading into the Group 2 state final. There the Panthers will get the state's No. 2 ranked team and the only other undefeated team in New Jersey, Holmdel (21-0-1), led by All-American Anthony Arena. The game will be played at Kean University with a 3:00 pm start.
It is a game that has been years in the making and the Panthers with 16 seniors on the roster plan to leave everything they have left out on the field.
"It's really exciting to accomplish what we've accomplished and we're honored to be a part of it, added Rogers. "Everyone is so psyched for that state final and we're going to work so hard to try and win it. Our goal was to win league, counties, and states. We're 2 for 2, and we're 80 minutes away from our final goal."
FOR MORE PHOTOS FROM THIS EVENT PLEASE CLICK HERE. TO BUY A COLLECTOR'S PRINT OF THIS STORY PLEASE VISIT 4-FeetGrafix.com.