John Corry, Glen Rock's senior sweeper, scored a goal and was in the middle of a stout defensive effort as the Panthers advanced to the Bergen County Tournament semifinals with a 4-1 win over top-seeded Old Tappan.
RAMSEY – The Bergen County Boys Soccer Tournament has ignored its seedings since it started two weeks ago. Other than Ramsey, the No. 2 seed that opened Sunday's quarterfinal round with a workman-like, two-goal victory over St. Joseph Regional, everyone else that will be included in next weekend's Final 4 is basically crashing the party.
Before Group 1 Waldwick stunned Group 4 Ridgewood in the nightcap, Glen Rock continued its torrid run with a convincing 4-1 victory over Northern Valley/Old Tappan, the top seed and a finalist last season. Undefeated coming into the tournament, Glen Rock was placed in the outbracket and given a tough road that included a visit to Don Bosco Prep in the Round of 16, but heading into the semifinals for the second straight season, the Panthers have maintained their perfect record, their momentum and their motivation.
"I definitely did not know that 4-1 was coming down the pike, but I did know that we had the potential to do that and our guys showed up today. Old Tappan is a great team, but our guys came out hungry and ready to play," said Glen Rock head coach Casey Schick. "To get to where we were last year [in the semifinals] for the second year in a row was one of our goals, but we are not satisfied. We want that county championship."
It was with that type of verve that Glen Rock (13-0) took the pitch and it pressure left them knocked on the door repeatedly before they took the lead for good just past the midway point of the first half. In the 26th minute, Ryan McCarthy knocked in a serve from Nick Rogers to break the ice.
"I was anticipating the ball across and hoping to get in a position where I could poke it in," said McCarthy, a junior. "I just always make those runs, the opportunity came and I was able to put it away."
Senior striker Quinn Scherer generated some of Old Tappan's best scoring chances.
Less than three minutes later, senior Ben Zukowski out-jumped a taller defender in the middle of the box to head home Glen Rock's second goal off a service by Connor Daly. The two-goal deficit made it tough on Old Tappan, which was playing without its leading goal scorer, Danny Yun, who missed the match through injury.
"We got behind so early on and then just compounded it. When you are behind by two goals, the next goal could change things and you try to push a little bit and that leaves you open to give another one away," said Old Tappan head coach Mark Torrie. "People are going to look to the fact that Danny didn't play, but I thought that maybe we had a bit more than just relying on Danny. The last couple of days have not been great in practice and I think that kind of carried over."
Glen Rock was the opposite of lethargic as it kept winning balls, getting wide and swinging in crosses that forced the Old Tappan defense into decisions while in retreat. In the 54th minute, Zakowski drove a cross in from the left and John Corry punched it in to make it 3-0.
Meanwhile, Glen Rock's defense did not allow Old Tappan (9-1) to put together the combinations through the midfield and then forward that normally make it so dangerous. Well organized and well-instructed, the Panthers controlled the game from the back.
"Our coach really puts us in the right spots with our formation. He really knows how to work with what we have and our defense has been working together since elementary school, the exact same kids," said Josh Kim, Glen Rock's senior right back. "This is what we were trying to do. This was the biggest statement game that we have had so far this year and it feels really good, but we can get cocky going into the next round. We have a lot more work to do."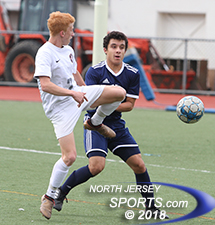 Ben Zakowski (left) had a goal and an assist for Glen Rock, which will play Paramus in the semifinals.
Old Tappan had its moments and a couple of chances to get back in it. In the 57th minute Robert Kim snaked his way through up the left side, took an angle toward the near post and hit a low roller with the outside of his right foot that hit the outside of the frame. One minute later Quinn Scherer stepped through two defenders near the top of the area and forced Glen Rock keeper Noah Beverin into his toughest save of the game, a bang-bang job with his feet that kept Old Tappan off the board.
As so often happens in the game of soccer, a near miss at one end turns into an opportunity at the other and Glen Rock turned that situation on its head by scoring its fourth goal. The counterattack led to a free kick that Mark Buckel lined up from about 25 yards out and just to the right of center. Buckel hit a rocket straight into the upper right hand corner.
Old Tappan (9-1) got a consolation goal inside the final minute when Jose Silvetti got free inside the box, but the Golden Knights exited the tournament with much more than that.
"We will use this as a good learning tool and a good experience to move forward for the rest of the league campaign and the state tournament as well," said Torrie. "Fair play to Glen Rock. They took their chances, they were organized, they were physical and they were definitely up for us. They completely deserved to move on."
Move on it will and Glen Rock has evolved from pre-tournament dark horse to legitimate title contender. The Panthers will play fellow upstart Paramus in the semifinals on Saturday in a 5:00 pm start at Ramapo High School.
"We don't really care about the seeds. We don't take anyone lightly anyway. We just try to show up and beat the other team," said McCarthy. "The opponent doesn't really matter to us. We focus on playing our own game and if we do that we feel like we should be successful."
FOR MORE PHOTOS FROM THIS EVENT PLEASE CLICK HERE. TO BUY A COLLECTOR'S PRINT OF THIS STORY PLEASE VISIT 4-FeetGrafix.com.