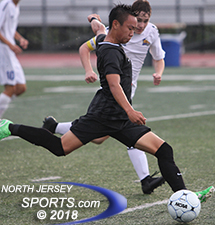 Josh Kim had a goal and two assists for Glen Rock, which advanced to the Bergen County Tournament's Round of 16 with a 6-0 win over Lyndhurst on Thursday.
GLEN ROCK – Glen Rock's boys soccer program should be commended for the way it has channeled its anger. After being eliminated in the most excruciating and controversial of fashions in the semifinals of the Bergen County Soccer Tournament last season, the Panthers picked up the pieces with many of the same players, put together a 9-0 start to this season to make a case for a pretty good seed in this year's county tournament, which might be as wide open in terms of potential champions as it has been in years.
Instead, the Panthers tagged with the No. 9 seed, the first to miss out on a first round bye. In the out-bracket, they were tasked with winning their way into in the main draw and the reward for that is a Round of 16 matchup against Non-Public power Don Bosco Prep. Glen Rock has been done no favors and had/has a legitimate gripe.
Instead of worrying about outside factors over which they have no control, the Panthers have taken their frustrations out on their opponents on the pitch. Glen Rock is still undefeated and it is now one of the 16 teams left with a chance to win a Bergen County title after an impressive and complete 6-0 victory over Lyndhurst on Thursday afternoon.
"The guys were definitely chomping at the bit. I did not have to encourage them too much," said Glen Rock head coach Casey Schick. "They felt like they should have been more respected so they came out fired up today and I really did not have to push them too much. They did it on their own."
With 16 seniors on its roster and plenty of motivation, Glen Rock got to work early against Lyndhurst. Ben Zukowski scored twice in the first 15 minutes to give the Panthers control. Nick Rogers was then taken down on a sprint into the box and converted the ensuing penalty kick to give Glen Rock a 3-0 advantage with 15:56 left in the first half.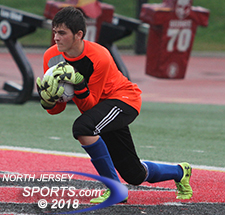 Tyler Liuzzi made six saves for Lyndhurst.
"This game was the start of our run and we wanted to make this game stand out to some of the other teams in the county. We think we should have gotten a higher seed and I think a lot of the things that happened last year played into that. People don't respect us as much," said Rogers, an attacking senior midfielder. "I think it is a big school/small school thing, but, whatever, we will make do with what we have."
Lyndhurst is a young team and making the county tournament was an accomplishment for a program that has been remarkably consistent under head coach Dennis Jelcic. The Golden Bears gave Fair Lawn a real run in the opening round last year in a 2-1 loss and upset Hackensack on the road in the opening round in 2016. Playing in honor of Fausto Arcentales, their long-time volunteer assistant coach who passed away suddenly last month while playing a pick-up game, put together a three-game winning streak to get into this year's tournament, but ran into a team on a mission this year.
A goal from Takeru Kishida gave Glen Rock a 4-0 lead before the Panthers' Josh Kim knocked in a pretty one six minutes before halftime. With defenders closing in on his run up the right side, Kim struck through a small window and from distance. He hit a line-drive dipper that started chest high in middle of the net and ended in the lower right hand corner. That gave the Panthers a 5-0 lead at the break and Zukowski finished off the scoring and his hat trick by converting a penalty kick six minutes into the second half.
"I don't have any personal goals other than doing big things for the team. All I am trying to accomplish this year is [to win] the league, which we maybe have bagged, and then seeing what we can do in the counties and states," said Zukowski, a senior striker. "It is all about our work ethic. Everyone in our starting 11 and everyone on this team is extremely talented and good enough to do anything they want. We just have to play together and play smart."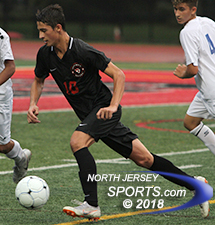 Nick Rogers had a goal for Glen Rock, which will play Don Bosco Prep on Sunday in the Round of 16.
Glen Rock showed off its full array of playmakers as Kim added two assists to his wonder goal, Jason Kapiloff also assisted on two goals and Connor Daily also hit the score sheet with an assist. For as good as the offense was, the defense played its part as well as Noah Beverin (2 saves) and Ben Bases (2 saves) split the clean sheet.
"Owen Corry is our sweeper, Koki Otsu and Oscar Horowitz are our stoppers, Josh Kim and Mark Buckel are our outside backs and Noah Beverin is our goalie. Those guys keeping the zeroes on the board let's our offense do what it needs to do and that is to produce, to score," said Schick. "We have 27 guys on the roster and every game, every win is a 27-man effort. It is not just offensive, it is not just defense; it is the whole unit."
The Bergen County Tournament is as wide open as it has been in a long time. While football participation has been declining steadily, soccer's numbers are surging and the depth and interest in the game are starting to show up on the local high school landscape. Games are drawing bigger crowds, they are becoming must-see community events, public schools are keeping their players as Glen Rock's thick group of seniors illustrates and there are a lot of quality sides vying for the same prize, the Bergen County championship, which has been held by Ramapo for each of the past four seasons.
Glen Rock is among the group of competitors, but anything can happen between now and the county championship game on October 27. The Panthers could turn out to be a real threat to win the tournament like they were last year or they could bow out in the Round of 16 where Don Bosco Prep will be waiting on Sunday for a 2:00 p.m. start at Elmwood Park High School.
"I feel like there are a lot of legitimate players and I feel like we are one of them. There are a lot of teams that can win this and we are just hoping to be there at the end," said Schick. "We want to put our best foot forward and put ourselves in opportunities with good chances to win games."
FOR MORE PHOTOS FROM THIS EVENT PLEASE CLICK HERE. TO BUY A COLLECTOR'S PRINT OF THIS STORY PLEASE VISIT 4-FeetGrafix.com.