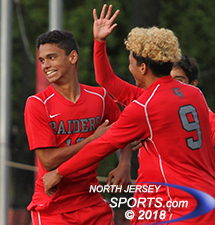 Edson Almeida (left) celebrates after Cliffside Park's fourth goal in a 5-0 victory over Westwood that officially lasted only 72 minutes.
CLIFFSIDE PARK – The handshake came about eight minutes earlier than anyone had expected and it was an awkward ending. Cliffside Park had broken the resistance with three goals in nine minutes and the chipiness was escalating. So rather than reaching into their pockets for red cards that might have deescalated the situation, the referees instead reached for their car keys and headed to the parking lot with still over eight minutes left on the second half clock.
The teams made it through the handshake line without incident and Cliffside Park laid claim to a 5-0 victory over Westwood on Monday afternoon.
"We warned [the refs] in the first half twice about a player on the field, and I am not going to mention any names, doing stuff after the play. We warned them again at halftime and we warned them again in the beginning of the second half and it was ignored," said Cliffside Park head coach Carmine Cambareri. "They told us it was our responsibility to control our players. My team was controlled, we were playing all right. I don't know why they couldn't have watched one player and thrown a card out early in the game as a warning. I don't like to and I don't want to bash referees, they do the best they can, but I don't understand this."
Cambareri is in his first season as the Cliffside boys soccer coach after leading the girls program to its best ever seasons the past two years and he has the Red Raiders playing a brand of soccer that can frustrate an opponent. The Raiders ping the ball around the ground, get even their defenders up in support of the attack and, when opponents try to add numbers to the midfield to clog things up, Cliffside has the speed to play balls over the top and create breakaway opportunities.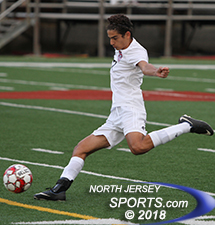 Michael Ayaz had one of Westwood's best scoring chance early in the second half.
The pressure on the Westwood goal built up early with Carlos Escobar's third-minute, first-time rip kept out only by the strong right wrist of Cardinal keeper JP Maul, but Cliffside Park kept after it and the constant effort paid off in the game's first goal 13 minutes in. Carlos Estrada emerged on the backside of a scrum at edge of the penalty area on the right and picked out the lower left to give the Raiders the 1-0 lead.
Cliffside's second goal showed off its diversity of attack and its unselfishness. Jonathan Osorio, the left fullback, filled a spot created by an over-lapping midfield run, settled the ball near the touchline and then hit a line drive service into the pile in front of the net. Kerry Quevedo settled the ball and deposited it from in close to make it 2-0 in the 34th minute and Cliffside carried that lead into the halftime break.
Westwood (3-4-1) had a chance to halve its deficit five minutes into the second half when the Cardinals were awarded a free kick from 30 yards out on the right side. The restart took a free bounce toward the far post and hopped just over the outstretched boot of sophomore Sam Wofse. That led to a Wofse corner kick, which he hit into a dangerous spot and the ball spit out backwards to Michael Ayaz, who hit the second ball toward the right post where it might have found a home, but instead was cleared out by Allan Ortiz.
After that it was all Cliffside. Johnny Vivar hit the crossbar with a headed flick off a corner kick and, with Cambareri calling for a direct approach against Westwood's bolstered midfield, senior Caio Ferreira had everything but a finish for a five-minute stretch as the target man on long balls.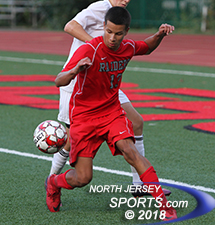 Johnny Vivar's goal midway through the second half gave Cliffside Park a 3-0 lead.
"I had a lot of opportunities to score, but I missed so many of them. That happens in a game, but you can't get frustrated. I wanted to score so bad, but that is how it goes and you just have to keep playing hard for other guys out there," said Ferreira. "Coach [Cambareri] has us really playing well together as a team. Everyone plays for each other and it doesn't matter who scores as long as we win."
Cliffside's fourth goal was its prettiest and came at a point where the game was at its ugliest. There was a five-minute delay as the referees tried to sort out the continued antagonism. Play resumed with a Cliffside throw in and Ferreira had his shirt pulled while in possession on a run into box. There was no call there and also no call when Christopher Lazo knocked the ball out of the hands of Maul, who held his ground at his right post. That left a free ball for Edson Almeida, who back-heeled it blindly into the net for goal No. 4.
Ferreira finally got his goal, an emphatic blast from the doorstep of an empty net, with 11:27 left on the clock. Three minutes later, the game was abandoned and Cliffside improved to 5-1 on the season. The Raiders' only loss came against Dumont in a game where the Raiders were without four starters for the first half, fell behind 3-0 by the break and fell short with a second half rally and fell 3-2.
The Raiders have shown their quality through the first three weeks of the season and on Monday they showed their poise. They did not retaliate and got out with no suspensions and no goals against. That was a testament to players like sophomore defender Limver Quevedo, who was on the receiving end of an incident that was caught on video.
"This is the first time I have been involved with something like this. I have never had someone spit in my face and it was crazy. I didn't know what to do, but I knew I had to keep my composure," said Quevedo, who was a varsity player last year also before an injury cost him the back half of his freshman season. "Overall it was a good game for us. It got out of hand in the final few minutes, but we just kept playing our soccer and that was all we could do."
FOR MORE PHOTOS FROM THIS EVENT PLEASE CLICK HERE. TO BUY A COLLECTOR'S PRINT OF THIS STORY PLEASE VISIT 4-FeetGrafix.com.