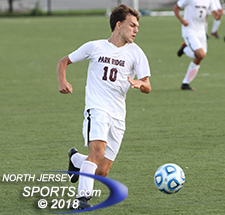 Senior Nardi Lita scored twice in the final 20 minutes to lift Park Ridge to a 2-0 win over Pal Park and a perfect 5-0 record to start the season.
PARK RIDGE – Palisades Park was down a man, but still on the chase for an upset against unbeaten Park Ridge on Thursday afternoon. Pal Park's Adel Durakovic had a half-a-chance as he had a defender hot on his heels while trying to keep enough space in front of him to get off a shot with the game still scoreless midway through the second half.
Durakovic was able to get a shot off, but the result was not what Pal Park was hoping for. Park Ridge keeper AJ Menzel handled the rolling shot easily, fired the ball out to the right and set off a counter attack in the opposite direction that resulted in a long diagonal service that senior Nardi Lita settled inside the penalty area.
"The ball was coming at me and my first thought was just to stay calm because I was in the box. It is all about staying calm and being confident," said Lita. "I just brought it down, turned and placed [the ball] into the corner."
So what was a promising opportunity at one end turned into a downer at the other for Pal Park. Nineteen minutes into the second half and four minutes after Palisades Park lost a player to a straight red card, Lita opened the scoring and added another goal on a breakaway late in regulation of a 2-0 win at Overpeck Park in Ridgefield Park that moves Park Ridge to a perfect 5-0 on the season.
"We are really happy where we are at. We have played some really good teams and had good results, but we know there is a long way to go," said Park Ridge head coach Ryan Dennis. "It's a good start, it's been a good five games, but these guys know that there are some good teams in this league and we have to beat the best if we want to be the best."
Adel Durakovic and Pal Park were dangerous on the counter attack, even after going down to 10 men.
Park Ridge established itself as one of the best with an eye-opening 3-0 win on the road at Waldwick, a perennial NJIC power. Pal Park was coming off of a quality win of its own after getting second half goals by Durakovic and Josh Ozuna gave the Tigers a come-from-behind, 2-1 win over Emerson on Tuesday. Seeking to turn that victory in a winning streak, Pal Park put two shots on the Park Ridge net in the six minutes with the second, a free kick from 25 yards out, forcing Menzel into an all-out dive to push the ball around the right post.
Shortly thereafter, Park Ridge started to impose its will and got busy peppering the net tended by Pal Park's Hector Camaja. By getting the ball to the touchlines and attacking from the flanks with speed, Park Ridge stretched the defense and then played crosses into the middle of the field.
That strategy produced looks from inside the area and deflections that led to corner kicks, which Nicholas Ippolito hits with precision from either side. Nick Listor almost knocked one in with his head at the back post before it was cleared off the line by a hustling defender in the 13th minute. Ten minutes later, the Owls generated two chances off the same restart when Ippolito's corner was flicked on by Listor. Jorge Tomas used an overhead kick to clear the initial trouble, but the ball bounced right back to Lita, whose volley from just outside the 18 sailed high of the mark.
Park Ridge had wrested control of possession and the pace of play, but Pal Park got to halftime still tied and still dangerous. Even the straight red card, which was shown about 15 minutes into the second half for an extra-curricular incident that took place just outside the box, did not pull the Tigers into a shell. They looked to counter quickly every time they won possession and Durakovic's run almost turned into something dangerous.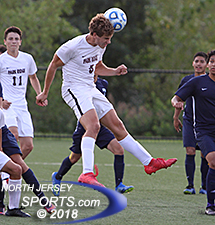 Senior Dustin Glynn and the Park Ridge defense helped keeper AJ Menzel keep andother clean sheet.
But Lita's goal immediately at the end of the sequence finally broke the Tigers' resistance as they were forced to take more chances, a risky proposition while playing with 10 men. Three minutes before the final whistle, Lita found himself shoulder-to-shoulder with the last defender near midfield and then in pursuit of a through ball played up from the back. Lita got the jump, took possession just on the offensive half and hand time to work out a strategy on the way toward goal.
"Most of the time with a 1-v-1 and a 50-yard run I would try to fake the keeper out, go to the side and place it in, but this time I took it a little too wide," said Lita, who had to deal with Camaja, who showed not fear in racing off his line. "The goalie came hard, but when I got past him I had time to bring it back in and still hit the back of the net."
Pal Park Angel Valdez almost got in behind on a few occasions late in the contest, but was tracked down both times by Dustin Glynn, Park Ridge's senior defender who helped keep the Owls' back line organized and steadfast.
"We knew it was going to be a tough game coming in because we were coming off a big victory [over Waldwick] and our mindset was going to be tested. That was the biggest challenge for us today," said Glynn. "I think our defense might have looked a little shaky in the beginning, but we calmed down and by the end we were working well as a unit and playing our game."
Pal Park fell to 2-3-1 on the season, but the Tigers are a competitive side and could tip the league title race in one direction or another by rising up against contenders or even jumping into the race themselves if they can turn near misses into wins on a consistent basis.
"After what they did to Waldwick, Park Ridge is the big dog right now. We have had great battles with them in the past, but they sent a message with the way they played against Waldwick and we had to try to match their intensity. I think we did that for the most part today," said Pal Park head coach Chuck Zegarra. "I think we can stay in this league [race] if we play like we did today. If we do that we should be in every game. Even though we have two losses in the league now to Waldwick and Park Ridge, we have three games next week (Hawthorne Christian, Midland Park and Cresskill) and that will decide which way the season goes. Are we going to challenge to be in the top three or are we just going to play the role of spoiler for the rest of the season?"
Park Ridge looks like a lock for a berth in the Bergen County Tournament, a nice feather in the cap of a Group 1 program, the favorite for a league title and a side that could make a run at a state sectional championship. The Owls last won a section title in 2013.
"Our plan is to make the Bergen County Tournament every year, so if we can get in there that is great, but our focus us really in the section and the league especially," said Dennis, who has eight seniors on his roster. "These guys have been together for a long time, I have been with them for a long time and this program has not won a league title in 25 years. So, that is the focus for sure."
FOR MORE PHOTOS FROM THIS EVENT PLEASE CLICK HERE. TO BUY A COLLECTOR'S PRINT OF THIS STORY PLEASE VISIT 4-FeetGrafix.com.