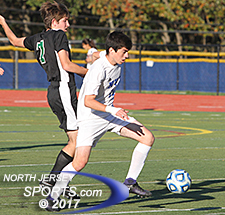 Roee Maor converted a penalty kick just over two minutes into the game, but Pascack Valley reeled the Norsemen in in a 1-1 draw on Thursday afternoon.
DEMAREST – It is one thing for a coach to get his team in a huddle and wax poetic about the benefits of giving maximum effort for the good of the team. It is another to find a way to demonstrate what that looks like on the soccer field. That was the challenge that Jeremy Truppi faced when he took over as the Northern Valley/Demarest boys soccer program. How could he show his troops that finesse needed to be accompanied by a little elbow grease?
"I split up the team up in practice. On one side I put the outright beasts, the guys who never back down for any reason, and the other half are my touch guys, the guys who want to play with the ball and dribble all over the place," said Truppi. "The touch guys thought that they were going to win every little matchup we had in practice, but instead they lost every single matchup we had in practice. That made them realize what it really takes to win games."
Winning games is what the Norseman have been doing for the last couple of weeks as they brought a five-game winning streak into Thursday afternoon's match against Pascack Valley, the team that sits alone atop the Big North-National Division table and took a lead just over two minutes into the game.
Pascack Valley, however, was granted the ability to possess the ball for long stretches in the second half and the Indians' constant probing finally paid off. With Nick Londono finding the equalizer midway through the second half and the final 40 minutes, including the two overtime periods, played to a stalemate, both teams were able to walk away with something they cherished.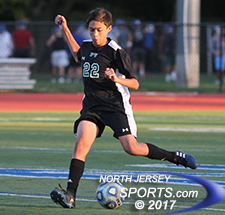 Nick Londono took advantage of a mistake in the back to scored the equalizer for Pascack Valley.
Demarest (7-6-2) ran its unbeaten streak to six games heading into Saturday's Bergen Cup semifinal against St. Joseph Regional, while Pascack Valley (8-2-3) still has a three-point lead over Northern Valley/Old Tappan, which got a 'Golden Goal' to beat Tenafly on Thursday night, with two league games left to play next week. The Indians play Bergenfield on Monday and Tenafly on Wednesday.
"We are in a good spot. This result does make next week more interesting, but it also will keep us sharp before we start the state tournament next Tuesday," said Pascack Valley head coach Roy Nygren. "The only place this result hurts us is from a [power] points standpoint. This was our 13th game, the last one that counted for the states, so I think we are going to end up sixth [in North 1, Group 3] with a home game."
Demarest got the jump on the scoreboard by winning a throw-in deep along the right touchline. Matt Hefter uncorked a long one that caused a scrum in the box that resulted in a penalty call against Pascack Valley. Roee Maor quickly lined up the PK, struck it well as soon as the referee blew his whistle and watched it scrape the bottom of the crossbar on its way in as Demarest went up 1-0 with 37:46 still left in the first half.
But Demarest had no interest in running up and down the field with the Indians. Instead, the Norsemen ceded a lot of ground in the back, allowed PV to switch the point of attack at will and waited for their chances to counterattack. They did that successfully at times, but, especially in the second half, it was PV on the ball looking for ways to break down a compact defense, something it struggled with in its loss to Glen Rock in the Bergen County Tournament Round of 16 two Sundays ago.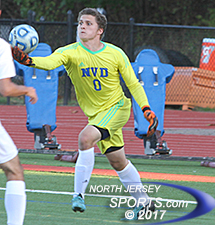 Alex Cleneza made some quality saves for Demarest, which is now 5-0-1 in its last six games.
"This game we were a lot better dealing with that strategy than we were the first time we faced it, which was against Glen Rock. We were inside the 30 that whole game, but we could not unlock them," said Nygren. "There are only three ways to attack a team. Either you try to go through them, over them or around them and when they sit in that many guys; you have to try to find a way to get around."
Without the services of senior Alex Lin, one of the best aerial threats in North Jersey, PV had to rely on the around and through parts of the attack and found some seams. Christian Dmitry hit the right angle at the upper left of the frame work with a minute to go in the first half and Demarest keeper Alex Celenza made his way up to the crossbar to haul in an Andrew Tateossian header 55 seconds later to keep the Norsemen in front at the break.
Justin Schaumberger, TJ Mastkowski, Kyle Ricco, Jahren James, Ryan Visco and others were all given time to share the ball along PV's back line in the buildup, especially in the second half as Demarest tried to see out the game, but the pressure was unrelenting. Pascack Valley missed a golden chance in the 53rd minute when Mastkowski delivered a rolling cross into an open area, but the sweeping volley on the other end sailed well high of the mark.
After some well-designed attempts were left hanging, the equalizer finally came by simply being in the right place at the right time. Demarest had a miscommunication in the back as Celenza called for the ball, but the defender in front of him tried to nod it away instead of letting it run to the keeper. The beneficiary was Nick Londono, who took the gift at his feet and deposited it to make it 1-1 with 20:50 left in regulation.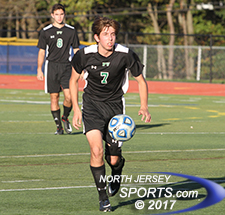 Justin Schaumberger and Pascack Valley are one game up in the loss column with two league games left to play.
Celenza made two quality saves in the final 10 minutes of regulation, one that robbed Brayden Schwartz at the keeper's left post and one in bang-bang fashion with three minutes left. Demarest's best chance to nudge back in front came in the 75th minute when it won a free kick in the middle of the field about 22 yards from goal, but it bent wide.
Celenza's final trick was a save of a James free kick at his left post with three minutes to go in the final overtime as a game that started in brilliant sunshine ended all square under the lights of Norsemen Stadium.
So Pascack Valley walked off needing one win next week to secure at least a share of a league title and Demarest walked off with its momentum intact after a physical stretch of soccer that has them in a position to make some noise in what's left in the Bergen Cup and in the upcoming North 1, Group 2 state sectional bracket.
How deeply are the Norsemen invested? Let's just say this…they are playing through the pain.
"I have had surgery on my right foot for a bunion. I am scheduled for surgery for a bunion on my left foot. I have a cheekbone injury right now, it is swollen, and my hip is hurting a lot right now. Oh, and I got stomped on in the St. Joe's game and I have cleat marks on my back and neck. I can show you a picture," said Alex Croen, one of 10 Demarest seniors who are all in for the final run of his high school career. "We got off to slow start, but we started to realize that we have the pieces. It was the Bergen Cup that got us going. We had a win over Bergenfield, a win over Rutherford and we started to get some confidence. We have it now and we want to keep this going."
TO BUY A COLLECTOR'S PRINT OF THIS STORY PLEASE VISIT 4-FeetGrafix.com. FOR MORE PHOTOS FROM THIS GAME CLICK HERE!