Wednesday, November 16, 2016
By Cory K. Doviak
NJS.com Editorial Director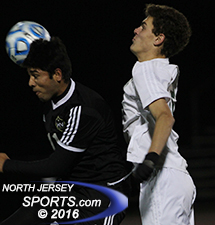 Eddie Kraebel (right) scored off a corner kick five minutes into overtime to giver Ramapo its 20th straight win, a 1-0 victory over Hopewell Valley in the Group 3 state semifinals on Tuesday.
BASKING RIDGE – Eddie Kraebel has earned his nickname through his fearlessness on restarts. Through the pressure it steadily applies on the backline of the opposition Ramapo's boys soccer team generates a lot of corner kicks and long throw-ins and it is Kraebel's job to get himself in the air and try to knock balls in or keep them moving. He's a trusty target and the moniker 'Ed The Head' has a nice ring to it.
But after Tuesday night's Group 3 state semifinal, the name might have to evolve. Sure, 'Ed The Chest,' does not rhyme, but it is more accurate. Off a corner kick in overtime off the foot of Noah Kilday, Kraebel, positioned as usual right in the middle of the action, used his sternum to redirect home the game's lone goal.
"Right when we got the corner my teammates Billy [Collins] and Andrew [Brunetti] were pumping me up. They were saying, 'Here it is, now is the time,' and then Noah hit the corner," said Kraebel. "I just ran in front of the goalie, the ball hit my chest and it just went in the goal."
Five minutes into extra session, Kraebel gave Ramapo a 1-0 victory over Hopewell Valley in the Group 3 state semifinals and the still-undefeated Green Raiders will play for the outright Group 3 state championship on Sunday against Toms River South. That game will take place at Kean University with a 3:00 p.m. start time.
Even though it has fallen behind in recent playoff games before coming back to win, Ramapo had yet to meet a team that could keep it from running up a tremendous advantage in possession. It looked, for the first half at least, like Hopewell Valley might just be that side. The Bulldogs did not cede ground and were able to put combinations together that turned into dangerous attacks. Just eight minutes into the game, Max Wills got in on the left and sent a rolling ball through the middle toward the foot of Duncan O'Connor, who arrived less than a second too late to make the connection.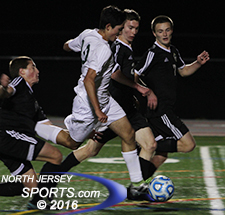 Ramapo's Sebastian Varela making the run that led to a free kick and almost a goal midway through the second half.
Ramapo certainly had its first half chances as well as Andrew Furman got off a hard shot on the full run that was taken by Hopewell Valley keeper Bobby Dorsett at the near post in the 13th minute. Dorsett took the sting off an Andrew Brunetti rip with his gloves and then chased down the rebound in the 34th minute and, one minute later, a Furman shot produced a rebound for Matthew O'Shea, whose follow up shot deflected off a defender and the right hand post.
There was less give and take in the second half, however, as Ramapo made the necessary adjustments and started to build its usual advantage in time on the ball.
"At time in the first half they kind of dominated us. From what we had heard and from a couple of friends that I talked to that have played them, we thought they were going to be mostly a direct team. They are not a direct team at all, that kind of surprised us and we had to adjust to that," said Collins, who plays in the center of Ramapo's defensive set up. "They had two chances in the first half that really scared us. We had to rebound from that and it motivated us for the second half."
With more of the ball, the chances started to come more consistently and inside the final 20 minutes even more so. Kilday's cross from the right with 18:03 left in regulation was only inches past his lunging target, Liam Nelson, a freshman pulled off the bench for his first meaningful action of the postseason. With just under 17 minutes to play, Sebastian Varela was taken down just outside the penalty area at the end of a spirited run down the middle of the field.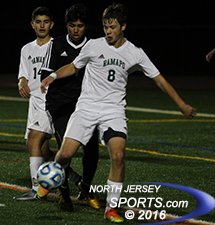 Billy Collins anchored a defense that pitched a shutout for Ramapo, which will play Toms River South in the Group 3 final on Sunday at Kean University.
Varela also took the ensuing free kick, which whistled by the wall, but was pushed aside at the right post by Dorsett, who had no choice but to leave a rebound. Kraebel jumped at the opportunity with a thump from the right side through traffic but, even screened on the play, Dorsett punched it out for a double-save that saved the Bulldogs at least for the remainder of regulation.
"[Hopewell Valley] provided a real challenge. That is a very good team and we had to figure out how to play with Sebastian [Varela] being marked. We had to get wide because the corner kicks come from wide play and we stay out there, we can make it difficult for the opposition," said Ramapo head coach Evan Baumgarten. "That is when a kid like Eddie Kraebel, a kid who just brings his lunch pail and goes to work every day in practice and in games, can find a way to make something happen."
Something happened in the fifth minute of overtime and it was Kraebel's goal. It might not have been the prettiest one that he has ever scored, but it certainly was one of the most meaningful as it propelled the now 20-0 Green Raiders into the state final.
"You want it for these kids because they are the type of group that you just want to be with. For me, I get a couple more days of practice with them," said Baumgarten, before adding a personal note to our friend Richie 'Ballgame' Barton as he continues his fight against bone cancer. "Barton told us [in the preseason preview] that we are winning the state championship, so put it in the article…we have one more win to go to get that done for him."
CLICK HERE FOR MORE PHOTOS FROM THIS GAME. TO BUY A COLLECTOR'S PRINT OF THIS STORY, PLEASE VISIT 4FeetGrafix.com.