Friday, November 4, 2016
By Cory K. Doviak
NJS.com Editorial Director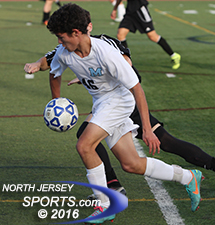 Malcolm Mashig was one of two Mahwah players to score two goals as the T-Birds advanced to the North 1, Group 2 state sectional semifinals with a 5-0 win over Glen Rock.
MAHWAH – Mahwah had the wind at its back and plenty of chances, but it was still without the lead 25 minutes into Thursday's North 1, Group 2 state sectional quarterfinal match against Glen Rock. The Thunderbirds had had all of the possession but it had translated only into a host of near misses as Glen Rock was hoping to hold on until it could get its chance to play wind-aided in the second half.

One hustle play by sophomore Robert Taylor changed the whole complexion of the final 15 minutes of the first half and the game.
It started with a throw-in on the right touchline near midfield by Alexander Ernst that was knocked on by James Perrine, stuck out his heel to change the trajectory. Dan Coates and Malcolm Mashig kept the ball moving on a diagonal and into open space where Taylor picked up its trail near the edge of box from where he curled one over the keeper. With the lid finally knocked off the goal, third-seeded Mahwah went on to score two more before the half on the way to a 5-0 in and a spot in the semifinals where, because of No. 7 Lakeland's upset of No. 2 High Point, it will have a home game on Monday.
"If you keep going at it and you keep shooting, one of them is bound to go in," said Taylor. "I saw the opportunity to run up and take it. That is all I did and it went in and it was big to finally get a lead."
It has been a trying season for Mahwah as the entire community has come together to mourn the passing of Nick Lauerwald, a senior who was lost in a car accident in late October. There are green T-shirts everywhere you look with Lauerwald's name on them in memoriam and the soccer team went through a coaching change midseason. The adversity has made the T-Birds closer and it hasn't gone unnoticed.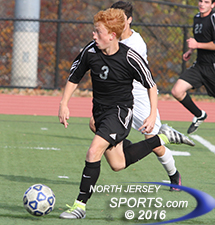 Sophomore Ben Zakowski is one of the talented underclassmen that helped lead Glen Rock to an 11-7 record this season.
"This is a very resilient team with everything that they have been going through and they have rallied behind each other and they are very supportive of one another," said Justin Saputski, who took over as Mahwah's head coach in the middle of the season. "The word is resilient. They work for each other and they have really come together with everything that they have gone through in the last month. They have just gotten on with it and they are playing for the right reasons."
After seeing nothing by almosts for the first 25 minutes, it took less than three minutes for Mahwah to break the game open. On a play that started with a Joseph Kayal pass back to keeper Michael Kayal, who played a long ball forward, the T-Birds went right down Route 1 for their second goal scored by Coates in the 31st minute. One minute later, Glen Rock almost got itself back in it when Ben Zakowski got in on a long ball, but he was stoned at close range by Michael Kayal, who did not give himself up. Instead, Kayal held his ground was standing as he pushed the line drive around the frame.
Any suspense left was doused in the waning seconds of the first half as, with the official time visible on the scoreboard clock, there was less than 10 seconds showing when Mahwah was awarded a free kick near midfield and close to the right touchline. Coates sent a long ball to the far post and, with just six seconds left, Mashig headed it home to make it 3-0 at the break
Mashing scored another with 13:39 remaining in the game and Taylor finished off his big day by heading in a Dino Ramirez corner kick with 5:05 to play to finish off the scoring. With five goals at the front and none give up at the back, it was a solid all-around effort for Mahwah, which improved to 15-3-2 on the season.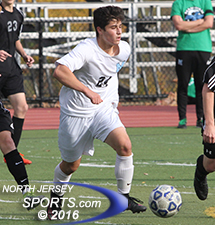 Senior Jordan Rosenblum helped Mahwah keep the clean sheet from his spot in the middle of the defense.
"We kept the ball very well. Possession is our game plan and we always stick to it. As long you keep the ball, the other team can't score," said Jordan Rosenblum, Mahwah's senior center back. "We need to keep this going. We will practice hard and play hard because we want to continue doing what we love to do and that is playing soccer."
Glen Rock finished a transition season with an 11-7 record. In their first season under Casey Schick, who took over for long-time head coach Paul Cusack, the Panthers made the Bergen County Tournament, won a state tournament game and broke in a host of young players who will carry the program into the future.
"Our goals as a team for this year were to get back to the county tournament, and we did that, and we wanted to make as good a run in the states as we could. We got a home game, we won that and today we ran into a tough team. You see a team like Mahwah and how they do things and that is the kind of team we want to be in the future," said Schick, who will lose four starters to graduation. "We have a good senior class and we'll graduate seven in total, but we have a lot of underclassmen that have played the majority of the year and stepped up. We are looking for them to take the next step and we are confident that they will."
CLICK HERE FOR MORE PHOTOS FROM THIS GAME. TO BUY A COLLECTOR'S PRINT OF THIS STORY, PLEASE VISIT 4FeetGrafix.com.